Science Play:
Physics and Construction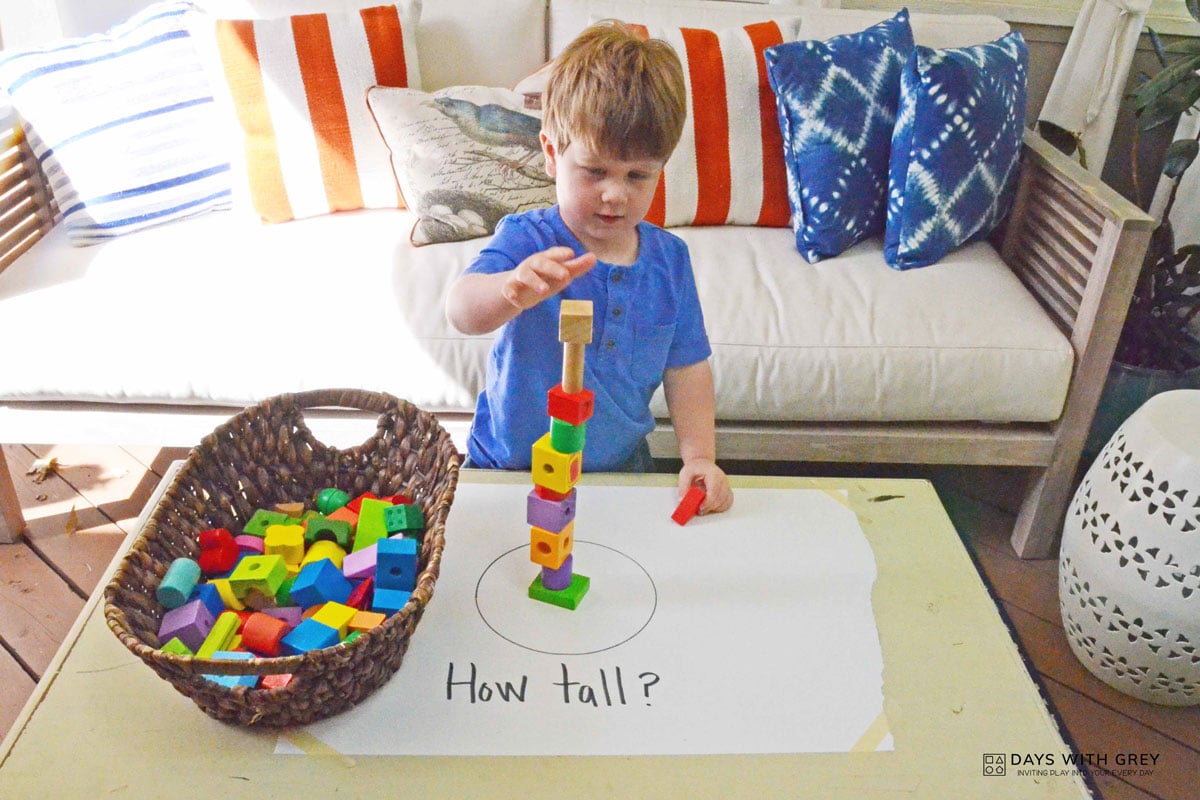 By using creative block activities in play, children can thrive in their skill development. Here, we'll discuss how and why building with blocks is so powerful in the development of kids. We're covering all things building block activities and exactly HOW to maximize skills like fine motor skills, visual perception, and even social emotional skills…all with toy blocks!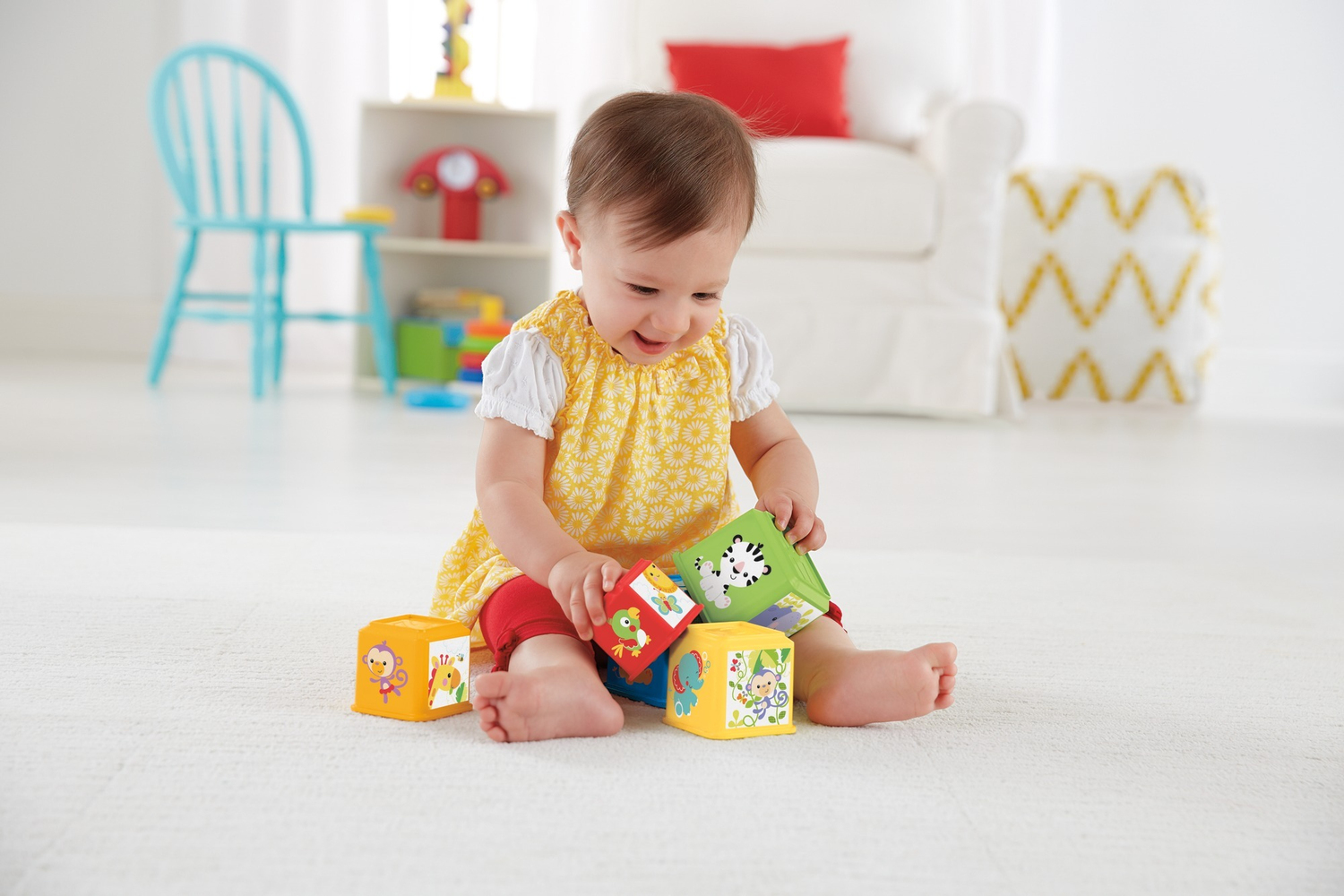 Block play for infants is when children open-endedly play with blocks without rules or guidelines.

Using Block Play to Promote STEM at home
and in the Classroom
If you're looking for a timeless toy that helps develop many skills, look no further (and put your migraine pills away)—blocks are your answer. As it turns out, block play encourages fine motor and gross motor skills, cognitive development, mathematical awareness, and even social-emotional learning. As seemingly simple as blocks are, they pack a big punch when it comes to early childhood development.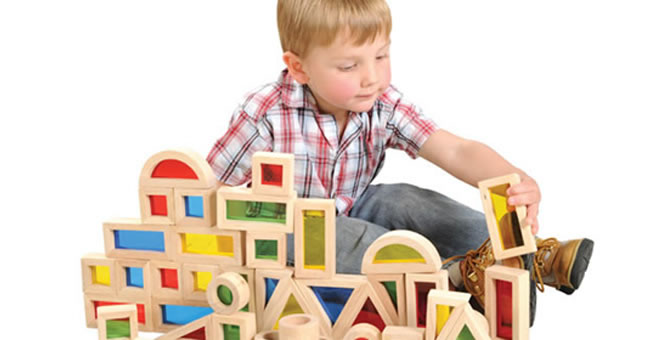 Block play has long been a favorite learning center in preschool classrooms and child care centers, but it can also be used in homes or both preschool and elementary classrooms to promote STEM. A major benefit of using block play to promote science, technology, engineering, and mathematics is the versatile learning opportunities block play presents. Children can learn a variety of skills and gain a more comprehensive understanding of the concepts they are learning in class by playing with blocks. In regards to STEM, block play helps children nurture and develop skills in each discipline:
Science
Sharon MacDonald explains in Block Play: The Complete Guide to Learning and Playing with Blocks that children can explore cause and effect and learn about gravity, stability, weight, and balance as they play with blocks in the classroom. Inductive thinking, experimentation, properties of matter, and inclined planes can be incorporated into block play in elementary school.
Technology
Block play can help children develop the fine and gross motor skills they need to use technological devices. Having a classroom camera that children can use to take pictures of their designs and structures can also help children learn technology skills.
Engineering
You can use blocks or other building items, such as Magna-Tiles®, to help children learn about engineering concepts and develop problem-solving skills. Children can learn about architecture and the names and functions of different buildings and bridges as they build their own unique structures. They can also experiment with different designs and learn why some designs work and others fall down.
Mathematics
Block play helps children learn to express quantities and measurements, sort and match objects based on similarities and differences, and understand basic math concepts (numbers, shapes, counting, addition, subtraction, etc.). You can also use block play to help older children learn about fractions, symmetry, graphing, classification, and other mathematical concepts.
If you follow the STEAM philosophy, designing and building block structures also provides various art opportunities for children by encouraging them to think creatively. You can also have children paint and decorate homemade block items as a related activity.
Keep in mind that block play can help children nurture and develop a variety of other skills that are important to their overall development and success. Social-emotional skills (working with others, taking initiative, respecting others, etc.), language and literacy skills (learning new vocabulary words, exchanging ideas, naming buildings, etc.), and social studies skills (learning about the community, understanding people and their work, role playing, etc.) are just a few examples of the additional learning opportunities block play provides children.
Check out Block Play: The Complete Guide to Learning and Playing with Blocks for a variety of block play activities. Our block play section will also help you find blocks and other building materials that you can incorporate into your preschool and elementary classroom.
Baby STEAM Play:
Introducing Blocks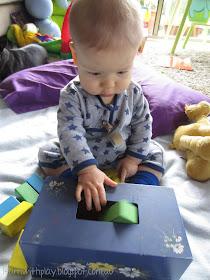 Materials: Tissue box holder or tissue box with bottom cut out & wooden blocks that fit the gap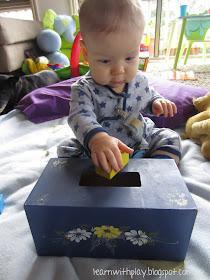 In goes the block. But where has it gone?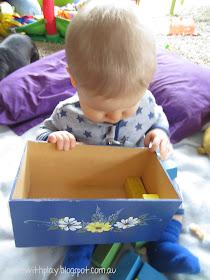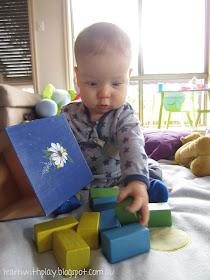 Ahh ha! There they are!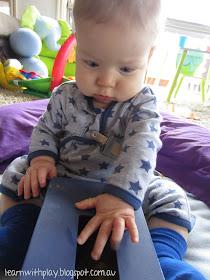 What Is Block Play?
Block play is allowing children to open-endedly play with blocks without giving them a set of rules or guidelines. While children are engaged in block play, they should use THEIR imaginations to construct or deconstruct whatever they like. Most importantly, during block play, children should experience the freedom and praise for trying their own new ideas.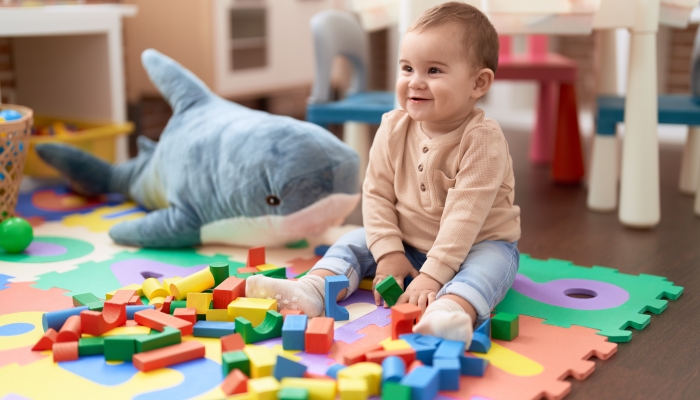 Block Play in Babies & Toddlers
Feeling blocks with their hands

Passing blocks from one hand to the other

Banging blocks together

Putting blocks in their mouth

Putting blocks into containers

Carrying blocks from one place to another

Dumping out blocks from a container

Searching for a hidden block (i.e. under a blanket or behind another object)

Stacking blocks as high as they can and then knocking them over
There's more. By building with blocks, kids are establishing concepts of cause and effect (that tower falls down if I build it too high), reasoning (I need to place the blocks flat on each other so they don't topple over), and creativity, self-esteem, STEM concepts, earlymath, language, and motor planning. Wow!

A way to get an early start on building with blocks is to use soft blocks or or sponges. These ideas are popular because almost everywhere that you visit, they usually have sponges. Sponges are easy to pack and transport in a baggy in the diaper bag so you have them to occupy your baby anywhere. Russ is very mechanically inclined. Hope was playing with Rokenbok by age four…despite her dyslexia. She also figured out fractions when she was five. That's because we found safe ways for her to gain STEAM skills early.

Which brings up another point. If your child has piqued an interest and has the opportunity and ability to advance their skills, follow your child's development rather than a chart. Challenge them at the level they are currently at. It's imperative to their development to nurture their strengths and individuality at the moment. Being a known developmentalist, I have always adhered to that in the classroom and at home because we don't want them to become complacent on something they are gifted in.

My point is that laying a firm foundation of what your child excels at and enjoys is always a good idea.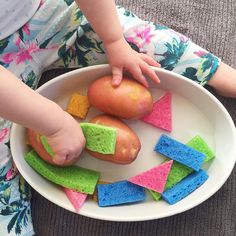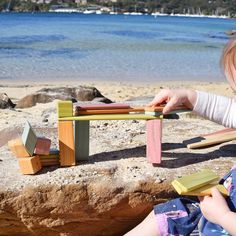 Construction and Building – It allows your children to build whatever they want in various ways, making it a great STEM activity. 

Encourages exploration – Young learners explore ideas and make connections to prior knowledge.

Inspires constructive play and problem-solving – "Ooh, I wonder what happens when I do this? Why does it keep falling over when I do that?" Children create questions on their own to complete a task or solve a problem. Preschoolers now have to problem-solve and predict how many blocks they will need before they begin the activity.

Open-ended – Blocks are open-ended materials that encourage children to be creative and explore three-dimensional materials to develop critical thinking. This thinking is crucial for helping our preschoolers better understand how to extend thinking and make connections to what they have already learned.

Supports inquiry-based learning – Inquiry-based learning is active learning that is started by asking questions and requires thinking skills to continue, building upon prior knowledge. Using it in block play prompts predicting, experimenting, and explaining.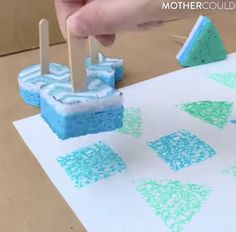 30+ SPONGE BLOCK ACTIVITIES
Inside: This collection of sponge activities are not only fun, but also build a variety of skills!
You know those times when you are looking for a simple activity that uses something you already have on hand? That's exactly what this collection of sponge activities is all about.
Who knew that a common household item, a sponge, could be part of so many different skill-building activities?
Your children will work on shapes, fine and large motors, color recognition, sensory, art, and much more.
So grab those sponges and have some fun! 
Ways You Can Use Sponges for STEAM Activities With Water
Let's start with an obvious one, water. Sponges and water go hand in hand. Try mixing it up though and add color to the water or make the water bubbly. Demonstrate different ways to use the sponge as you narrate what you are doing (ie. "Look, I'm going to get the sponge really wet. Now I'm going to hold it up high and squeeze, squeeze, squeeze. Look how the water is falling. Reminds me of rain…"). It's also fun to have a variety of types of sponges in the water. Some may hold water better than the others. You can even add in scientific terms like "absorb" or "dense."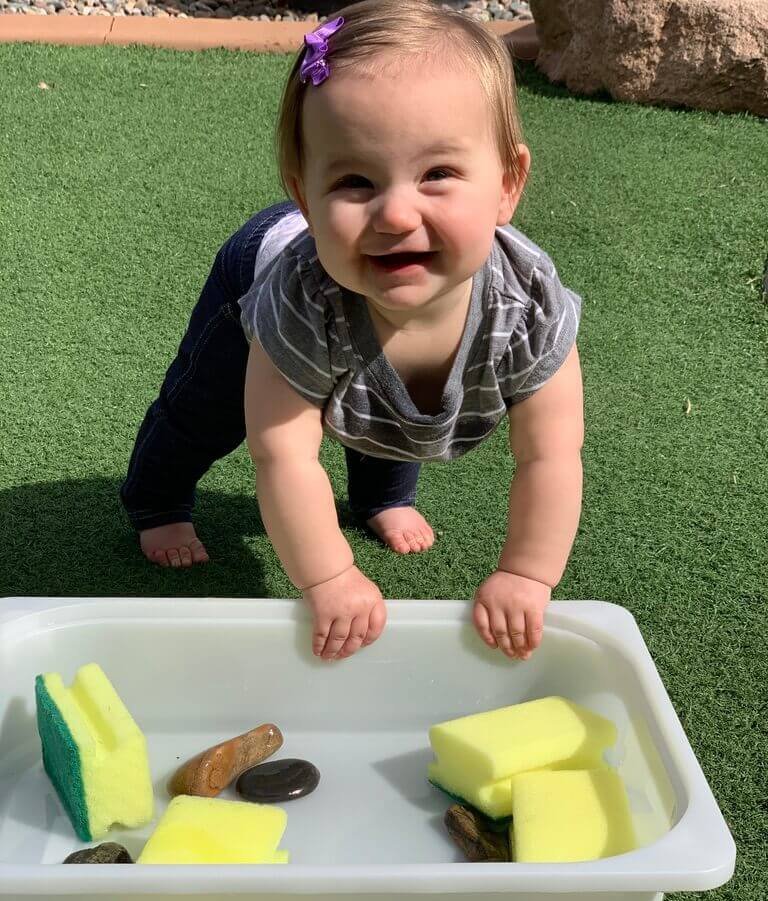 With Cars
Adding cars with sponges can create opportunities for pretend play. They might build roads, tunnels, parking spots, garages, etc. for their cars. You may also want to do a car wash. Typically, children won't build actual things and use props with their play until they are about 3 years old. Doesn't mean you can't play with cars and sponges when they are younger though. Your role will look different. You may be doing more modeling and narrating while they explore the items themselves when they are younger than 3. Watch to see what they are doing before you intervene and don't force them to play a certain way.
With Animals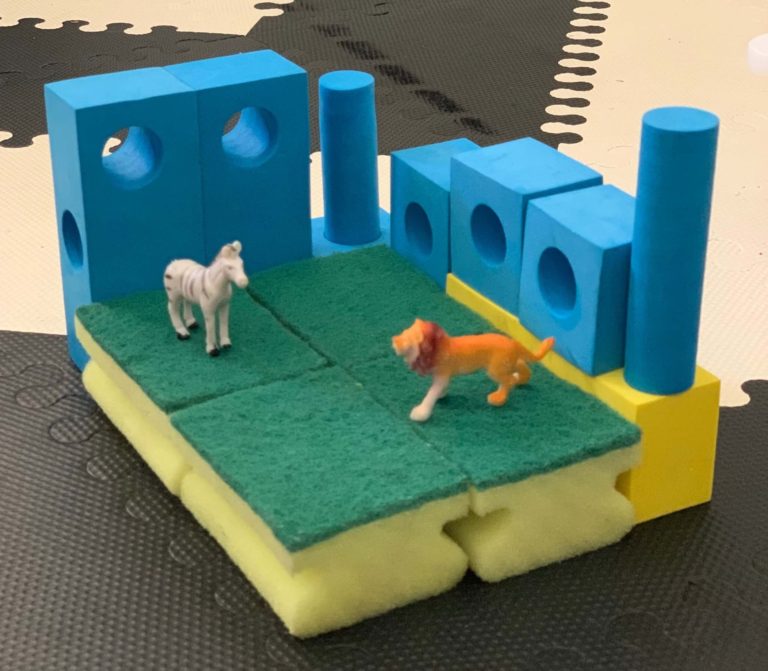 As with cars, adding animals to sponges can create opportunities for pretend play. You can now build beds, dens, nests, caves, and other animal homes with the sponges. You may also want to give the animals a bath so add them to some soapy water.
Build Towers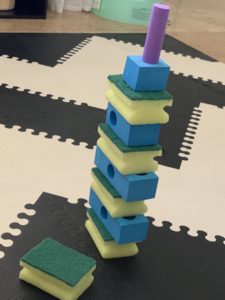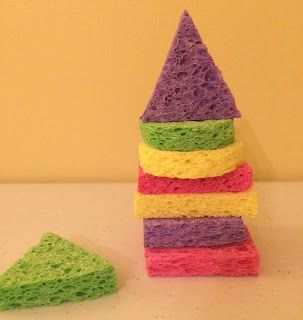 One of my current favorite games with my 7 month old is how tall can I build this tower until she knocks it over. We do this with foam blocks, wooden blocks, and, hey, we can even do it with sponges. You can build with wet or dry sponges. Your toddler or preschooler might enjoy building the towers themselves, or may even come up with more complicated structures.
Make Puzzles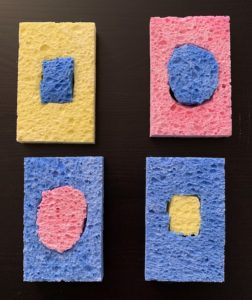 Cut your sponges into simple shapes and make them into puzzles. You can make more complex shapes depending on the developmental level of your child. You can also cut them into Tangrams to build with.
Using Sponges to Paint With Edible Paint Or Colored Water
Use the shapes you cut when making your sponge puzzles and then dip them into edible paint. An alternative to edible paint is non-toxic tempera or colored water. We used water with food coloring. When we painted with sponges I made sure to tape the paper down and I showed Miss 9 months how to stamp the paper with the sponge. Best part was when she inevitably put the sponge in her mouth, it was completely taste safe. You can stamp them onto paper or simply let the activity be a sensory process art experience.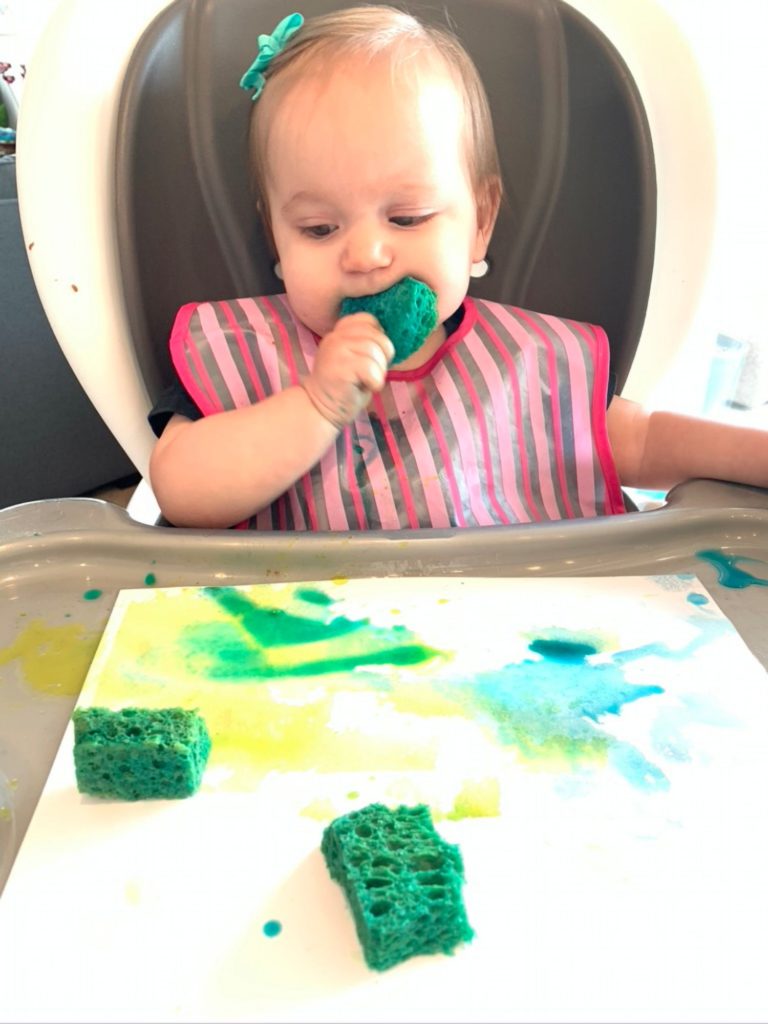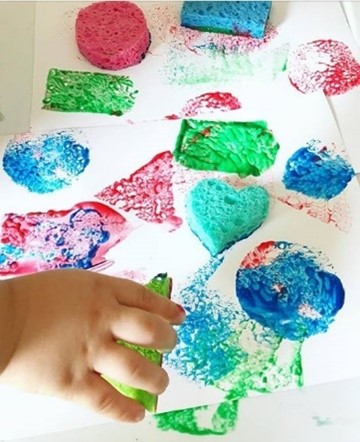 Stick Them To The Window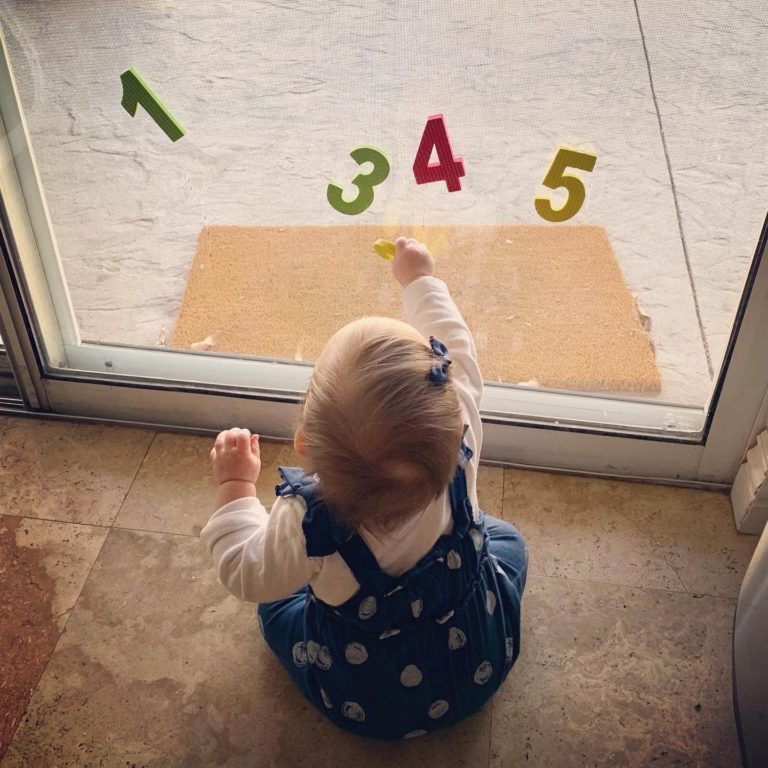 Ok, I originally saw this idea from @Play_at_home_mummy on Instagram and ran to the dollar store to buy some sponges. While at the dollar store, I found some foam numbers and thought they might work like sponges on the window. Sure enough they did. My 7 month old loved grabbing the foam numbers and putting them directly into her mouth. This kept her busy long enough for me to empty the dishwasher. These are also really fun at bath time.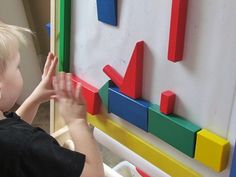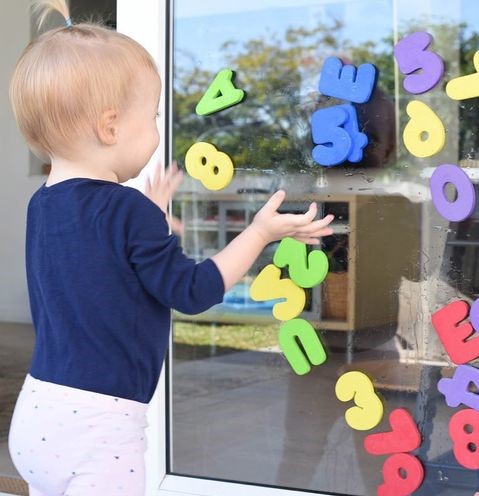 Dry/Wet Sensory Play
Mix up the wet sponge play by adding a few dry ones in the mix. Talking about the difference is a great way to create those neural pathways for a better understanding of the words and concepts of "wet" and "dry." My 7 month old definitely preferred the wet ones though.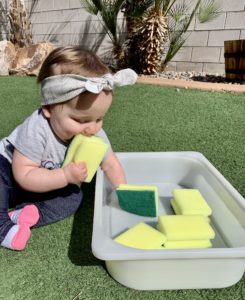 The beauty of having multiple ideas in your "toolbox" is that not every child is the same or is engaged with the same experiences. Also, developmental levels can affect a child's engagement level. Try an activity one day with no interest at all and the next week they can play for hours…ok, let's be real for at least several minutes. Plus, babies and young children have about a millisecond attention span so you may even decide to do all of these activities on the same day.
25+ More STEAM Sponge Activities
These fun activities using sponges are categorized by the skills being built. Pick one and try it today!
Make sure to also check out this collection: How to Build Fine Motor Development Using Household Utensils
LARGE MOTOR
ART
SCIENCE
Use sponges as loose parts in the playroom. (Happy Hooligans)
Cut sponges into strips and make towers. (Toddler Approved)
Make an air pressure experiment. (Kids Activities)
Place a sponge on top of a jar for a fun rain cloud science activity. (A Dab of Glue Will Do)
Explore absorption using water and sponges. (Little Bins for Little Hands)
STEAM
Make a balloon powered sponge boat. (The Craft Train)
Use sponges to make asprout house. (The STEM Laboratory)
OUTDOORS
Have fun making super soaker sponge balls. (Natural Beach Living)
Work on aimwhile throwing a sponge at a target. (Busy Toddler)
Keep the kids active and cool while tossing wet sponges. (The Resourceful Mama)
There's more. By building with blocks, kids are establishing concepts of cause and effect (that tower falls down if I build it too high), reasoning (I need to place the blocks flat on each other so they don't topple over), and creativity, self-esteem, STEM concepts, early math, language, and motor planning. Wow!
Today, we are discussing the various ways to play with blocks that build more than wooden buildings…blocks build skills!
The latest addition to our collection was the foam block.  While offering a variety of blocks has its benefits, using each kind of block in different ways offers additional advantages for building math and critical thinking skills.  Lately we've been using our foam blocks in some non-traditional ways.
Floating Structures
All you need to add is water, and bubbles if desired!  Experiment on this unstable surface and children will find out how different balancing works on water.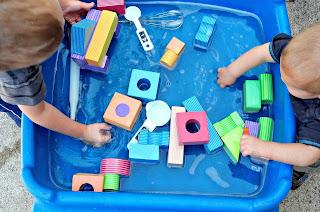 Most children start out using blocks for the sole purpose of knocking them down when they are babies and toddlers, so I added a baster, and my kids used water pressure as a way to knock down their structures.  We took turns building and trying to knock each other's creations down.  Knocking stuff down is still fun no matter how old you are!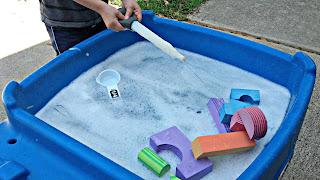 Matching Layouts and Letters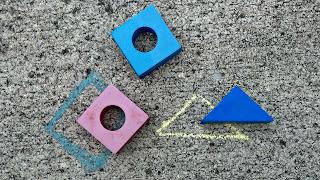 Instead of building vertically, we built horizontally on our driveway and added chalk.  We traced and colored different layouts, named the "towns" we created, and then used the blocks to forms letters to trace out the names.  The same can be done on large paper with marker, crayons, or paint!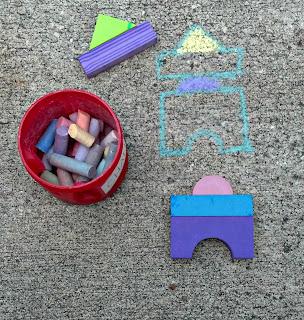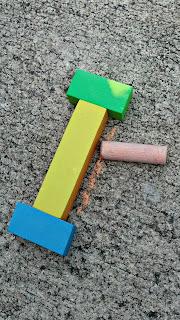 Sticky Buildings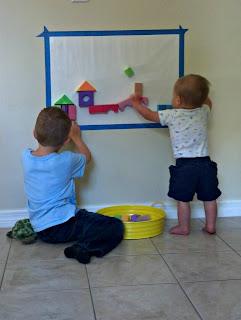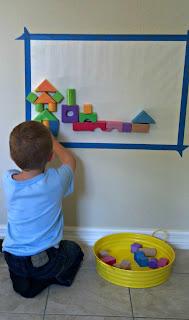 Contact paper's sticky surface is strong enough to hold lightweight blocks, and can stand up to many changes in building plans.  Tape down all sides of your contact paper sticky side up on the floor, or a wall.  I like to use painters tape so my walls don't suffer!
BLOCK ACTIVITIES FOR TODDLERS AND BABIES
For the young child, present them with just a few blocks at a time will help them avoid being overwhelmed. The nice thing about a variety of blocks is that the various blocks can be used in different ways while working various skill areas.
Sorting Shapes and Colors Block Activity–
By sorting the colors and shapes of blocks, they are working on so many skills. Visual perceptual skill development begins at a young age, including the ability to visually discriminate. We know that young babies are able to visually differentiate their mother from another female adult by visual assessment. The same skill can be used and honed with toy blocks
Use a small set of blocks and ask the child to pile blocks into sets according to color or shape. You would be surprised at a young child's sorting ability and visual discrimination skills. Sorting block shapes occurs around 15 months and at that time, a shape sorter is the perfect tool for encouraging matching. Visual discrimination skills will improve over the toddler years as your little one begins to recognize differences in shapes such as triangles and pentagons.
Sorting blocks is a literal building block for visual perceptual skills, math skills and executive functioning skills.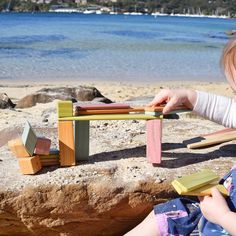 Pretend Play Block Activities–
Children can use blocks as pretend play items as they interact with adults or other children. Giving blocks a name and a voice offers opportunities to act out scenarios, express needs and wants, and practice communication.
By using blocks as pretend people, cars, trains, and animals, toddlers and preschoolers experiment with imagination and creativity. This is the beginning of social emotional skills. Show your little one how they can set up a little family with the blocks as they talk to each other in words and phrases that your child knows. What a great way to work on communication and language.
Building Activities-
The sky's the limit when it comes to building with blocks. You can show a young toddler how to stack two blocks while they develop the fine motor precision and refined grasp to place blocks and release their hand without knocking over the blocks. Show your little one how to stack one or two blocks with specific colors. By asking them to copy your block form, not only are they working on fine motor skills, they are also building visual perceptual and visual motor skills.
Use Blocks to Make Patterns-
Building on the copying skills mentioned above, using blocks to copy and create patterns is an exercise in early visual motor skills, visual perception, and fine motor skills. It's also a fun way to introduce early math concepts. Little ones can copy and create patterns using different sizes, shapes, and colors of blocks. Start out by creating a simple pattern with an AB pattern of blocks. Preschool children can use blocks to create ABB and ABC patterns too.
Stack and Knock Over-
Building towers with blocks or a trail of dominos is one way to help kids better understand STEM concepts, cause and effect, and problem solving. Ask your little one how they can make one block fall over by using another. See if they can figure out how far apart to place blocks to make them push one another over in a row of "dominos". It's a fantastic exercise in eye-hand coordination. Building blocks are a fun way to encourage the development of grasp and release even for children with conditions such as cerebral palsy. I particularly like the round blocks with a hole in the middle. Kids like to stick their thumb or index finger inside.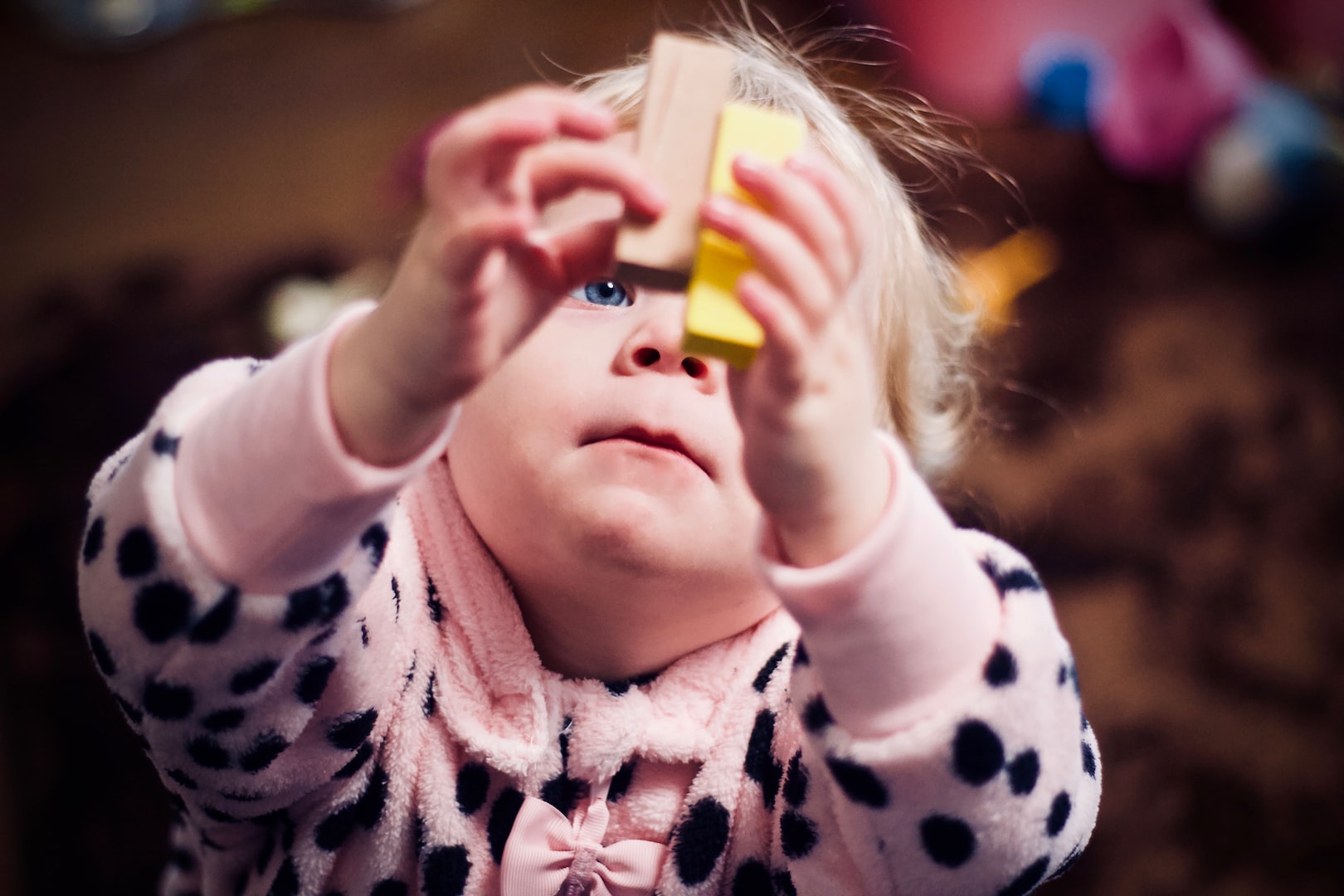 Block Play in Preschoolers
Building a block tower and counting how many blocks they used

Copying block structures from picture cards

Using blocks to measure objects

Imitating structures built by adults

Using play dough to connect blocks together while building

Building a house with blocks

Sorting blocks by color, shape, size, and material
Block Play in School-Age Children
Building a city or town and using props like cars, trucks, toy people and animals, and traffic signs

Building a zoo with props like toy animals and people, toy fences, fabric pieces, rocks and leaves

Building a train station with props like toy people, toy trains and cars, tape for tracks, traffic signs 
What Are the Stages of Block Play?
There are seven stages of block play that most children progress through naturally as they age and develop: 
Carrying: The first stage beginning in infancy is carrying blocks around, but not using them for building yet. Children explore the blocks by touching, looking, tasting, banging them and dumping them from containers.

Stacking: As toddlers, children begin stacking the blocks into a vertical tower or horizontal rows. 

Bridging: Children, typically as toddlers, enhance their block play skills by building bridges. They place a longer block on top of two shorter blocks that have a space in between them. 

Enclosures. Children begin using four or more blocks to build a square or rectangular enclosed space. They will turn the blocks in different directions and place them end to end. Eventually, they can create circular enclosures or multiple enclosures joined together. 

Patterns and Symmetry: Children start creating patterns with blocks (usually around ages 3 or 4). They will also begin showing symmetry in their buildings and becoming more imaginative in what they are constructing.  

Early Representation: Children become more purposeful in their block creations (i.e. building a house or other familiar building). Often, they will name their buildings and use them in imaginative play. 

Later Representation: Children's buildings are very detailed. They show a particular scene or place from real life or their favorite stories, like an imaginary zoo or farm. This is where real dramatic play begins.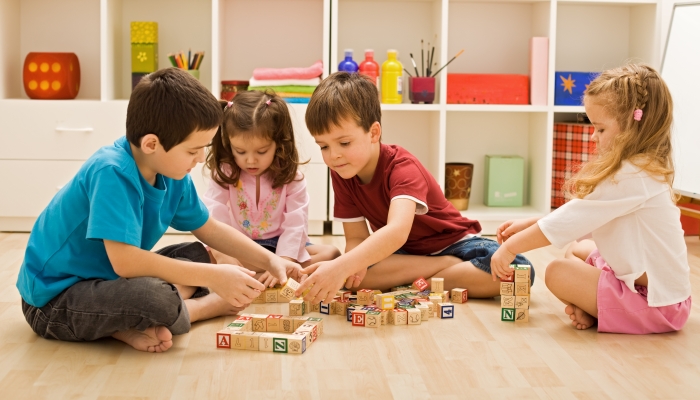 Benefits of Block Play in Child Development
Block play offers many benefits for your child's development. Here are some reasons to provide young children with opportunities to free play with blocks:
Benefit
Explanation
Improves problem-solving skills
Children use trial and error to help them accomplish their block building goals.

When they run into issues, they will need to reassess and try something else.
Fosters creativity and imagination growth
Children build whatever they can think of.

The more they build, the more their imaginations grow.

Building blocks can be played with in many different ways, including with other toys for pretend play.

Blocks are loose parts—they can be moved and rearranged by children in many ways.
Encourages self-expression
Children use blocks to express themselves and show what they've learned.

This helps children who are learning a new language or who struggle with speech.
Improves math skills
Block building teaches about symmetry, balance, estimation, counting, measurement, comparison, and pattern development.

Shape recognition is introduced through block play.
Improves science awareness
Children test hypotheses about their buildings while learning about gravity, structure, balance, weight, and spatial awareness.

They experiment with how to keep their blocks from falling.
Grows self-esteem
Children are in control of their play and making their ideas come to life.

They feel a sense of success when achieving their building goals.

By solving problems, they become more confident.
Encourages social and emotional development
By playing together, children learn to share, problem-solve together, take turns, and cooperate.

They learn to handle frustration when buildings fall.
Improves physical development
Block play improves hand-eye coordination, hand strength, and fine motor skills as children move pieces.

Gross motor skills improve as children crawl or stretch around their creations and as they lift and move blocks.
Enhances communication and literacy
Block play encourages storytelling skills as children explain their creations and use them in pretend play.

As children play with each other, their language develops while they learn to collaborate.
Builds intellectual skills
Playing with blocks regularly improves math skills, spatial awareness skills, and literacy.

This means higher academic achievement in later years.

A 2018 study by Sara Schmitt also found that block play improves executive functioning.
9 Ways to Help Encourage
Block Play in Kids
Make an inviting space for block play on a firm, level area.

Save household materials children can use when building.

Follow children's lead during play and allow them to take charge.

Encourage children to keep trying if things don't go their way.

Celebrate with children when they accomplish their building goals.

Provide props like toy animals, cars, people, play dough, toy signs, and items from nature to enhance creativity.

Provide pictures of different buildings that children can try to recreate.

Provide different-sized containers for dumping and filling with blocks.

Take pictures of children's creations and print them to share in their joy!
Creating Empowering Outdoor STEM Activities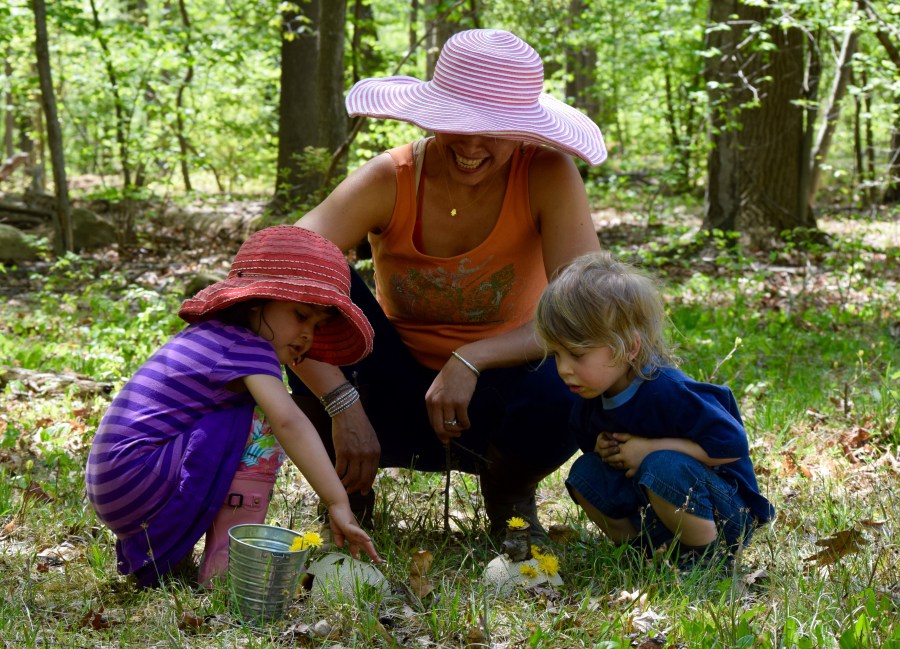 Photograph Courtesy of family+footprints.

Much of the time we spend spend in nature can be unstructured. We love the power of child-based exploration and free play in an open environment. But there is something equally powerful about semi-structured outdoor experiences, ones that involve activities such as physical challenges, creative prompts and survival skills.

Let's talk more about these types of activities and how we as parents and facilitators can offer them to children as an open invitation to explore, while still having our children feel empowered in the process.
Semi-Structured Outdoor Experiences
There are a variety of ways to engage in the outdoors, from free play to a fully structured experiences. Somewhere along that spectrum you'll find semi-structured activities. With nature as an interactive setting, these types of activities incorporate the outdoors in a loosely guided way, which diversify the benefits children get from their time outside.

Naturally, you may find that children in their free play are already doing some of these activities to a degree. When you deepen the learning, provide materials and guide more of the experience, it moves the activity fully into a semi-structured experience.
Creative Prompts
This is where your Pinterest boards can come alive. Have ideas for arts and crafts using natural materials? Do you want to conduct science experiments with the outdoors as your lab? By providing materials and talking about ways in which they work together, these types of prompts can open up a whole new world of learning for your child. And with a focus on process, rather than product, they can also be ripe for building your child's creativity.
Challenge Courses (Nature's Own + Otherwise)

Adventurous families may already be familiar with local, outdoor challenges. You have nature's own built in adventures, along with man-made courses to cover active sports, zip lines, low and high rope courses - the list goes on and on. On the surface, these experiences can seem like a thrill, but at their core, these are challenges - physically and emotionally. They push us out of our comfort zones and they invite us to work together as a team.

By tuning into your child's and family's goals - which may look different for everyone - this can be uplifting, unifying and confidence-boosting.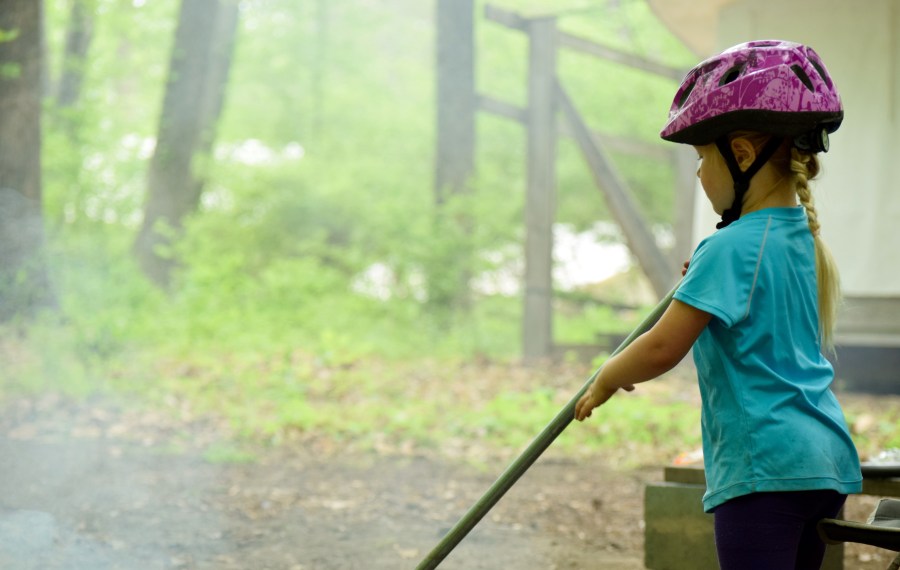 Ways We Empower Children
As a challenge for adults, there are ways in which we can present these semi-structured experiences as empowering for children - not just in their premise, but in their practice as well. Imagine how a child's experience changes when we do some of the following:
     Making Choices Together-
You'll feel the full power of these activities when everyone is on board and ready for the experience. Are your children interested in doing the activity you have planned for the day? If they're game for anything, great. Prepare them for what the adventure holds and the opportunities for them to take a lead. If they aren't feeling it, try to figure out why. You can always save an experience for another day or adjust it to make sure everyone is fully comfortable.
Process Rather than Product
Some of most amazing things can occur when we focus on the process - the discovery and challenge phase - rather than the product or the outcome. When we present an opportunity and then let a child navigate through it, of course it might not look or go the way you expect, but focus on what your child is getting out of the experience. Often, they are stretching their creativity, they're learning by doing it on their own and they're challenging themselves in subtle - or visible - ways that build over time.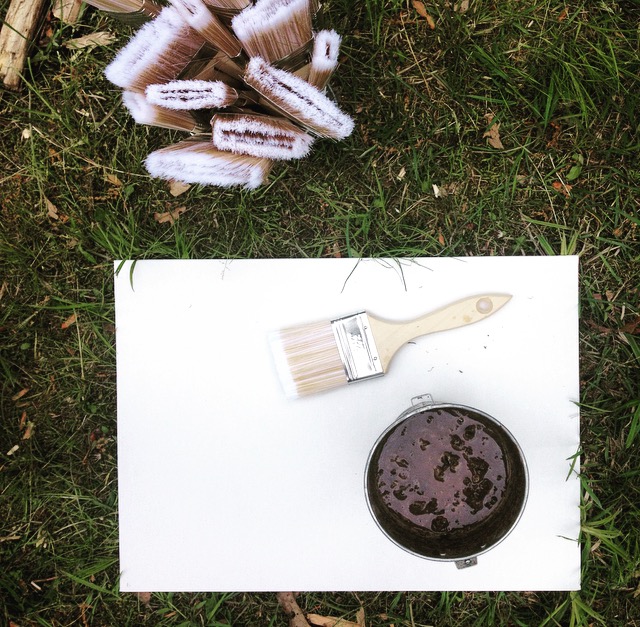 Photograph Courtesy of family+footprints.
Open Invitations to Play
Sometimes we set up these activities or experiences and it feels like it just isn't a match for our child. They look at it and head off in another direction. Try playing out that string.
If you leave a prompt out for a long time, do they eventually come back to it? In their free play are they taking your idea and running with it in their own direction? Leave the prompt out for days and see if it sparks something completely different now that you've lived life and thought about it passively for awhile.
With nature providing interactive experiences, there are many ways to incorporate activities in our outings. And with a focus on empowering children to take just as much of lead - albeit a slightly different one - as they do in free play, they have much to gain and much to inspire in others.
18 Playful Learning Activities for 8-Month-Old Babies
Parents and educators often wonder how to play with a baby with few skills. This blog post will answer the question. I am sharing 18 play-based activities for babies.
Let's check out activities to target each learning domain and stimulate each of the seven senses. These activities engage babies in imaginative and sensory-rich learning experiences that promote cognitive, language, social, emotional, and physical development skills.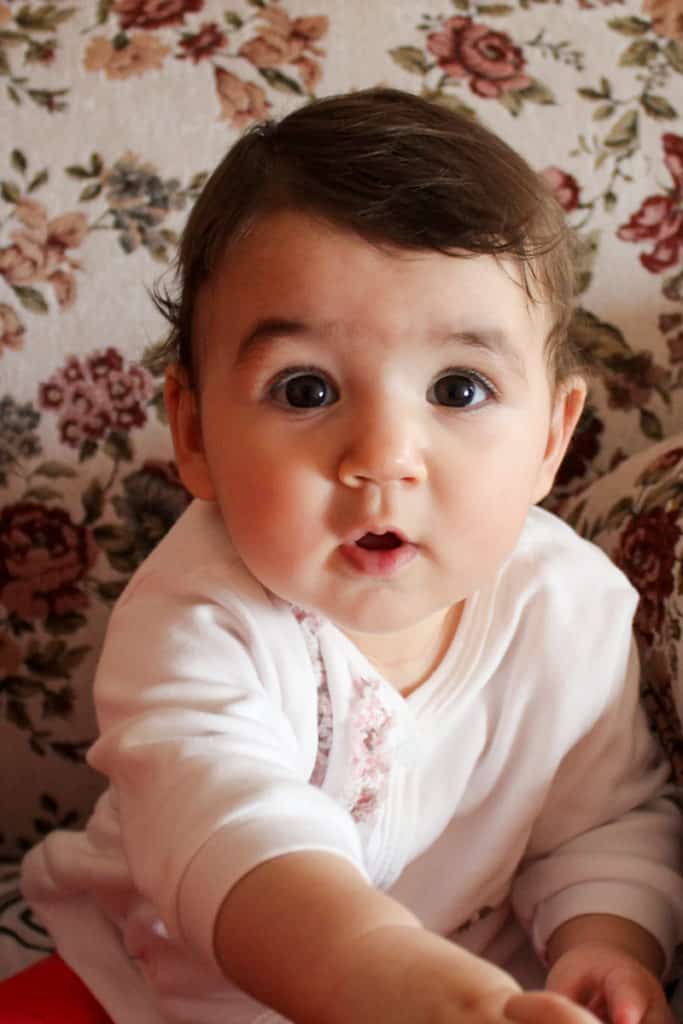 Sensory Activities
Starting the activities for 8-month-olds list are seven easy, low-mess DIY sensory learning activities. One infant activity each of the seven senses. Learn more about the vestibular and proprioceptive senses.
Vestibular
Skills + Behaviors:
Shifting weight to balance body while sitting, crawling, or pulling-to-stand

Learning what it feels like to move body at different speeds
Exploring Hula Hoops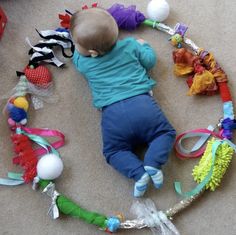 A hula hoop is a perfectly versatile toy that can grow with your baby. For an 8-month-old, a small, light-weight hula hoop is a chance to develop and stimulate the vestibular sense. While sitting or crawling, babies can reach for, lift, and shake the toy. The thin hula hoop ring makes it the perfect size for tiny hands.
Babies will test their balance while trying to pull the hula hoop towards them or lifting it above their heads.
For babies still spending time on their tummy and rolling, caregivers can attach ribbons, toys, or plastic loofahs to the hula hoop. A baby can play inside the ring, reaching and pulling on toys.
After some research, I'd recommend a small 26-28″ hoop if you are ordering online. A larger hula hoop could be better for creating a tummy time sensory ring.
Proprioceptive
Skills + Behaviors:
Understanding where a body part is without being able to see it

Knowing how close or far away an obstacle is

Learning own strength
Weighted Sensory Bottles
Parents and educators can create sensory bottles for babies to explore. Sensory bottles are made by filling an empty plastic bottle with different materials. Almost any type of plastic bottle will work, but the small globe-shaped apple juice bottles are great for small hands. 
To create weighted sensory bottles, choose materials to make a noticeable weight difference between the bottles. Babies can practice how much strength they need to use to manipulate objects of different weights.
Possible materials for heavy sensory bottle:
Sand

Stones

Water (can add food dye or liquid watercolor)

Coins
Possible materials for light bottle:
Cotton balls

Ribbons

Leaves

Flowers

Twigs

Corks
An alternative option is to create sensory bottles out of 2-liter pop bottles.
You can hot glue or superglue the lid on for extra security.
Taste
Babies spend plenty of time each day eating and mouthing toys. You can easily turn it into a more intentional learning activity.
Tasty Talks
If your baby has started trying new foods, you should talk about the textures and flavors of what they are eating. Pick a particular snack or food and make a point to focus on the sensory-rich experience of eating.
"The applesauce feels cold in your mouth. It was in the fridge."

"That cracker is salty and crunchy. It feels different than your applesauce, doesn't it?"
Because smell is so intertwined with the sense of taste, you can also talk about the flavors of the foods you are eating near your baby. They will be able to smell your food and begin making connections between food on their senses.
"Can you smell the orange I'm peeling? It smells citrusy and might taste sour. Let's find out."
If your baby is not tasting new foods yet, talk about the flavor of the toothpaste you use to brush their teeth. You can point out the textures of their favorite toys.
"Your toothpaste tastes cool and minty, just like the one I use."

"You put the pokey corner of your block in your mouth. It could poke your tongue. Be careful.
Tactile/Touch
Wet + Dry Sponges
This super versatile activity gives your baby a chance to explore many different sensations. Simply adjust the activity to what materials or setting you are in.
Options:
wet vs. dry sponges

damp vs. soaking wet

scratch sponges vs. soft sponges

warm water vs. cold water
Control how messy you want this activity to be by controlling how much water you soak into the sponges.
Caregivers can introduce this activity to babies indoors or outdoors. For less mess, try the activity in the bathtub or a highchair at the end of mealtime.
Sight
Colorful Sunbeams
Choose a window in your home to create a colorful collage. You will need a roll or two of cellophane wrapping paper (the transparent wrapping paper you accidentally bought last minute when trying to get gift wrap).
First, cut out shapes, squares, or strips of the wrapping paper. Then tape the cutouts onto a particularly sunny window. As sunbeams come through the window, your baby will be treated to a colorful sensory play experience. The floor, the furniture, the ceiling, and the walls will temporarily transform into a multi-color light show.
Hearing
Sound Treasure Baskets
Treasure baskets are small collections of compelling toys or objects children can explore. You can create a sound-themed treasure basket to encourage your baby to explore noises.
Sound-Themed Treasure Basket Ideas:
Metal Measuring Cups or Spoons on a Ring

Toy Rattles

Spice Bottle Shakers

Bell Sensory Bottles

Toy Instruments

Metal Lids

DIY Rain Sticks
Talk to your baby about the sounds they are making.
"That clanged so loud when you hit it."

"I hear something rattling when you shake this."

"We can make a loud sound or a quiet sound. Let's try."
Smell
Explore Scents Outside
Exploring smells with your baby is super simple. While outdoors, begin to point out each new and interesting scent.
Pick up your baby and step outside after a summer rain shower.

Literally, stop and smell the flowers while out on a walk.

Point out how the sunscreen smells while getting ready to play outside.

Talk about the smell of fresh air when you play outside.

Point out the unique scents while visiting a pool or beach.
Learning Domain Activities
Language
Skills + Behaviors:
Babbling

Saying consonant-vowel sounds like "baba," "mama," "dada"
Have a Lovely Talk-Out-Loud
While completing chores or daily tasks, talk through what you are doing out loud for your baby to hear. The more language your baby hears, the greater the benefit to their language development skills.
If your baby begins to babble while you talk, pause and listen to them. Then verbally respond in a way that feels natural. If it feels entirely unnatural, keep practicing with it. Soon your baby will be a toddler with more language to add to the conversation.
This back-and-forth exchange (often called serve-and-return in early childhood education) teaches babies the cadence and rhythm of conversation.
Literacy
Skills + Behaviors:
Gazing at pages of a book while reading together

Holding and exploring books as objects
Books in the Bath
Soapy, floating books add an extra sensory element to exploring books. Your baby is still figuring out books will be familiar objects with specific purposes. For now, babies are building interest in books and are enjoying the experience of reading with a caregiver.
Cognitive
Skills + Behaviors:
Banging toys together

Looking for things out of view
Wood Blocks
I adore wood blocks. A quality wooden block set can grow up with your child. For babies, blocks are a chance to explore textures, sounds, and weight. 
Put a couple of blocks into a basket, and your baby can enjoy tipping it over, spilling the blocks out.

Place a small stack of blocks just out of reach to entice your baby to reach out and knock them over.
Cognitive skills fact: Babies start playing peek-a-boo at around eight months old. At this age, babies begin to understand object permanence. Learn more about stages of play theories.
Gross Motor
Skills + Behaviors:
Moving into a sitting position

Sitting without support

Crawling

Pulling-to-stand
Lumpy, Bumpy Obstacle Course
Create a cozy, engaging space on the floor with layers of blankets and pillows.
Babies who are starting to crawl will use gross motor skills to move around the lumps of pillows. Crawling babies may be able to master moving over cushions or large blanket piles.
Babies who are sitting or learning to sit can tug and pull at pillows and blankets. The small bumps and lumps of the blankets and pillows also create a mini obstacle course for babies who are rolling.
Adjust the space to fit the developmental level of your baby.
Fine Motor
Skills + Behaviors:
Using hands to explore and manipulate objects

Banging toys together

Passing toys from one hand to the other
Themed Treasure Baskets
Treasure baskets are small collections of interesting toys or objects children can explore. For an 8-month-old baby, most items are still novel and exciting. Curious babies will instinctually want to hold and investigate any new items.
Infant Treasure Basket Themes:
Bangle Bracelets

Textured Blocks

Monochrome Objects

Variety of Balls

Measuring Cups + Spoons

Link Toys
Find more ideas on themed treasure baskets in the ultimate guide to loose parts materials.
Emotional
Skills + Behaviors:
Learning to shake head no
Baby Says No
Around 8-months-old, a baby will be learning how to shake their head no. Caregivers can show respect and reinforce the importance of consent by being considerate when a baby communicates no.
Shaking the head no is a huge step in learning how to communicate. Babies need plenty of practice because sometimes, naturally, they will not be able to share what they want and feel with this gesture.
Create opportunities for your baby to communicate by "saying" no. Some things like diaper changes or bedtimes have to happen. 
Other things are chances for your baby to express what they want and have their requests met.
Can your sister hold you?

Can I have this toy?

Are you all done eating?
Little Feminist has a great article dedicated to books about consent with babies and children.
Self-Identity
Skills + Behaviors:
Exploring Mirrors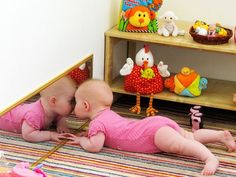 Babies absolutely love exploring mirrors. At 8-months-old, babies will start responding to their own name.
Use a mirror to play with reflections. Sit in front of the mirror with your baby. Then look at them while saying their name. They may turn to see you or look at you through the mirror.
"I see you looking at me in the mirror!"
Ask your baby, "Where is [baby's name]?" Observe out loud where they look.
"You can see yourself right here, can't you?"
Gently continue to invite your baby to find themselves in the mirror. Each time, point out something about them.
"There is [baby's name] wearing his blue shirt."
"I see [baby's name]. She is kicking her feet."
Social
Skills + Behaviors:
Recognize familiar faces

Learning to wave hello
Photos of Loved Ones
Post photos of loved ones at child eye level. Choose a place where your baby can see the photos, such as at eye level while sitting on the floor or a place where they often pull to stand. You can even create a photo collage on the floor or a playmat. 
You can use pictures of family members, family friends, pets, or other people personally close to your baby. Adding labels with each person's name can expose your baby to printed words.
From experience, the best way to post photos is first to tape them to the surface. Then seal the photos to the surface using a large piece of clear contact paper. 
Alternative: use two pieces of clear contact paper to "laminate" photos for your baby to hold.
Art
Investigate Art Supplies
At 8-months-old, babies are still learning about objects and how to use their hands to manipulate them. To help them prepare for more complex art experiences, you can start introducing art materials.
Babies can explore art objects by:
Crumbling, shaking different types of paper

Exploring capped markers or paintbrushes

Investigating materials like felt, tissue paper, ribbons
Music
Routines with Rhythm
Connect a song or nursery rhyme to a daily task. Each time you and your baby participate in the routine, sing the song or even play it from your phone.
Ideas could be:
good morning song

toothbrushing song

bedtime lullaby

getting dressed

diaper changing
Music can help soothe your baby during tough transitions too. 
Final Thoughts On Activities For Babies
Babies can reach many developmental milestones such as sitting, crawling, and babbling. They will begin to refine their fine motor skills and use their fingers to explore objects. At this age, there is a wide range of what is "normal." 
If you're worried about your baby's development, you can check out the CDC Milestone tracker PDFs or phone app. Reach out to your child's pediatrician, or (if you're in the United States) you can contact your local early intervention service for a free evaluation. 
Want more ideas? Sensory Learning Activities for Babies.
Learning with Nature: Awaking a Sense of Wonder
Exploring nature is a surefire way to spark young children's learning. Children inherently want to learn which is why they're constantly asking questions. They're full of wonder and curiosity.The natural world is an environment rich with possibilities for learning and can help children's wonder and curiosity flourish. In nature the opportunities for new knowledge and skills are seemingly endless and, when given enough time, nature will always spark a child's desire to learn. Odd looking insects, plants growing out of rocks, water carving grooves in the soil, and so much more are bound to inspire children's learning. Learning is happening when you hear a child say "Wow!", "Huh!", "That's weird!", or "What's that?" Those phrases are openings for deep learning with nature. Learning with nature is when nature becomes another teacher—providing a richer classroom than even the most careful adult plans ever could.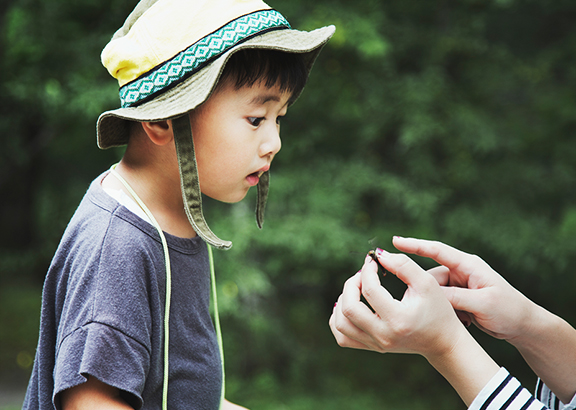 One key to children's learning with nature is a supportive and encouraging adult. The role of the adult is to see the hint of curiosity in a child and then encourage them to go deeper. While there are many strategies adults can use there are four which are particularly effective:1. Allow time for explorationAdults are always in a hurry, but young children need time to explore. It's important to slow down and allow children to explore at their own pace—whatever that may be. It's also important to support children's learning for days, weeks, and months. This means experiences in nature can't just be one-time events, but rather need to be frequent and ongoing. If we're intentional with our language, we can help children make sense of the world now and then build on those experiences over time.2. Ask open-ended questionsAll too often adults sound like they're on a gameshow with children as we pepper them with mostly useless questions—What color is that?, Which one is bigger?, What do you call that? A powerful shift in adult language is to move from closed-ended questions to open-ended questions such as Why do you think it's doing that? or How do you think that happened? Open-ended questions prompt children to share their thinking rather than regurgitate isolated facts. Children's responses not only tell us about the concepts they're making sense of, but also give us clues as to their interest and what they might like to explore further.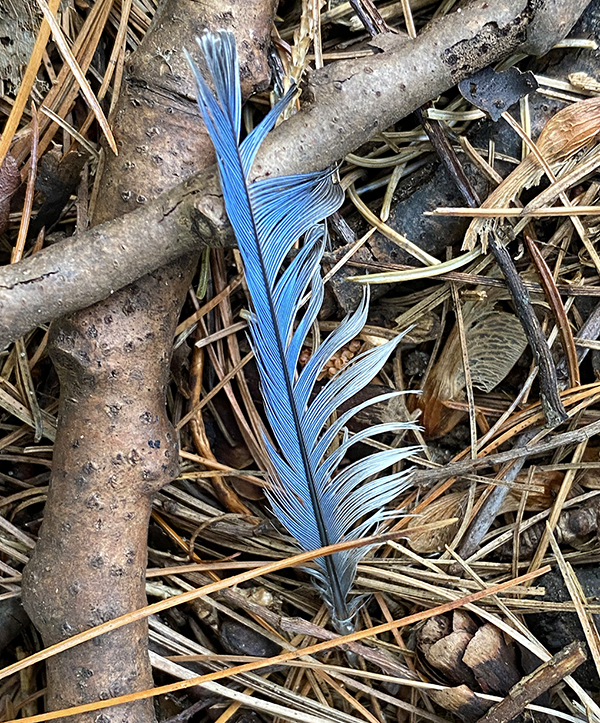 3. Encourage further explorationWhile most exploration involves physical interaction with the world. Exploration can also mean exploring the ideas outside of the moment that first sparked interest. For example, if a child finds a feather on the ground, it might make sense to explore the area to see if they find others—why are there so many around? Or maybe look more closely at the feather with a magnifier. On the other hand, further exploration might mean reading a story book about birds. And don't forget about the more abstract exploration through art, writing, and other creative endeavors. These creations highlight some of the meaning children were making from the experience.4. Model curiosityAnother important step in supporting children's sense-making of the world is to model curiosity. Children are always watching and listening to adults. They notice when an adult turns over a rock to see what's on the underside. They also notice when an adult says, "I wonder what that bird is saying." By awakening our own sense of wonder about the world we are encouraging children to do the same.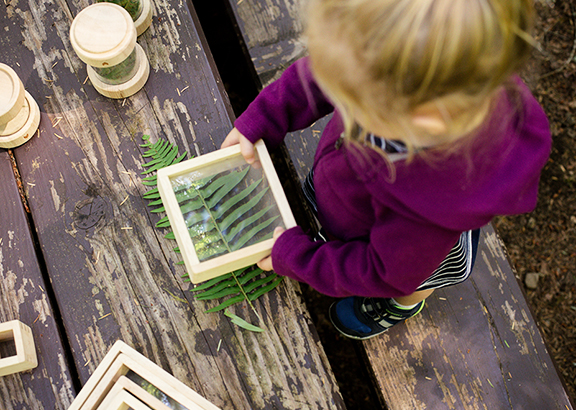 When adults implement these four strategies young children's learning will be rich and meaningful while also being fun! As such children will never see learning as a cho