Why Planning Early Intervention is the Best Thing You Can do for Your Child
I would see anomalies in behavior and her sensory reactions, people told me not to worry about the delays that I was seeing. Family members, friends, and even doctors told us, "That's normal!" or "My child does that too." In my heart, I knew it wasn't normal, and that is why I advocate strongly for early intervention. People think I'm crazy regarding this topic, but I stand by my beliefs because I have seen first-hand with my children how early intervention can change their life.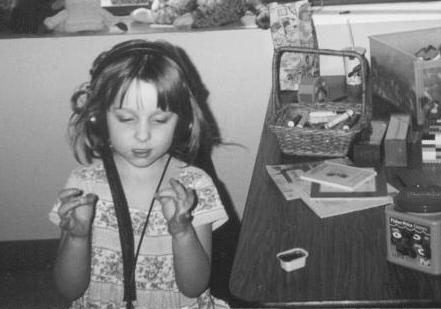 What is Early Intervention?
Early intervention is a service each state offers, but it is so much more than that. It is helpful for a child who may be delayed or have disabilities.
This is partly true for my family. My children have been a part of early intervention programs in several states we have lived in, and it has been helpful; however, as a parent, I have been able to help my kids much more than most programs can provide.For us, early intervention is receiving services and therapies my children need at a young age to help them succeed and have a better quality of life.

Early intervention is to help children succeed and to have a better quality of life in the future
Signs Of Autism In Babies And Toddlers
According to the CDC, every one in 68 children in the United States has an autism spectrum disorder.
As with any health issue, its best to get diagnosed as early as possible. The same goes for children with autism.
According to the CDC, every one in 68 children in the United States has an autism spectrum disorder, with boys being 4.5 times more likely to have the disorder than girls.
Many children dont get diagnosed until theyre older, even though experienced professionals are able to make reliable diagnoses by age 2. The average age of diagnosis is 4 years old, with some variance based on the type of disorder.
Heres the breakdown from the CDC:
Autistic disorder: 3 years, 10 months

Pervasive developmental disorder-not otherwise specified : 4 years, 1 month

Asperger disorder: 6 years, 2 months
Its important to pay close attention to a childs behavior early on to see if theyre displaying the signs of autism, as early intervention is beneficial. And research also shows that parents generally notice developmental differences in their child even before he or she is a year old. If your parental instinct tells you something may be delayed in your child, its a very good idea to trust that and seek an expert opinion.
Theres no one medical test that can determine if a child has an autism spectrum disorder, but there are a number of behaviors and developmental delays that could indicate your child has autism.
Early Signs Of Autism In A 2 Year Old
If you feel like your 2-year-old doesnt seem to be catching up with their development milestones, you may start looking for certain signs of autism spectrum disorder for any delays.Mild symptoms can be mistaken for being shy or the terrible twos.
Here are some red flags that may indicate ASD:
Doesnt speak more than 15 words,

Cant walk ,

Doesnt know functions of household items like fork,

Doesnt imitate parents actions or words,

Doesnt use items for their own purposes,

Doesnt follow simple instructions
Don't Miss: Lifespan Of Autism
What is Early Intervention?
The term Early Intervention indicates different meanings to different professionals. In this article, we are discussing Early Intervention related to the rehabilitation of a child and role of occupational therapy in early intervention.
Early refers to the critical period of a child's development between birth and 3 years of age. Intervention refers to the treatment program designed to improve or maintain the child's development.
Early intervention plan for kids is very effective for those children who are at high risk of developmental delay. The goal of early intervention is to prevent the physical, cognitive, social, emotional delay because of biological risk factor (low birth weight, fetal alcohol syndrome) or environmental risk factor (parental neglect, homelessness) in the young children.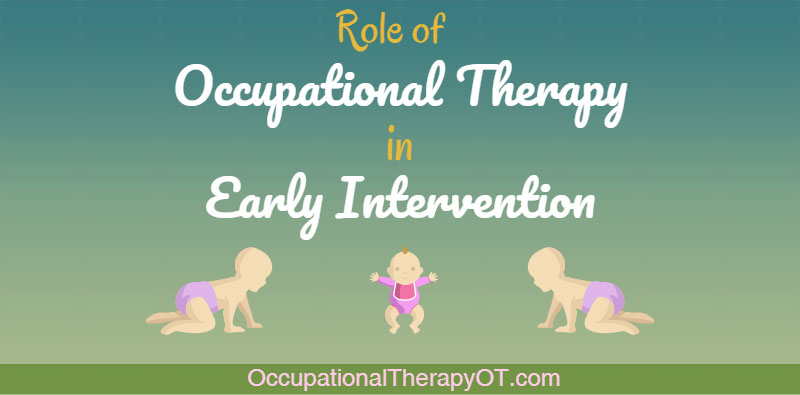 Early Intervention Team-
Early intervention service is not limited to occupational therapy. Other professional also has their own role and importance. In early intervention, the role of family members is very important. Occupational therapist should collaborate with family and other professional for better service.
The team approach is used widely in early intervention. Professionals work together as a team to deliver the range of necessary services- medical aid, nursing care, physical therapy, occupational therapy, and speech therapy.
Role of Occupational therapy in Early Intervention –
Occupational therapy is considered as a primary service for the young children who needs early support. Occupational therapist assists in functional needs of the child.
The role of occupational therapist is to facilitate the independent functioning of infants and toddlers and their families. (Case-Smith, 1989)
Independent functioning of young children, according to their developmental age, is achieved through assessment and intervention effort in the areas of motor control, sensory modulation, adaptive coping, sensorimotor development, social-emotional development, daily living skills, and play. (Gorga, 1989)
Read More… Occupational Therapy for Children
Early Intervention and occupational therapy services-
In early intervention, occupational therapist plans out the initial assessment and set some objective and goals to achieve the desired outcome. After that,  the Occupational therapist applies intervention strategies.
Occupational therapy Evaluation and Assessment-
The process of evaluation is the gathering and interpreting of information on the child's age, health status, medical history, current developmental level of functioning, family support to maximize the child's development.
Who is eligible for the early intervention services?
The early diagnosis of a child helps him/her to get early intervention services. Diagnosis includes cerebral palsy, Down 's syndrome, ADHD, Autism, spina bifida are generally needed early intervention. But not limited to this, a child with developmental delay may be because of any genetic, chromosomal problem, neurologic problem, trauma is also needed early intervention.
The occupational therapist evaluates many developmental areas of child and point out the problematic area. In general, OT assesses the motor component, sensory component, perception, cognition, communication, social, and emotional aspects of the child.
The therapist may use informal assessment through observing the child playing with parents. More specifically, occupational therapist can choose from a variety of standardized assessment kit for better screening. Some are-
Bayley Scales of Infant Development

Erhardt developmental prehension assessment

The Hawaii Early Learning Profile(HELP);

The Assessment, Evaluation and Programming System for Infants and Children, Second Ed. (AEPS);
The occupational therapist on the early intervention team focuses on outcomes from a family-centered perspective. The goals should be focused on improvements in the gross motor skills and fine motor skills. The goals must be set after the discussion with the family member.
Occupational therapy Intervention-
Occupational therapists promote a child's independence and self-confidence in their physical, emotional, and psychosocial development. Occupational therapy in early intervention is marked by engagement in meaningful occupations of the child and family in the natural environment.
Family centered approach –
In this approach, occupational therapist involves the family members in the intervention. The therapist guides the caretakers about the amount of involvement in child's intervention program. Therapist can teach functional activities to the family members. Activities should be those that target behaviors and skills that the child can generalize to his or her daily routines at home, school, and community.
Activities should be those that target behaviors and skills that the child can generalize to his or her daily routines at home, school, and community. Therapist can provide support for families by listing to them, giving positive feedback regarding parenting skills.
Areas of Intervention-
Motor Area-
The motor skills are more prominent and attract first preference in the treatment planning. The gross motor skills, such as independent sitting, standing, and walking come under the first priority. Along with this, fine motor skills including grasp and release of objects, in-hand manipulation has its own importance.
Occupational therapist must be creative when designing intervention strategies with caregivers.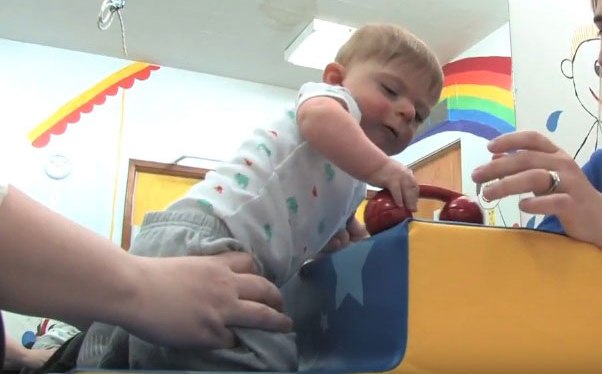 baby on the knees with hand activities
Sensory Processing –
Occupational therapist addresses therapy planning if there is anything related to sensory processing problem. The infant or toddlers may be irritable, cry frequently, be difficult to comfort, or have difficulty with changes in routine.
The therapist may use appropriate tactile, vestibular, and proprioceptive input that elicits organized behavior and adaptive responses in the child.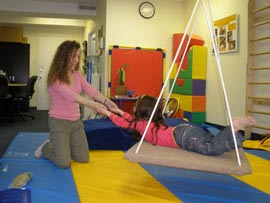 kid on the platform swing
Occupational therapist promotes self-care in early intervention. Activities of daily living include feeding, dressing, toileting etc.
If self-care is restricted due to any motor or sensory issues, OT looks in that matter and guide the family member the right strategies. Many time modification of an environment is necessary for the adaptation. Assistive devices are also available, which help in feeding (modified spoon)
Play –
Occupational therapist assists in the refinement of the physical movement and mental abilities. Play is the perfect media OT uses to improve these areas. Play can be exploratory, creative, or competitive in nature. Therapist can teach a child gross motor and fine motor skills through play. The material (sand, plastic containers, spoons) typically found in the natural environment (home) should be the focus of play.
Adaptive Equipment-
Occupational therapist prescribes equipment that allows maximum function to the needs one. Custom made adaptive seating devices have been found to improve sitting postures and eating skills of young children with multiple handicaps. A variety of adjustable seating inserts, wheelchairs are available in the market. Therapist guides the parent which is the best option available for the particular child and helps them to train him.
Summary-
Occupational therapy is an integral part of early intervention team. Occupational therapists use holistic approaches with children and their main goal is to make them independent. Occupational therapy in early intervention program considers sensory, motor, social, and cognitive aspects of performance.
Early Intervention Services for Autistic Children
EI exists to serve individual children with disabilities and their families. Thus, for example, a baby with cerebral palsy will receive very different services from a child with autism. Children with autism may be diagnosed as young as 18 months, and some are at high enough risk of autism that their services begin at an even younger age.1
In general (depending on the state), autistic children may be offered:1
Applied behavioral analysis (ABA) therapy: There are many types of ABA available, and different approaches are more popular in different locations. ABA is intended to teach children appropriate behaviors and skills, with the ultimate goal of having them join the majority of their peers in school and the community.

Developmental or play therapy: There are several different types of play and developmental therapy. Approaches vary from state to state. Developmental therapies help build social communication skills and may help children with autism play and communicate more successfully with their peers.

Occupational and sensory integration therapy: Children with autism often have fine-motor challenges that make it difficult to handle a fork or draw with a pencil. They often have sensory challenges that make it difficult to experience bright lights and loud sounds (or they may crave sensory input). Occupational therapists work with autistic children to help them improve their skills and lessen sensory overload.

Speech therapy: Children with autism may have speech delays or not use speech typically (repeating words rather than using them meaningfully or having problems understanding abstract ideas). Early intervention can help them catch up to their peers, learn how to use spoken language, or use nonverbal tools for communication (such as picture boards or sign language).

Special preschool and summer programs: While an autistic child may receive some therapies at home or in an office setting, many states provide disability or special education preschool programs to enhance learning in a group setting. Programs may be in the local school district or a county or state-run setting.
Early Intervention Supports for Parents or Guardians
Many states offer EI programs for parents or guardians as well as children on the autism spectrum. Often, these programs are essentially parent and guardian training. Their purpose is to teach parents and guardians how to partner with therapists on an autistic child's behalf.
Some programs are also intended to help parents and guardians cope with the stress related to raising a child with autism. Parents and guardians may be offered:
Training from therapists: Therapists can only work with children for a limited number of hours a week, but parents and guardians have many more opportunities to build skills at any time of the day. Even better, research suggests that parents and guardians who feel that they have a role to play in an autistic child's development are less likely to feel overwhelmed.

Individual psychological support: In some cases, social workers or psychologists work directly with parents and guardians who are coping with significant stress related to their child's autism.

Group support programs: Often, EI programs include parent or guardian support group meetings in which information, tips, and emotional support are shared.