Where can autism parents find caregivers
or mother's helpers? 
While all situations are not the same, sometimes there is help available in overlooked places. Below are some tips on where to begin searching for help to help make life just a little easier for parents of children with autism:
Respite care service
Ask around or search online to see if there are respite care service providers or other services for children with autism spectrum disorder you can access in your area. There might also be community groups and support groups for adults and caregivers you can utilize.
You may also wish to look into hiring someone to come in once a week, or however often is suitable for your family, to relieve you of your duties for the day. If you are worried about the quality of care they will provide your child, ask for reviews and testimonials, and ask if they're willing to study caring for those with disabilities and disorders. You can then rest assured knowing you can choose to be nearby if you want to supervise.
Also make use of the time your child might be at school, or at an activity group, as this is a great opportunity for a bit of self focus.
Extended family and friends
Do you have extended family members, parents, siblings, or a significant other who can help out with caregiving duties for your child? Perhaps an aunt, uncle, or grandparent? Families are among the best resources when it comes to autism caregiver support.
Maybe you have a friend who has offered to help in the past. Don't hesitate to accept their offer!
You can train people in your support network on the tasks they will need to cover, and once you have a group of people who are ready to help, you can create a rotating schedule so everyone can step in to support your child at least once a month. You'd be surprised by how much this could help reduce stress.
Immediate family support
If you have a partner and/or children who live at home with you, ask them all to pitch in and work together to share the caregiving responsibilities with you.
You can assign a different person to each day of the week, or you can assign specific tasks to specific people. For example, you can ask your son to cover caregiving duties every Saturday, or you can ask him to take care of feeding duties every weeknight. This way, the parents in the home don't have the high pressure of taking on every task 24/7.
Put up a calendar on the fridge once you have agreed on a schedule so everyone in your immediate family has a reminder of what their responsibilities are, whether they are a child helping with small duties, or an adult taking on larger tasks.
How to make the most of caregiving breaks
If you are a caregiver and have had a break to yourself recently, have you found yourself wondering, "what do I do now?" If so, you are not alone! Many caregivers spend most of their waking hours thinking about how to help their children, and they forget how to care for themselves. Below are some suggestions on things you can do and strategies you can use to look after yourself when you need a well-deserved break:
Schedule your appointments
Whether this is a medical appointment you've been putting off or a spa session, make sure to prioritize it! Medical appointments and treatment aren't always fun, but they are important to make sure you are taken care of in life.  As a parent of a child with autism, you should always focus on your own health, in addition to the health of your child.
Make plans with a friend
Go out and do something you like and enjoy! Find a new restaurant, go to a sporting event, or just get together for coffee and catch up with other people.
Do you have someone who is available to cover for you and look after your child for a couple of days at a time? Plan a mini trip— solo or grab some social time with a friend!
Does Your Child Need Early Intervention?
Ideas for Positive Caretaking when you are helping out
Positive parenting makes life so much easier for parents and children. Small, positive changes to your parenting style make a huge difference. Follow these easy ideas to positive parenting and enjoy the difference it makes to your entire family life.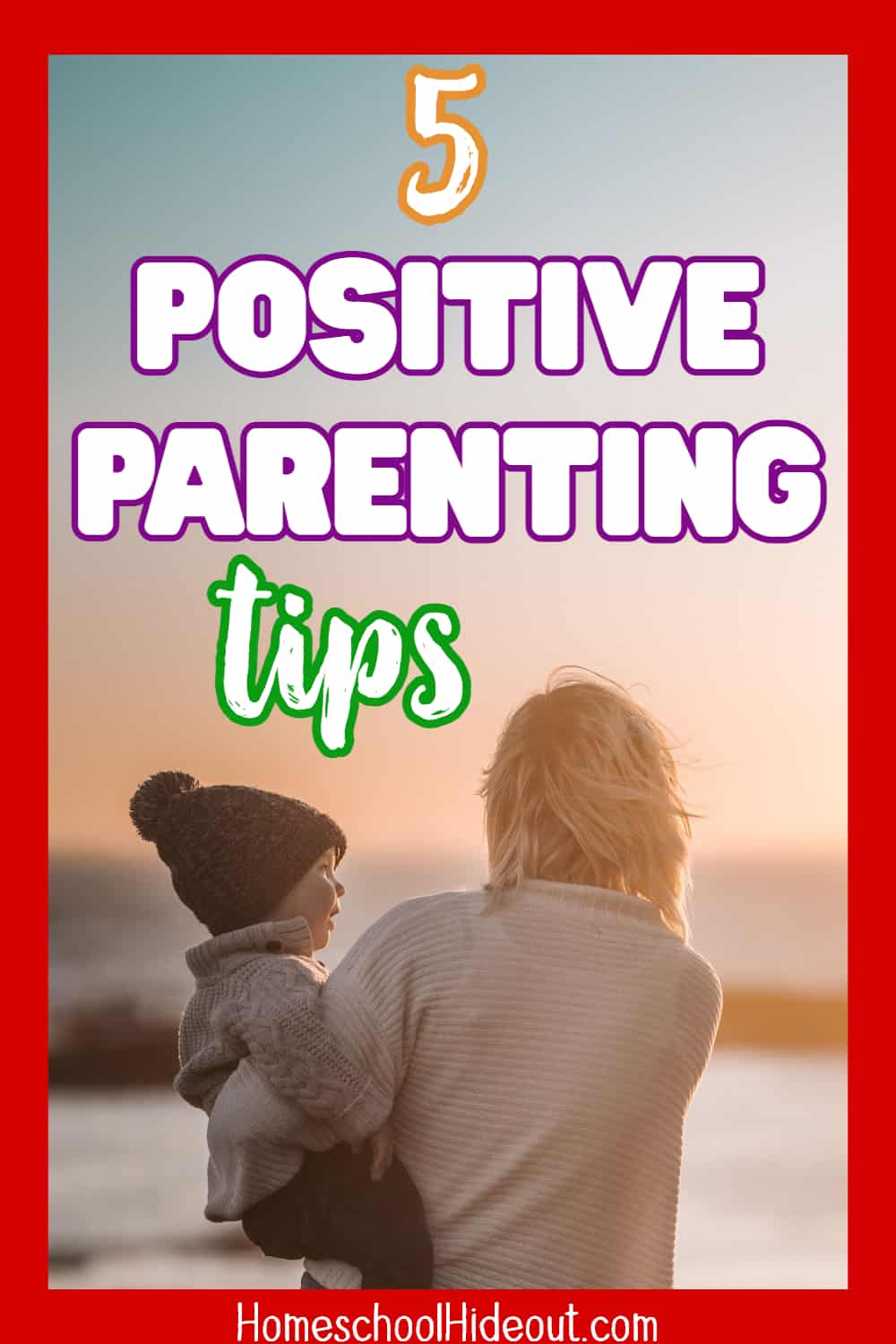 5 Easy Positive Parenting Ideas
You can't possibly be a perfect parent but it's easy to be a good one! Just add one or two ideas each day so that you gradually incorporate all of these ideas into your day to day family life.
Decide what you want:
All families are different, and what works for one family may not be the best way for another. Take time to decide what your core values are as a parent and within your family. These are the things that are most important to you.
They could be good manners, good study skills, having your children help around the home or care for other members of the family/pets, teaching your child the importance of good money management or how to be independent, etc. Make sure you know what you want and what's important to you so that you can make parenting decisions that support your core values.
Ask for what you want:
Now that you have decided what is important to you, let everybody else know and ask all family members for what you want. Give all other family members a chance to ask for what they want too. Take time to listen and talk and try to be flexible so that others' needs are met.
For example, your teenage daughter might say that she wants more freedom to spend time with friends, and maybe as a parent, you want her home at a certain time; you can try to work out a solution that fits both of your needs. Most parents find that when they talk openly about what is important to them and show the child/teenager respect for their needs, there is a natural solution that works for both. Once the need to push against parental control is removed, things get much easier.
Praise your child:
Make it genuine and make it often. We all like to be praised, and we all feel better and achieve more with regular praise. Be specific with your praise by saying things like "Great job with cleaning your bedroom. It looks so nice and tidy now." Or "Well done, those math questions seem quite difficult; you've done a fantastic job."
Look for the good stuff:
Make sure you look for the good things your child does and says. In this busy, busy world we live in, it's easy to notice when your child is misbehaving but completely misses the fact that he or she has beautifully behaved for the past three hours. When you focus on the behavior you like/want, you attract more of that behavior.
Give your time and be present:
Time is the most precious gift you can ever give your children. They love you, and more than anything in the world, they want you to spend time with them, and the key factor is to be there for your children. Five minutes of your time being completely present and completely focusing on your child is better than spending three hours with him but being distracted by anything and everything else. Let your children know that they are important to you.
"The best thing to spend on your child is time" ~ Louise Hart.
Parenting is hard but when you approach each day with positive parenting tactics, it can make life so much easier on everyone in the family! Open the lines of communication, spend time together and enjoy being present with your kids!
Calming, Organizing and Alerting Activities for Children
May 7, 2010
Children, in particular, those with special needs, often need many breaks throughout their school day to help them focus, stay on track, or calm in order to self-regulate. If you are in a public school environment, sitting at a desk all day can be a challenge. Today I am sharing some calming, organizing, and alerting activities for children.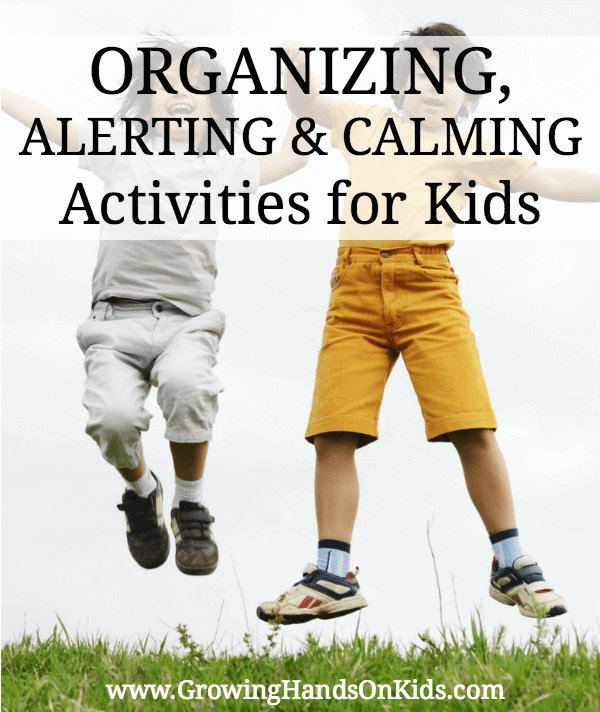 These can be used in school, at home, in homeschool routines, really anywhere. There is also a free printable packet of all the ideas below for you to grab.
Organizing Activities for Kids
Heavy work (gives input to muscles and joints and causes fatigue)

Wall pushes with hands and feet.

Jumping on trampoline

Popcorn jumps  (jumping from a squat position and then landing back in a squat position)

Wheelbarrow walking

Crawling through tunnels

Obstacle course

Putting up/down chairs

Sitting on "move and sit" therapy ball during classroom activities

Passing the weighted balls

Scooter board on belly and bottom (wall push-offs) 10+ reps

Resistance Bands 
Alerting Activities for Kids
Now for some Alerting Activities. These are great to use with kids who are quieter and tend to be lethargic. Also great to use after sitting activities to get the juices flowing again. Just make sure you do some type of calming activity after an Alerting activity before asking your child to sit back down to learn and work again.
Bouncing on a therapy ball

Upbeat music with a strong beat

Vibrations on the arms, hand or back

Swinging

Jumping on a mini-trampoline

Going outside

Heavy work activities (moving a stack of books, re-arranging chairs, etc)

Use two fingers on both sides of the spine, give a light upward stroke 3-5 times.

Controlled spinning (no more than 10 repetitions at a time – do not do this if there is any known heart or seizure history)

Jumping Jacks

Push-Ups or Wall Push-Ups

Skipping

Running (Relay races, obstacle courses, etc)
Calming Activities for Kids
Rocking slowly over a ball on the belly

Turning off the lights

Swinging in a large circle with the child facing an adult (no spinning)

Laying under a heavy blanket

Soft music (spa CD)

Beanbag squeezes

Laying on the floor while an adult rolls a ball over top giving some deep pressure.

Use of body sock/lycra material to wrap in

Light touch/hard touch (depending on the child) – have the student brush a feather over their arms, or squeeze their arms with their hands for deep pressure.

Using two fingers on both sides of the spine to give form downward strokes 3-5 times.

Hand fidgets (such a play dough, Wikki Stix®, Thera-putty, etc.)

Heavy work (moving furniture, a stack of heavy books, pulling a weighted backpack/rolling cart)
Subscriber Printable of Organizing, Alerting, & Calming Activities for Kids
As a free gift, I'll send you the Organizing, Alerting, and Calming printable download.

Just add your name and e-mail address and then look for a confirmation e-mail (double check your spam folder). Confirm your subscription with the link in that e-mail.
Once you register for the download will automatically be sent to your computer. Please double check your downloads folder so you can save it to your computer for future reference.