Hands on Learning and Themed Units
The Learning Express
Free Information
Classic Home Resources
Easy to Follow Directions
Open Ended
Guided Instruction
Hands on and Multi-Sensory Fun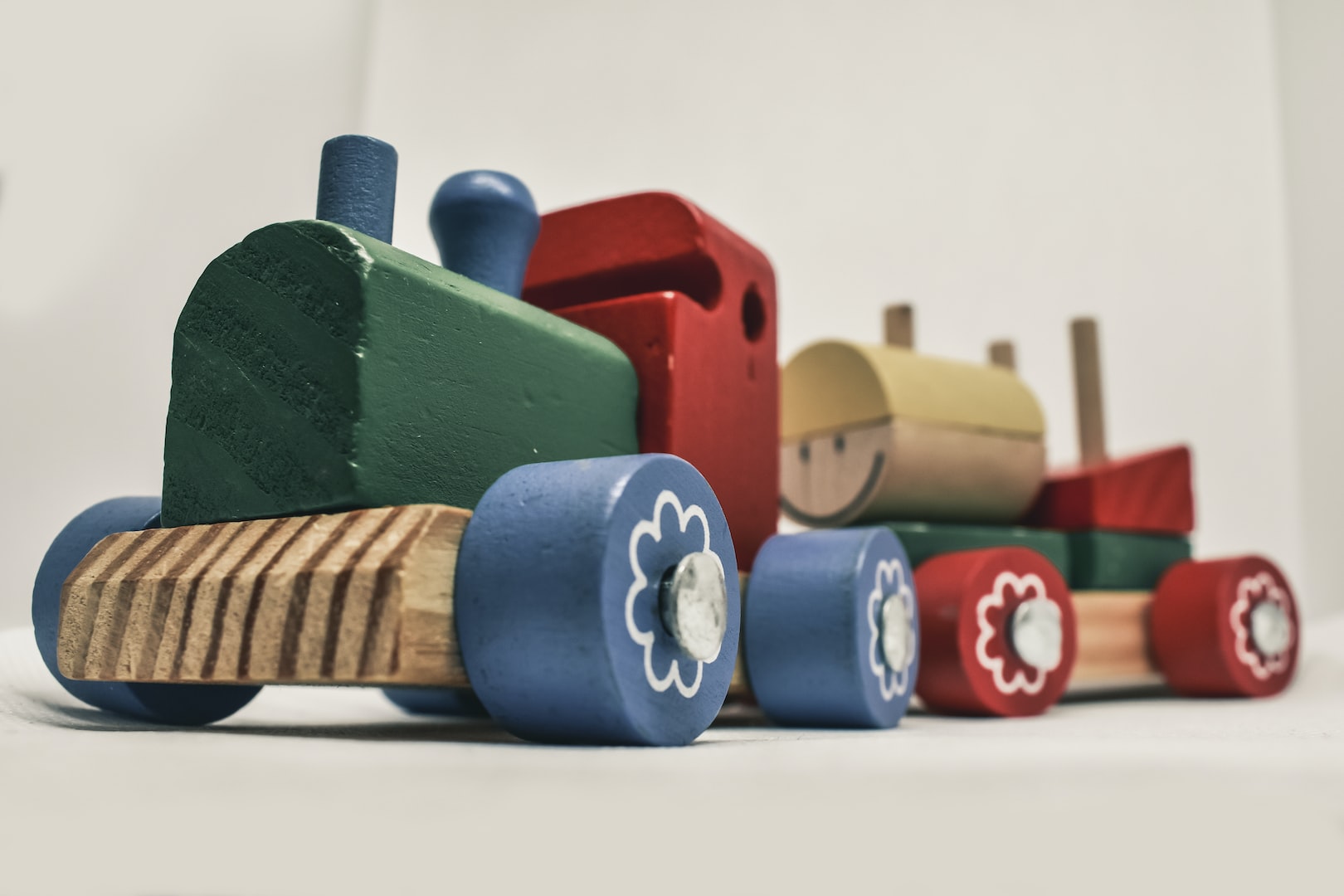 Visit the Links Below
Toddler Station
Art Station-Process Art
Game Station-Playtime
Food Station-great for Playdates
Discovery Station - Science & Nature
Toddler Activities

 CONCEPT UNITS
 SEASONAL UNITS
RECOGNIZING TEACHING MOMENTS
Parent Resources and Tips
Preschool Skills
COORDINATION SKILLS

DEVELOPING LARGE MUSCLE SKILLS
WINTER FINGER PLAYS
DEVELOPING SMALL MUSCLE SKILLS
HOPPING AND JUMPING INTO SPRING
BEAN BAG GAMES
SUMMER COORDINATION SKILLS
BALANCING SKILLS
OUTDOOR OLYMPICS
THROWING GAMES
VALENTINE COORDINATION GAMES 
THINKING SKILLS
PROBLEM SOLVING WITH BLOCKS
CREATIVE PROBLEM SOLVING
THINKING SKILLS
WHAT COULD IT BE?
SORTING SKILLS
CUTTING SKILLS
BEGINING CUTTING CRAFT PROJECTS
SPRING CUTTING IDEAS
BEGINNING CUTTING SKILLS
CUTTING HEARTS AND SNOWFLAKES
PRE-READING SKILLS
MAKING COLOR BOOKLETS
RHYME PUZZLES
VALENTINE'S DAY JOKES
SPRING LANGUAGE SKILLS
HOLIDAY STORY SKILLS
SUMMER WORD GAMES
POSITION WORD GAMES
LEPRECHAUN WORD GAMES
TIPS FOR TEACHING LETTERS
ALPHABET HEARTS
FINGERPLAY FUN
LETTER SKILLS
PRE-READING BOOKS
PRE-READING RHYMING SKILLS
WINTER WORDS
WORD GAMES
SCIENCE SKILLS
OBSERVATION SKILLS
LISTENING SKILLS
LISTENING GAMES
 
WRITING SKILLS
WRITING HEARTS
BEGINNING WRITING FUN
SUMMER WRITING FUN
 
SEWING SKILLS
CONCEPT GAMES
ALPHABET GAMES
HALLOWEEN RHYME LISTS
SOCIAL SKILLS
THANKSGIVING JOKES
BEING THANKFUL
THE GIFT OF GIVING
THE GIFT OF GIVING TO ANIMALS
HALLOWEEN HUMOR
MODELING SOCIAL SKILLS
EMOTIONAL SKILLS
FEELINGS
LANGUAGE SKILLS
HELP ME RHYMES
Preschool Skills
COORDINATION SKILLSDEVELOPING LARGE MUSCLE SKILLS
WINTER FINGER PLAYS
DEVELOPING SMALL MUSCLE SKILLS
HOPPING AND JUMPING INTO SPRING
BEAN BAG GAMES
SUMMER COORDINATION SKILLS
BALANCING SKILLS
OUTDOOR OLYMPICS
THROWING GAMES
VALENTINE COORDINATION GAMES 
THINKING SKILLS
PROBLEM SOLVING WITH BLOCKS
CREATIVE PROBLEM SOLVING
THINKING SKILLS
WHAT COULD IT BE?
SORTING SKILLS
CUTTING SKILLS
BEGINING CUTTING
CRAFT PROJECTS
SPRING
CUTTING IDEAS
BEGINNING CUTTING SKILLS
CUTTING HEARTS AND SNOWFLAKES
PRE-READING SKILLS
MAKING COLOR BOOKLETS
RHYME PUZZLES
VALENTINE'S DAY JOKES
SPRING LANGUAGE SKILLS
HOLIDAY STORY SKILLS
SUMMER WORD GAMES
POSITION WORD GAMES
LEPRECHAUN WORD GAMES
TIPS FOR TEACHING LETTERS
ALPHABET HEARTS
FINGERPLAY FUN
LETTER SKILLS
PRE-READING BOOKS
PRE-READING RHYMING SKILLS
WINTER WORDS
WORD GAMES
SCIENCE SKILLS
OBSERVATION SKILLS
LISTENING SKILLS
LISTENING GAMES
 
WRITING SKILLS
WRITING HEARTS
BEGINNING WRITING FUN
SUMMER WRITING FUN
 
SEWING SKILLS

SEWING FUN
MORE SEWING FUN
CONCEPT GAMES
ALPHABET GAMES
HALLOWEEN RHYME LISTS
SOCIAL SKILLS
THANKSGIVING JOKES
BEING THANKFUL
THE GIFT OF GIVING
THE GIFT OF GIVING TO ANIMALS
HALLOWEEN HUMOR
MODELING SOCIAL SKILLS
EMOTIONAL SKILLS
FEELINGS
LANGUAGE SKILLS
HELP ME RHYMES
Preschool Skills
COORDINATION SKILLSDEVELOPING LARGE MUSCLE SKILLS
WINTER FINGER PLAYS
DEVELOPING SMALL MUSCLE SKILLS
HOPPING AND JUMPING INTO SPRING
BEAN BAG GAMES
SUMMER COORDINATION SKILLS
BALANCING SKILLS
OUTDOOR OLYMPICS
THROWING GAMES
VALENTINE COORDINATION GAMES 

THINKING SKILLS
PROBLEM SOLVING WITH BLOCKS
CREATIVE PROBLEM SOLVING
THINKING SKILLS
WHAT COULD IT BE?
SORTING SKILLS
CUTTING SKILLS
BEGINING CUTTING CRAFT PROJECTS
SPRING CUTTING IDEAS
BEGINNING CUTTING SKILLS
CUTTING HEARTS AND SNOWFLAKES
PRE-READING SKILLS
MAKING COLOR BOOKLETS
RHYME PUZZLES
VALENTINE'S DAY JOKES
SPRING LANGUAGE SKILLS
HOLIDAY STORY SKILLS
SUMMER WORD GAMES
POSITION WORD GAMES
LEPRECHAUN WORD GAMES
TIPS FOR TEACHING LETTERS
ALPHABET HEARTS
FINGERPLAY FUN
LETTER SKILLS
PRE-READING BOOKS
PRE-READING RHYMING SKILLS
WINTER WORDS
WORD GAMES
SCIENCE SKILLS
OBSERVATION SKILLS
LISTENING SKILLS
LISTENING GAMES
 
WRITING SKILLS
WRITING HEARTS
BEGINNING WRITING FUN
SUMMER WRITING FUN
 
SEWING SKILLSSEWING FUN
MORE SEWING FUN
CONCEPT GAMES
ALPHABET GAMES
HALLOWEEN RHYME LISTS
SOCIAL SKILLS
THANKSGIVING JOKES
BEING THANKFUL
THE GIFT OF GIVING
THE GIFT OF GIVING TO ANIMALS
HALLOWEEN HUMOR
MODELING SOCIAL SKILLS
EMOTIONAL SKILLS
FEELINGS
LANGUAGE SKILLS
HELP ME RHYMES
PBS KIDS
Self-Paced Learning
PBS KIDS offers this FREE special collection of flexible self-paced learning to help inspire PreK-2 teachers and provide support for the classroom. Choose from a variety of learning topics designed to spark new ideas and expand your skill set for engaging children and families with educational media. You may also be able to earn between one to three credit hours.
Explore our Learning Paths, a series of short microlearning modules (15-minute, skill-based experiences in a range of interactive formats) that can lead to a certificate.
Enseñando Ciencia temprana con la colección Changing Seasons
Con las herramientas de PBS KIDS, explore formas de integrar planes…
Grades PreK-K, K-2
Teaching Early Science with the Changing Seasons Collection | PBS KIDS Self-Paced Learning
With tools from PBS KIDS, explore ways to integrate media-rich lesson…
Grades PreK-K, K-2
Supporting Dual Language Learners | PBS KIDS Self-Paced Learning
Get the facts on the power of bilingualism for young children!…
Grades PreK-K, K-2
Spark Learning with Daniel Tiger's Neighborhood | PBS KIDS Self-Paced Learning
Media can spark children's curiosity, conversations, and play! Discover…
Create Media with PBS KIDS ScratchJr​ | PBS KIDS Self-Paced Learning
Creating media is an important part of early media literacy…
Grades PreK-K, K-2
Document Learning with Elinor Wonders Why | PBS KIDS Self-Paced Learning
With tools and materials you already have and early…
Grades PreK-K, K-2
Model Learning with Odd Squad | PBS KIDS Self-Paced Learning
With math-based resources from PBS KIDS, explore how characters and…
Grades PreK-K, K-2
Share Media with Peg + Cat | PBS KIDS Self-Paced Learning
Explore developmentally-appropriate ways to integrate media and digital…
Grades PreK-K, K-2
Connecting with Families | PBS KIDS Self-Paced Learning
To fully support a child's development, strong communication between…
Grades PreK-K, K-2
Teach with Informational Text | PBS KIDS Self-Paced Learning
Learn about the purpose of Informational Text and discover how the…
Grades PreK-K, K-2
Early Engineering with Ready Jet Go! | PBS KIDS Self-Paced Learning
With real-life materials and exciting tools to touch and…
Grades PreK-K, K-2
Explore Media and Wild Kratts | PBS KIDS Self-Paced Learning
Enhance children's learning by integrating media into your lessons!…
Grades K-2
PEEP Science Teaching Strategies for Center-Based Preschool Educators
In this one-hour, self-paced training, you will learn key…
Supporting Play with Technology and Media
Explore your beliefs and understandings about technology and interactive media use, and…
K-2 Science Tips: Energy & Motion
In this self-paced course you will be introduced to inquiry-based and connected learning…
K-2 Science Tips: Animal Adaptations
In this self-paced course you will be introduced to inquiry-based and connected learning…
PEEP Estrategias de enseñanza de ciencias para educadores de cuidado infantil familia
La capacitación es parte de un conjunto de recursos educativos…
Grades PreK-K
PEEP Science Teaching Strategies for Family Child Care Educators
In this one-hour, self-paced training, you will learn key…
Grades PreK-K
Thinking and Making with Media in PreK-2 Classrooms
Intentional and developmentally-appropriate use of media provides children…
16 play-based activities
FOR 1 & 2 YEAR OLDS
"WHAT AM I GOING TO DO ALL DAY?"
"HOW CAN I TEACH MY TODDLER?"
"I NEED SOME WAYS TO KEEP THEM BUSY."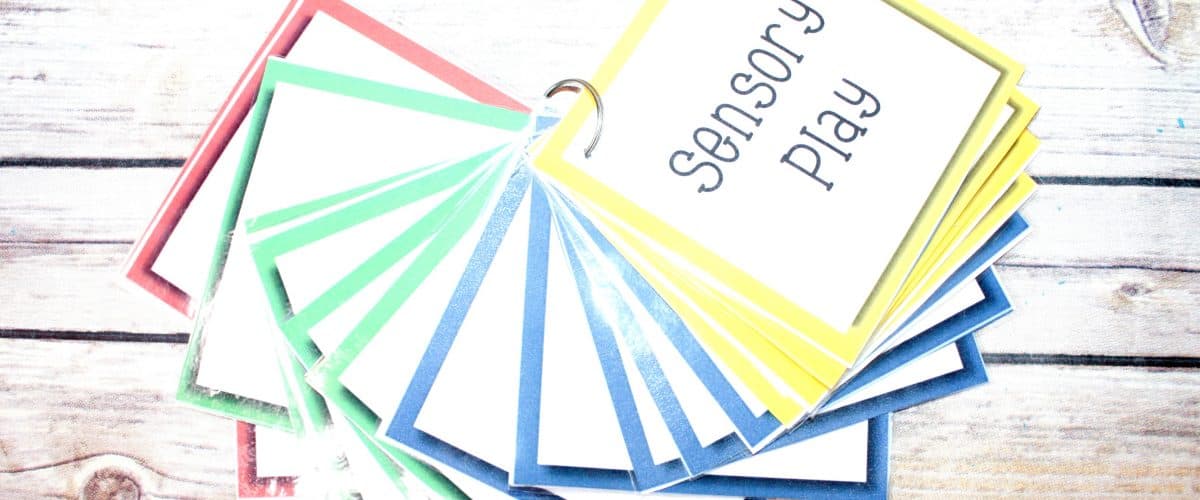 Print them today!
Sensory
Kids learn better when all senses are engaged. These activities will stimulate and excite little ones!
Fine Motor
Set the foundation for handwriting and so much more with these activities to give little fingers a workout.
Arts & Crafts
Art doesn't have to be messy. Here are some mess-free options (and some messy ones as well! )
Outdoors
Get outside! Some simple ways to involve nature and found items into learning and play.
EACH OF THESE ACTIVITIES ARE PERFECT FOR 1 AND 2 YEAR OLDS.
Cards that you can print at home! Simple to assemble, durable, and sure to provide tons of fun!
Why is Play the Best Way to Learn?
Children recognize their abilities, gain self worth, and feel good about themselves.
Play is fun! Children stay engaged longer and become confident and motivated learners.
Play helps children develop skills that will stay with them beyond the early learning environment.
I want simple ways to play with my child!
HOW DO INTEREST-BASED LEARNING ACTIVITIES SUPPORT LEARNING?
Children are naturally curious and passionate about exploring their interests.
Those qualities create a dynamic entry point into a highly effective educational strategy called interest-based learning (IBL). It channels their eagerness to learn about things they like into a guided cycle of asking questions and finding answers. The "guided" part is critical. IBL is a process for expanding inquiry and discovery, not just a way to learn how to do hobbies better. 

IBL changes the student's role in the educational process by giving them a voice in setting the academic agenda. IBL motivates them to become active learners. By provoking their curiosity and encouraging them to ask questions, IBL takes advantage of how kids' brains are wired to connect the things, they know with new things. 
It also changes the role of Learning Coaches, parents, and teachers. Understanding their students' interests— whether by observation or conversation—is the foundation of the model. It's also the key to effective mentoring and inspiring students to stay focused on their learning. 
The impact of learning arranged around these activities and pursuits can be dramatic. 
ASCD an online education community, quoted a high-schooler whose student-centric curriculum led to success she could not have imagined. Prior to her IBL experience, Beatrice said she'd felt like teachers have always tried to teach her what to think. 
"This is the first time I feel like I've been taught how to think and really had to think for myself; I never thought I would have been able to pull this project off on my own."  The extra measure of autonomy motivated Beatrice to become a self-learner by exploring her interests, while her educators guided her through the experience. 
Students invest heavily in their academic achievement and personal growth when they connect their interests with their studies and the real world. However, traditional schools typically teach a "one-size-fits-all" curriculum that is not conducive to the IBL strategy. 
Tuition-free, state-certified online learning, on the other hand, is an ideal alternative for families who want to take advantage of IBL benefits.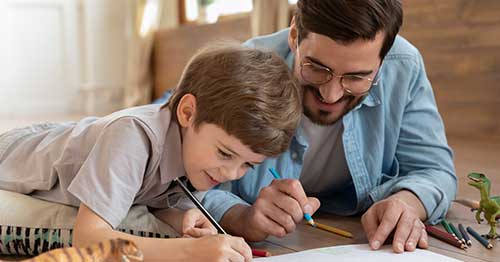 What Does Research Say About Interest-Based Learning?
The student-centric approach motivates children to draw on many real-world sources to create a cycle of learning. Instead of proceeding on a fixed line—learn one thing, store it, then go on to the next— students go from mastering one concept to becoming curious about what comes next.  
Learning based on children's interests, then, is limited only by the child's ability to ask questions—with the guidance of a Learning Coach or teacher— and research bears out the positive impact of the IBL model. 
David Yeager, a respected educational researcher, found strong links between persistence in finding answers and interest-based learning activities. Even when schoolwork became challenging, students who connected what they were learning with their interests were more likely to stick with the problem until they'd worked their way through it successfully. 

"Conversely, school structures and curriculum that seem outmoded, or actively opposed to student input, can push students, especially the most marginalized, to disengage or even drop out of school entirely." 

Research published in the journal Autism asked parents of preschoolers to identify their children's interests and community activities. Students were separated into two groups based on their level of interest in the identified activities. Parents then implemented a four-month-long intervention based on the interests of their children with autism and found: 

"The high interest-based group made considerably more developmental progress compared to the low interest-based group." 



The National Quality Standard Professional Learning Program warns that coaches, parents, and teachers should not surrender the learning experience to students. Their role as mentor and facilitator is critical to guiding children effectively. 

"It can help if we think about using children's interests rather than just following them. Our focus should be on where an idea leads, rather than its source."    
Interest-based learning is a model for lifelong learning. Children whose interests are embedded in their education are more likely to stay engaged through school and college and into whatever follows. Because learning itself becomes an interest, they become self-motivated to build on their knowledge.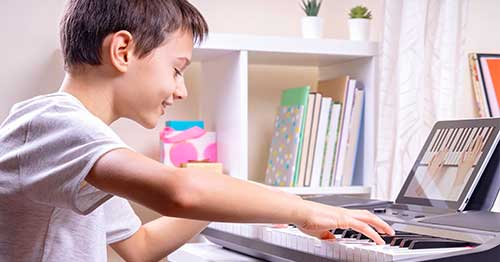 What Are the Best Ways to Use Homeschool Topics of Interest?
The flexibility of online education makes it an ideal alternative to traditional, in-person education and the "stand and deliver, sage on a stage" style of teaching. Having a voice in setting their school day schedule allows them to blend their interests into the learning.  
Connections Academy® schools believe that no two students learn alike, which is why it's a priority for families to make decisions around courses and scheduling to meet a student's needs and embrace each student's unique qualities and dreams. 
For instance, online schools encourage learning outside the box. Literally. Is your student interested in animals?  Interest-based learning activities might include taking your student to the zoo to connect their biology lessons with future patients.   
In addition to a dedicated learning area for online schoolwork, create a Maker Space. Kids like to see how things work. And when they're coached to make things that are connected to what they are learning, they nurture their natural creativity, practice critical-thinking skills, challenge their imaginations, and come up with effective solutions to real-world problems. 
If your teen is interested in community service or volunteering, the scheduling flexibility of remote learning lets them shape their school day to accommodate volunteer activities, which include virtual opportunities to give back. And, flexible scheduling enables parents and students to build time for those activities into the learning day. 
Interest-based learning is all about identifying students' interests, stoking their curiosity to know more about them, and guiding them to satisfy that curiosity. When students start asking questions, regions of their brains associated with reward, memory, and motivation actually "fire up" with activity. In other words, curiosity can be a great motivator that makes the brain sincerely want to learn.  
Discover how Connections Academy can help you create a safe, interest-based learning environment for your elementary student, middle- or high-schooler, request the free eGuide, visit the Resource Hub or join an online information session. 
Intro to Play-Based Learning: What is it, why is it important, how to do it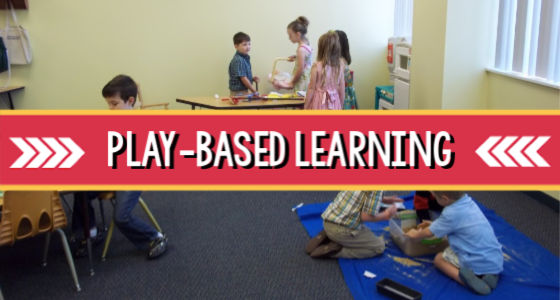 You may have heard before that play is the work of children. But what does that mean? How can play possibly align with curriculum, meet standards, and help our students learn? The truth is: children learn best through play – it takes fewer repetitions to fully learn a new concept when it is learned through play and exploration. No wonder so many early childhood educators are realigning their focus to Play-Based Learning.
Play isn't a break from learning. Quite the contrary, it's a time where your little learners are developing skills that can't be taught with worksheets. If you have been like Jack, all work and no play, and need some help with play-based learning, you're in the right place!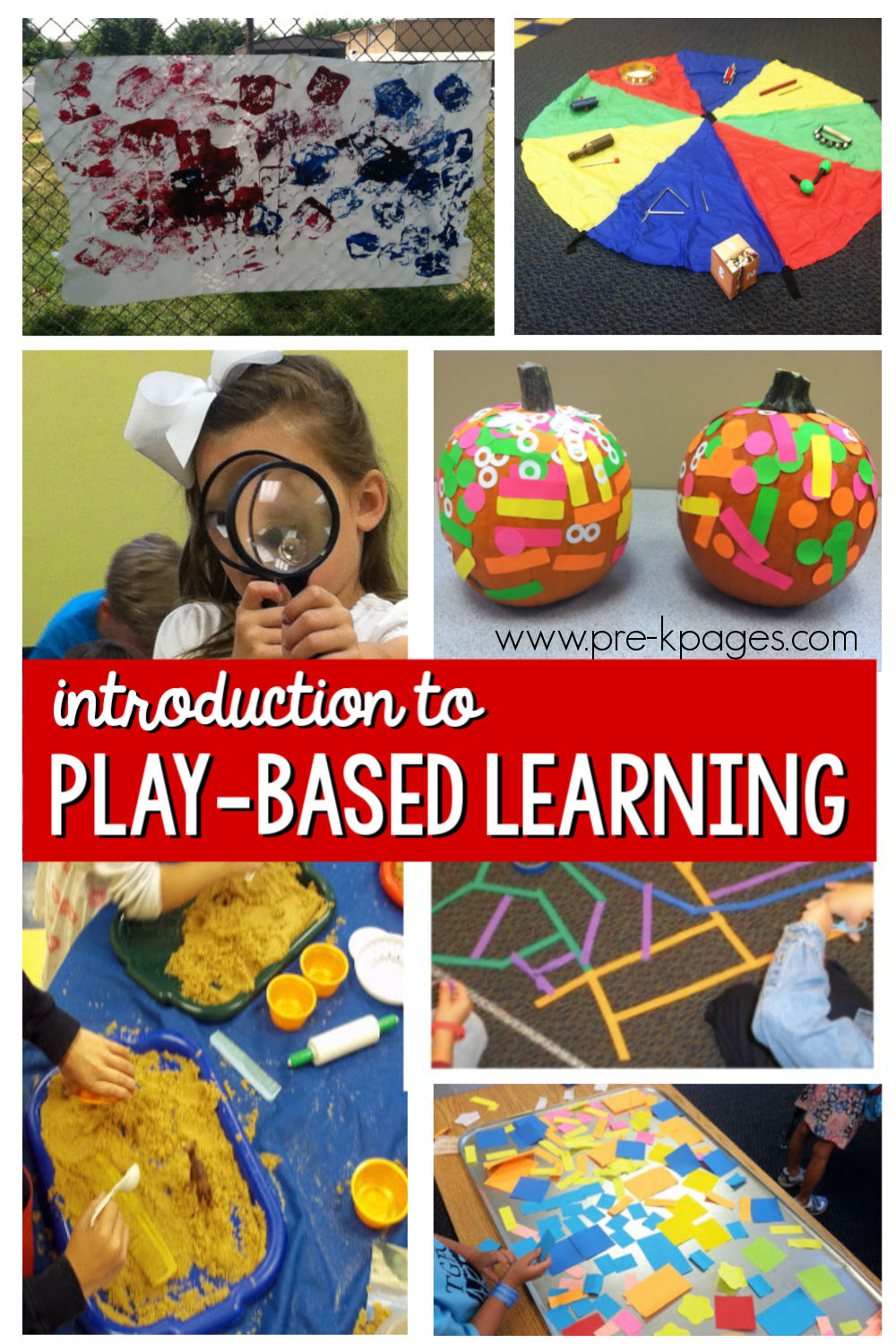 Play-Based Learning – What Is It?
Play-based learning means that children are engaging in materials that are interesting to them, allowed to make choices in their environment, and using their own imagination to construct meaning with materials.
With play-based learning, the teacher still uses standards, but sets up an environment in which children have options for learning. Materials are at the child's eye level, organized simply for easy clean up, and facilitate interactions. The child's interest and engagement direct the learning.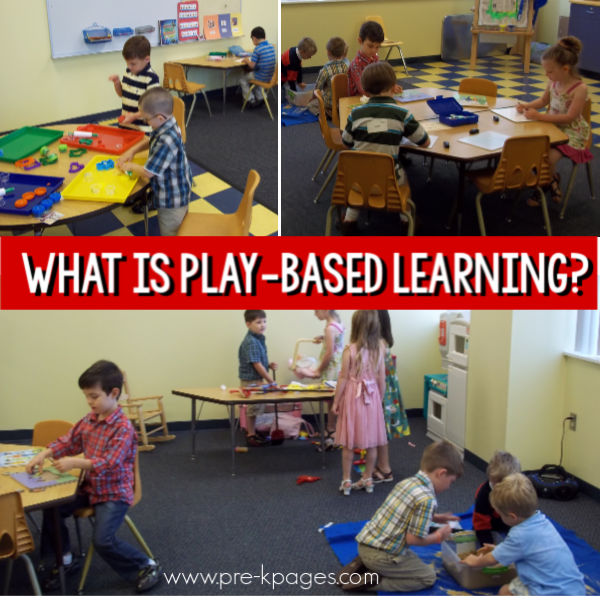 Why Is Play-Based Learning Important?
We are our students' first exposure to a school setting. We have a responsibility to create safety and enjoyment in the classroom, to set up a love of learning that will last far beyond early childhood. Play-based learning is step one.
When children are engaged in play, they are constructing meaning from their world. They are practicing new skills in a way that is meaningful to them, and they have the opportunity to experiment with different outcomes. For example, a child might notice, "I put the big block on top and my tower fell down. What if I put it on bottom this time?" That same child could sit through whole lesson on structurally sound towers and never make that connection – but through play (experiment and failure), she is able to come to the conclusion herself.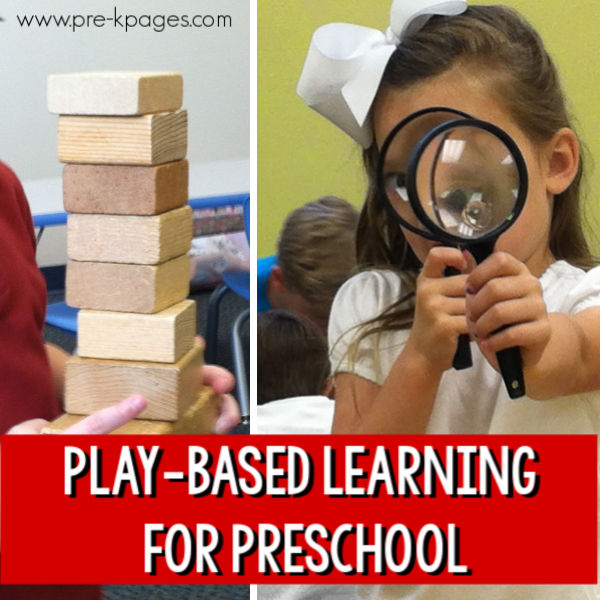 But How Do I Do It?
The first step of play-based learning is to use the classroom as the third teacher. (Parents are the first teacher; you are the second teacher.) Take a look at your room – is it set up for children to access materials or are your shelves storage for you? Can children move around freely and safely? It is crucial that the students feel some ownership of the space to encourage exploration.
Next, be ready to model play. In the block example above, perhaps the student hasn't figured out why her tower is toppling. Then a teacher can sit down and build her own tower, putting the bigger block on top and letting the tower fall. The teacher models thinking aloud, "My tower fell down when I put this block on top. This block is big and heavy. I wonder if it's too heavy for the top? Maybe I could put it on the bottom?" This modeling gives students a guideline for their own thinking about the problem. The teacher does not tell the child what to do or how to solve the problem. The teacher shows the thinking about the problem. The child may or may not "catch it" at first but will begin to think about possibilities on her own.
Finally, set your success criteria. Are you working on one-to-one correspondence? What different play opportunities would encourage that thinking? Maybe the goal for the week is "I can set the table in the home-living center with one plate, one fork, and one spoon for every chair." Share the goal with the students, and let them practice on their own. What if they don't? Relax. Notice it when it happens: "You put one plate for each chair. Four plates, four chairs." But let the children play and build that understanding as they grow.
Play-based learning will change the whole atmosphere of your classroom – your students will be more engaged, they will learn crucial social-emotional skills, and you will feel the joy of helping students explore and learn in a way that is most meaningful for them!
Contributed by Emily Millspaugh
What are your questions about play-based learning? Let us know in the comments below.
Check out some of my favorite tools for preschool play for different centers and types of learning.
Discover ideas for setting up different learning centers in your classroom.
More Teaching Tips
Hopeful Art  Inquiries and
STEAM Play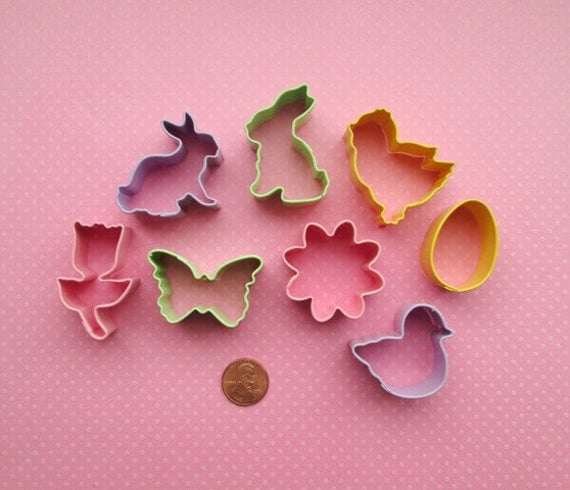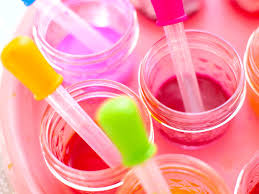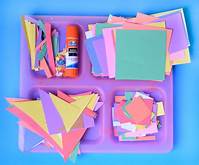 All "Hopeful Art" is really just an adventure with creative supplies (ARTventure) with more of an experiment in how to use them. When art buddies (parents, teachers. care takers) look at it that way, they can set out supplies (like an invitation to create or a provocation) and simply hope it becomes art. Simply set out a fun surface for them to create on, fascinating tools to create with, and lastly some super interesting supplies to test out in the trial and error phase.
Kids seemed to enjoy the open ended challenge and to wonder what they can create, experiment with the selected items, and explore more ways to use them. Adapt and Repeat…

I love this method because it is basically handled like a science experiment. So if they don't like their project, adapt and repeat or just claim that the combination of tools or mediums just didn't work.
Just like in a science project. If their confidence seems down, finish with something that you know they are able to do and will enjoy doing it. Notice what they like to do or don't like to do, what they can do independently, and what tools are difficult for them to use. Every child comes to the art table with a different skill set.
And with that skill set they will use the supplies in a totally unique fashion. Whether or not they like the end product is not important. It's whether they enjoyed or learned from the process that they chose to use.

Art Processes and Art Skills to Demonstrate and Explore
Using crayons or markers
Mark making for littles
Using stencils or silhouettes
Using a paint brush in different ways
Using a different surfaces
Using stamps of all kinds
How to spread glitter
How to make a home for a sticker, stamp or silhouette in your project
Using stick glue, school glue, mod podge, tape
How to to create interesting layers in a collage
How to tear paper for a collage or suncatcher
How to use contact paper in a easy collage
How to use scissors or tearing paper
Choosing which paint or glue to use
How to make drawing fun
Sort your supplies into surfaces, tools, and mediums or materials.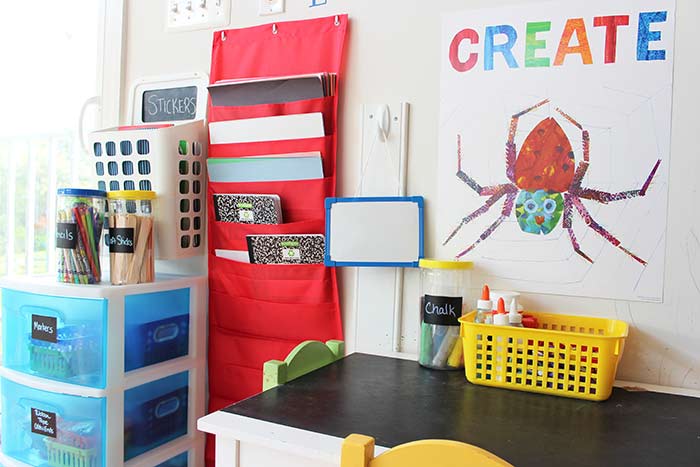 If you want a provocation question- "What can you create?" will work in most cases.

I always had stencils or silhouettes, stickers, glitter, glue, cookie cutters and DIY stamps out for Hope. She loved to embellish and add media to every background. My students and boys did not use them as much. So adapt your activity to your child's abilities and personal interests but don't buy all your supplies at once. Keep slowly adding new supplies to keep their interests.

So try putting a few things out on a tray. I always tried the invitation as well. Sometimes the trial and error process just flops at first. It's OK, just set it aside. Discuss your options or your suggestions out loud. Then fix or replace the apparent component that caused the problem. The set of droppers above, require advanced fine motor skills. They will be difficult to impossible for some to use. However, the artist can learn from it and we can tweak(or adapt) it a little and it works. This teaches problem solving which is vital to any inquiry based process. Simply replace the dropper with another tool that they have experienced success with.

The information from the trial also allows you to plan the next inquiry around their very own interests and skill level. And save the droppers for a future challenge or inquiry.
FUN TOOLS
Hands 
Feet
Balls
Short fat brushes
Forks
Cookie cutters
Shaped art sponges
INTERESTING SURFACES
Index cards
Paper plates
Coffee Filters
Paper towels
Contact (or sticky) Paper 
Bathtub walls
Kiddie pools
SAFE SUPPLIES
Jello
Yogurt
Pudding
Kool-Aid
Whipped Cream
Crayons
Markers


You Want us to Create Art With What!?!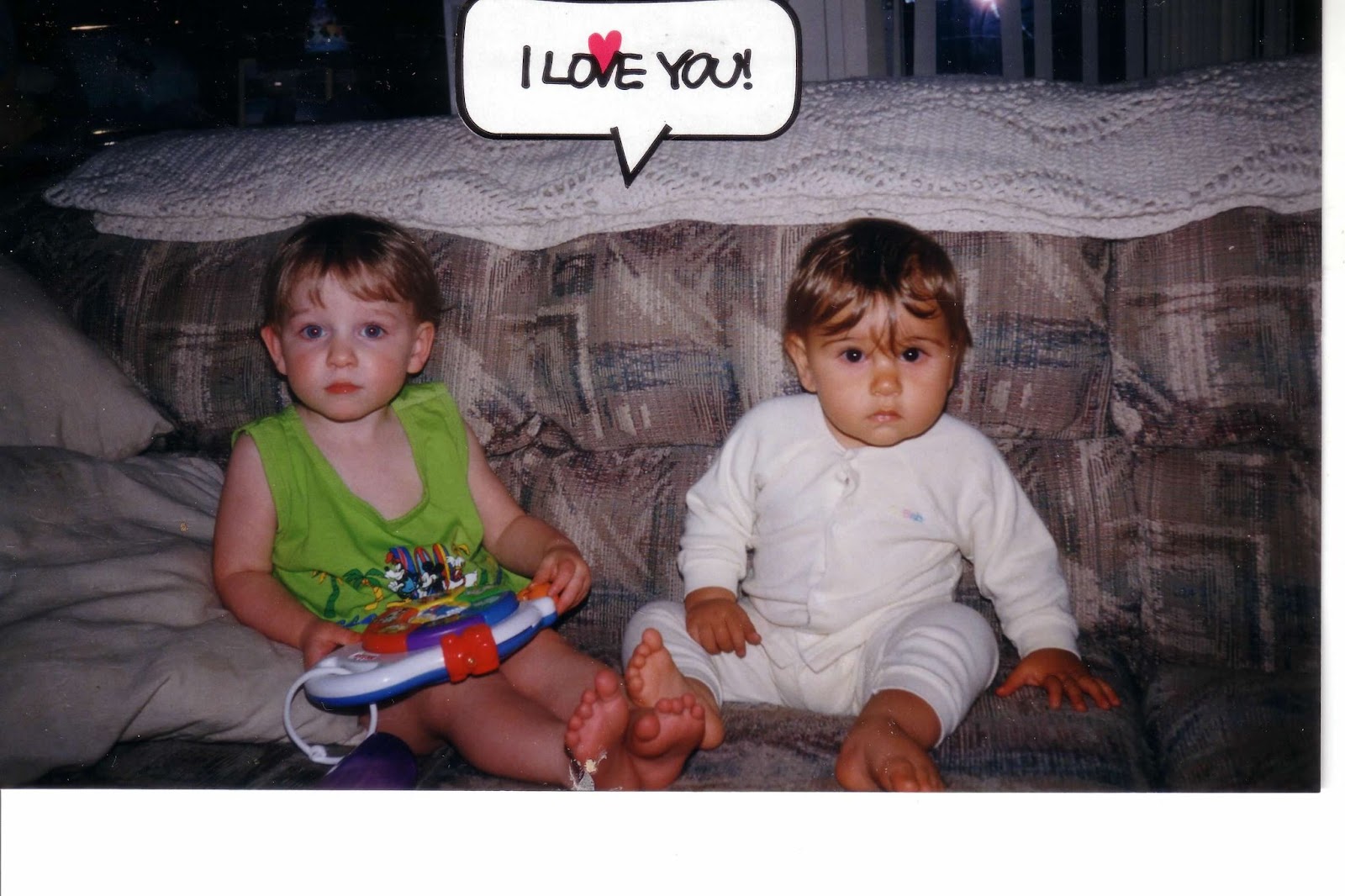 Baby Artists
Making art with your baby will not only put some fun in your day, it will develop their fine motor and visual skills as well as their eye hand coordination. The earlier that you start developing those skills, the more confident they will be in using the sense of touch in exploring their world. Most of my students and children love being able to change the appearance of a piece of paper or another base by marking, stamping and painting on it. Hope wanted to make EVERYTHING "pretty" so certain supplies had to be put out of her reach.
Art challenges their eye hand coordination so I always like them to be able to feed themselves before starting them in any art.

NOTE: Allow them time to experience and explore new supplies and tools.
They will use all their senses to check them out. You can bet on it.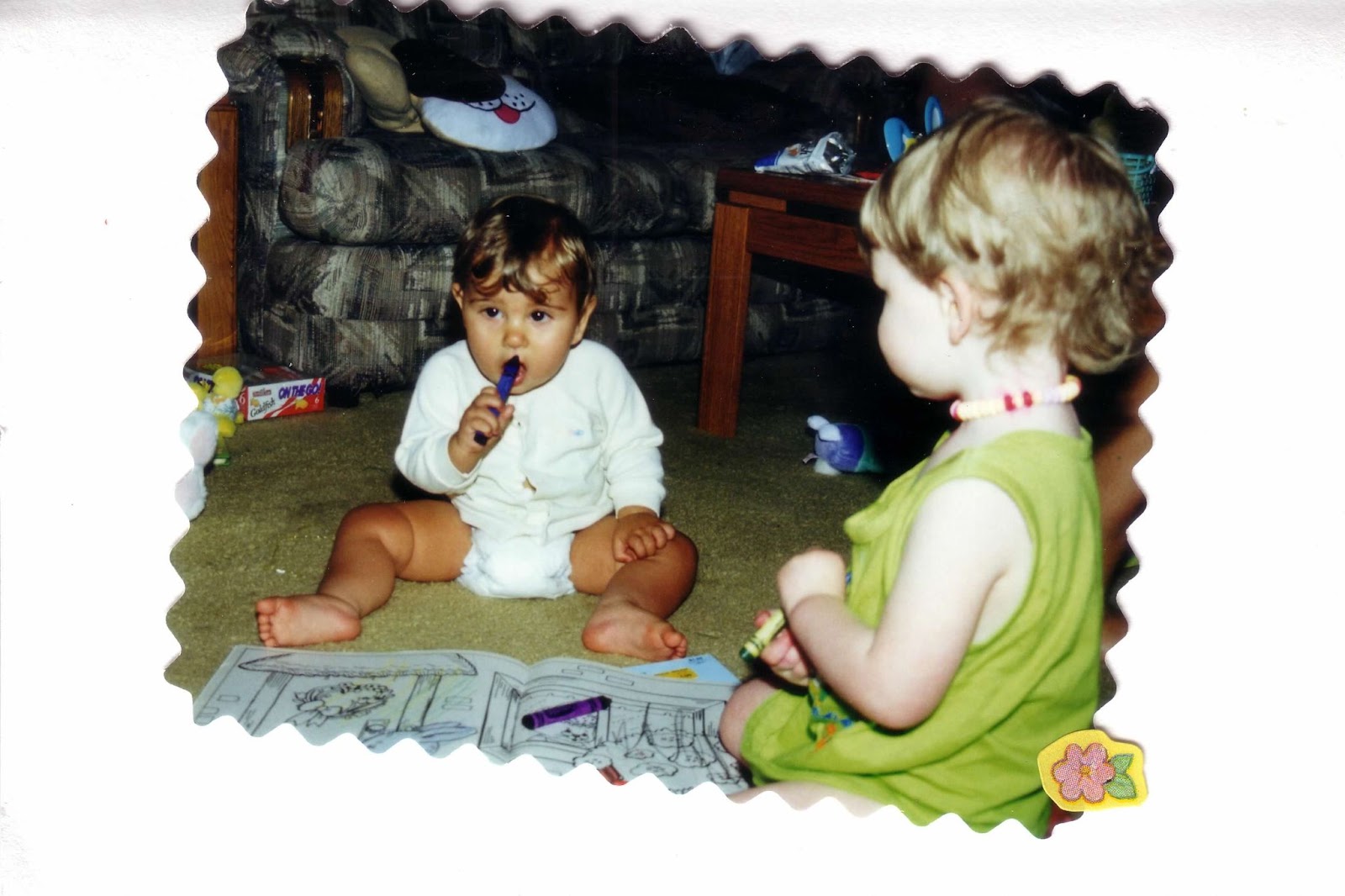 "Mom Brandon is eating my crayons"
It also gives them very creative experiences while they explore and discover the properties of new art supplies and tools. They may even come up with innovative and creative ideas on how to use something in a way that you didn't think of. It's always fun to watch. Let them explore and try to use them in their own ways, which is great for making and tinkering as they grow older. So don't correct them because they are developing their own creativity which is a huge asset in today's world. 
They start out not knowing how to put two things together to make art. So use books, videos on the computer, television, or a demonstration from yourself to give them a little bit of an idea of how to use them. They get excited to change the visual properties of what they are working with. 
Hope used to see something plain and wanted to make it "pretty". I thought that was great, because both my sisters made things "pretty" in their jobs as florists. The first time that she was at a florist  shop she was about five months old. She loved to watch their hands move as they made an arrangement and to play in the displays (which wasn't always wanted).
Unless they had a camera ready.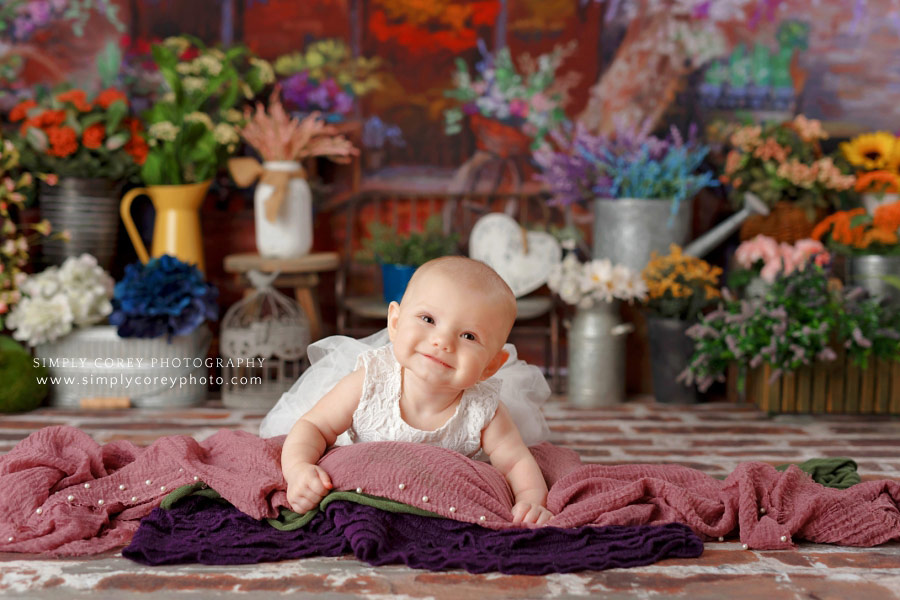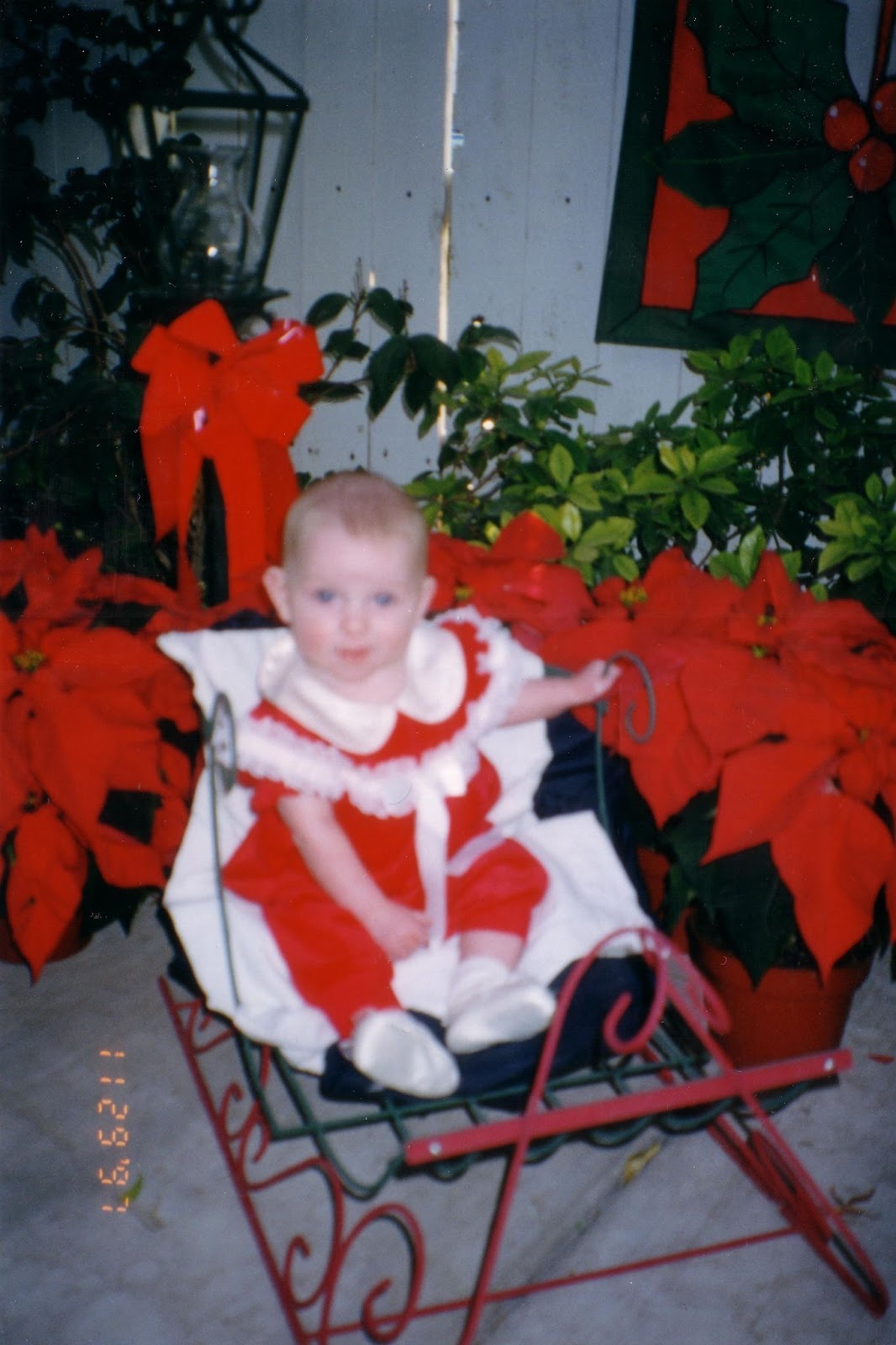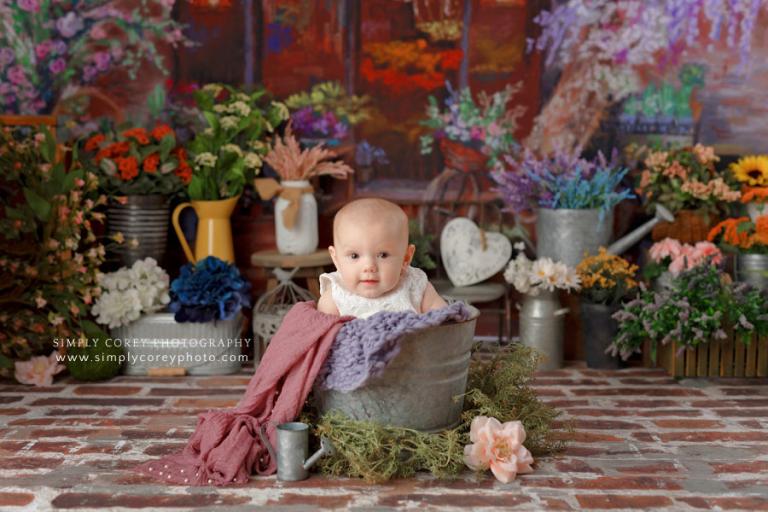 At first we used household items and homemade supplies so they would be safe (in case they explored them with their mouths) anything pourable was mixed with corn starch for paint. And anything peanut butter, pudding, yogurt, cookie and cake mixes were quickly made into playdough.  We used pre-cut shapes, index cards, paper plates, computers and copy paper for them to paint, decorate, and draw what needed to be drawn on a project for them before giving the art tray to them. 
Those first art experiences are so incredible to be a part of!
Watching babies as they play, explore, and create is such a special thing and one neither the baby or mom will soon forget. 

Did you know that babies can begin exploring art when they are just a couple months old?  How do you ask? 
With these fun taste-safe paint recipes and mess-free art activities!
Resources for Waldorf Homeschooling
I put together this comprehensive list of resources for Waldorf-inspired homeschooling to help you navigate through the wonderful Waldorf journey. Want help creating a homeschooling plan from all the resources? Click here to get the mentoring and support you need to make homeschooling work for you and your family.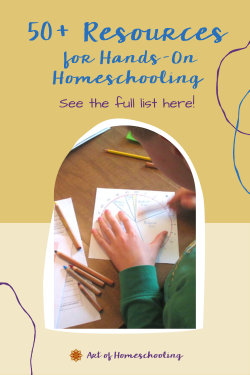 Here are the sections that you will find on this page:
Curriculum

Curriculum Support

Associations & Publications

My Favorite Books

Waldorf Suppliers

Crafts & Playthings

Support for Mom
This page contains some affiliate links for your convenience. You can read my full disclosure policy here. 
Curriculum
Christopherus Homeschool Resources Donna Simmons is a trained Waldorf teacher and homeschooling Mom. She offers curriculum for grades 1-5 along with a variety of unit studies, a Kindergarten guide, a very informative Waldorf Curriculum Overview, and audio downloads on various topics. Lots to check out on her site including a great article, "Waldorf 101." Donna is currently downsizing and having a big sale. She will re-open her shop in January 2018 with a new pricing structure.
Live Education! publishes curriculum for Waldorf homeschoolers and teachers for grades K-8. Lovely curriculum book sets for each grade that come with consultation. Must purchase entire grade package.
A Path of Discovery Eric Fairman published his notes as a Waldorf classroom teacher in Australia. You can purchase each grade separately, volume 1-8. There is also a Mathematics book for all the grades. Purchase from Waldorf Books. All proceeds from the sale of A Path of Discovery volumes are allocated to legitimate social charitable needs, especially those of poor families and children in 3rd world countries such as Nepal or to send children of successful asylum seekers or other children of destitute families, to Steiner-Waldorf (inspired) schools.
Waldorf Essentials Melisa Nielsen is a Waldorf homeschooling parent who offers curriculum and support for grades 1-7 and an Early Years program. She also offers a training program for Moms called Thinking, Feeling, Willing.
Lavender's Blue Homeschool offers a kindergarten curriculum organized by the seasons, as well as first- and second-grade curriculum. These are complete weekly guides, with stories, song recordings and verses.
Earthschooling Kristie Burns offers curriculum packages and lessons for grades preschool through 8th grade and high school as well. All lessons are created by a team of Waldorf and certified teachers and include videos, MP3s, and lectures for teacher support.
Math By Hand Hands-on, interactive math kits for grades 1-4, made specifically for homeschoolers by a CA Waldorf teacher. Each kit comes with all the materials needed to make each project. Effective, fun and complete.
Oak Meadow publishes homeschool curriculum materials for Pre-K through High School and has an accredited distance education school. Not purely Waldorf (lessons are not set up in main lesson blocks), but influenced by Waldorf.
Curriculum Support
Art of Homeschooling  This is my (Jean Miller's) website where I offer inspiration through my podcast, blog posts, and a newsletter. You can also find out more about my courses, the Inspired at Home membership community, and my one-to-one Mentor Sessions. Plus so much more! I encourage you to have a look around.
Waldorf Without Walls  Barbara Dewey (my mentor) publishes many small, helpful books including one on Getting Started, a great Form Drawing book, and books on Handwork, Math, Watercolor Painting and more.
Waldorfish offers Weekly Art Lessons, an online program of videos that runs September through May. Great for learning Waldorf art techniques right alongside your children. They also offer Waldorf Art for Beginners if you want to learn the basics of Waldorf drawing, painting, and chalkboard drawing. Taught by two Waldorf teachers who also homeschool.
Simply Waldorf offers videos from Waldorf educators to and courses to help you on your homeschooling journey. New on the scene! You'll find kindergarten and first grade resources available.
Millenial Child Eugene Schwartz's site has lots of CDs on various topics including each grade, and he offers online conferences by grade. He has very helpful free outlines of each grade as well. And check out the article "Freedom of Choice or Freedom from Choice?"
Celebrate the Rhythm of Life Lisa Boisvert-Mackenzie offers the Living Curriculum Program for early childhood that focuses on simple rhythms, songs, and verses; and eCourses to support and inspire parents and teachers. Here's a link to an article about Homeschooling Getting Organized.
The Waldorf Connection Anne Cleveland offers training and support particularly for parents of young children as well as a Kindergarten and First Grade curriculum.
A Waldorf Journey  Meredith Floyd-Preston is a mother of 3 teenagers and a Waldorf classroom teacher who blogs and podcasts about her experiences at A Waldorf Journey. She also offers curriculum and training materials for teachers and homeschoolers, and hosts a wonderful Podcast. You can listen to my conversation with Meredith on her Podcast here: A Conversation with Jean Miller of Art of Homeschooling.
Living Music Jodie Mesler has created a music curriculum called The Magic Flute for teaching penny whistle or recorder at home. Volume 1 is for the 6-year-old; Volume 2, for 7-9-year-olds. She also has Festival songbooks and CDs. 
Lemon Tree Press offers books by longtime Waldorf educator, Howard Schrager. Titles include LMNOP and King Maximo and the Number Knights. 
Syrendell Jennifer Tan is a fiber artist and Waldorf Mom who has handwork e-books for sale, among other things. Rick Tan is a Waldorf teacher and offers ecourses and workshops on chalkboard drawing and watercolor painting.
Bravewriter  "Supports and nurtures the homeschool family in the areas of Language Arts and writing from grammar school until college with online classes, home study courses and language arts programs." Publishes magazines on individual fiction titles complete with dictation, narration and writing ideas for both elementary and high school.
David Darcy has a great book Inspiring Your Child's Education: A Holistic Curriculum and Teacher Training Guide as well as a book and CD on the pentatonic recorder.
Jamie York Press Publisher of Waldorf math books for private, public and home schools, including the Making Math Meaningful curriculum and workbooks for each grade. This site also has wonderful Free Downloads of practice and review sheets, lesson plans, and math facts flashcards.
Movement for Childhood  A resource for teachers and parents who want to provide children a path to healthy development through age-appropriate movement activities inspired by Waldorf education. Check out the article "Education for Balance and Resilience."
The Baldwin Project "Bringing Yesterday's Classics to Today's Children," The Baldwin Online Children's Literature Project seeks to make available a comprehensive collection of stories for different grades for teachers and parents – folk tales, myths, legends, fairy tales. Its focus is on literature that is in the public domain, published between 1880-1922. A great resource for stories.
Whole Family Rhythms Meagan at Whole Family Rhythm offers beautiful seasonal guides for families with young children as well as a Return to Rhythm online course. Join the free challenge to help you create a strong, balanced and flowing family rhythm in just 5 days.
Wee Folk Art Patterns and crafts from three generations of crafters. They also have a free kindergarten curriculum plan with a simple schedule of story, activity, art and poetry for each week.
Promethean Press Promethean Press aims to produce valuable aids to Waldorf Teachers in Music, Singing, Speech and Drama, Geometry, Child Development, Anthroposophy and other areas. Books of verses and recorder music from Waldorf teacher John Miles.
Starlite Puppets is dedicated to sharing the art of storytelling through puppetry and live music. They offer a few books of stories and songs and puppet-making kits.
Juniper Tree Puppets is a resource for puppetry and storytelling arts, exploring the art and archetype, the magic and meaning, the wisdom and healing of story and ensouled puppetry. They offer puppet making kits, story resource books, and trainings.
Waldorf Curriculum  This website includes free unit studies for kindergarten and the grades as well as tips on planning and an overview of the Waldorf curriculum.
The Online Waldorf Library So many incredible resources here. Under Journals, you can find back issues of a newsletter published from 1967-1988 written by and for Waldorf teachers; back issues of Gateways: A Newsletter of WECAN; Renewal magazine and so much more. The website has a handy search feature.
Rudolf Steiner Audio Offers MP3s and zip files of many books and lectures by Rudolf Steiner all for free to download or listen to on your computer.
Rudolf Steiner Archive Steiner's lectures, books, and articles can be read here online as well as summaries of his books.
Associations & Publications
Why Waldorf Works "Everything You Need to Know About Waldorf Education" This is the new AWSNA site, the Association of Waldorf Schools of North America.
Anthroposophical Society in America The Rudolf Steiner Library, founded in 1928, is the lending and mail-order library of the Anthroposophical Society (click on Rudolf Steiner Library in menu). Society members automatically receive library membership at no additional charge. The library has over 27,000 volumes.
LILIPOH Magazine LILIPOH stands for Life, Liberty, and the Pursuit of Happiness. The magazine's tagline is The Spirit of Life.  "Both inspirational and practical, LILIPOH is a lifestyles magazine for the growing populace known as 'culture-creatives,' folks interested in holistic health, well-being, creativity, spirituality, gardening, education, art, and social health. Articles, art, poetry, reviews of books, and news make LILIPOH a well-rounded, solution-oriented publication for creative, green-minded, thinking individuals who have an interest in spiritual inquiry and a desire to make a difference in the world."
Taproot Magazine The magazine for makers, doers, and dreamers. This is an ad-free, independent quarterly focusing on food, farm, family, and craft. (Not related to the Taproot Teacher Training for Waldorf Homeschoolers, but a great name!)
No Child Left Inside Coalition is a broad-based organization made up of more than 600 member groups from across the United States who believe young people should receive a strong education about their natural world. The Coalition's focus is the passage of the federal No Child Left Inside Act which would authorize major new funding for states to provide high-quality, environmental instruction.
Waldorf Early Childhood Association of North America (WECAN) "Our mission is to protect and nurture the healthy development of the young child. We provide resources for early childhood educators and parents interested in Waldorf early childhood education."
Alliance for Childhood works on issues related to preserving childhood, including supporting the importance of play and working against the commercialization of childhood and high stakes testing.
The Nature Institute's mission is "viewing nature, science and technology in context." They offer education programs and publications founded on the Goethean approach to science and nature.
The Nova Institute The Nova Institute seeks to bring fresh insights into parent and teacher education through a deeper understanding of children. The organization was founded by Jack Petrash, author of Understanding Waldorf Education: Teaching from the Inside Out.
My Favorite Books
3 Favorite Books to Introduce Waldorf Education
1. You Are Your Child's First Teacher
2. Understanding Waldorf Education: Teaching from the Inside Out 

3. Waldorf Education: A Family Guide
4 Favorite Books for more in-depth Waldorf Curriculum
1. The Tasks and Content of the Steiner-Waldorf Curriculum 
2. Rhythms of Learning: Selected Lectures by Rudolf Steiner 
3. The Curriculum of the First Waldorf School

 (Caroline von Heydebrand)
4. The Christopherus Waldorf Curriculum Overview for Homeschoolers 
(Donna Simmons)
3 Favorite Books/Articles on Overviews of Specific Grades
(Keep in mind that these all describe classroom settings.)
1. 
(Marjorie Spock)
(Torin Finser)
3. The Essentials of Waldorf Early Childhood Education 
(Elizabeth Grunelius)
Favorite Supplies for Homeschooling
1.
2.
3.
4.
If you want to see more ideas for Waldorf supplies, check out these suggestions here.
Waldorf Suppliers
Bookstore at Rudolf Steiner College
AWSNA Publications
Paper Scissors Stone
Meadowsweet Naturals
Waldorf Books
Crafts & Playthings
A Child's Dream
Bella Luna Toys
A Toy Garden
Palumba
Nova Natural Toys & Crafts
Happy Hedgehog Post
Bear Dance Crafts
Weir Dolls and Crafts

Support for Mom
Plan to Eat This is my absolute favorite menu planning tool that I've been using for over 4 years. An online meal planning program that stores all of your recipes, including those you find on the web, and allows you to drag and drop them into a weekly plan for meal preparation. Makes cooking at home and preparing family dinners so much easier.
Healthy Moving This wonderful exercise program helped me recover from an autoimmune flare 3 years ago and I've been doing it ever since. Four 6-week challenges a year bring you a weekend online class and then daily challenges of just one movement that you repeat throughout the day. So easy, fun, and effective. Plus a super supportive community. Check out the Coaching & Challenge Program here. If you aren't ready to commit to a program, get the Stress Relief Bundle here – a handful of video classes and a short practice. 
Health Journeys This has been my go-to for guided meditations. My favorite is Meditations to Relieve Stress. Includes both Affirmations and a Walking Meditation.


Free Rhythm Starter Kit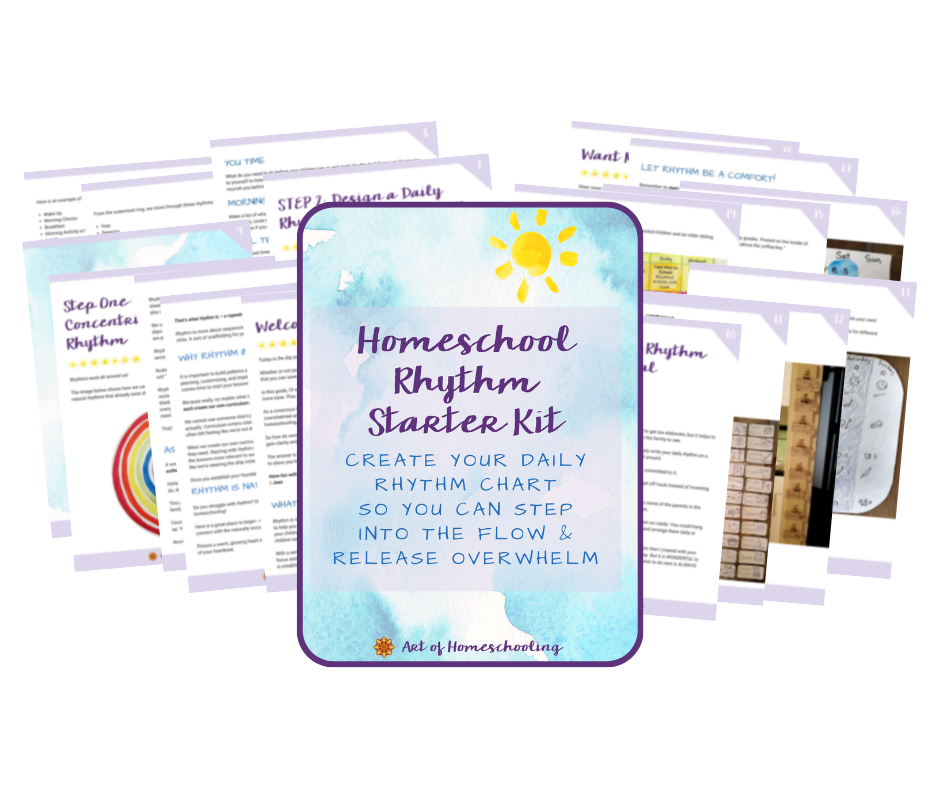 Download your HOMESCHOOL RHYTHM STARTER KIT ~ just 3 simple steps to create your daily rhythm chart so you can step into the flow and release overwhelm.