Things to Do
Planning for the Arrival of your Special Baby
Disabilities are defined as physical or mental challenges that prevent people from being able to perform certain functions as well as most others. Children with disabilities may be born with them or they may develop sometime after birth.

Common childhood disabilities include autism, Down syndrome, physical disabilities, and issues that can disrupt learning such as dyslexia, attention deficit/hyperactivity disorder (ADHD), and sensory processing deficits. Dealing with disability in childhood will have a lifelong impact on a person's emotional, mental, and physical health, as well as their social interactions. Whether that impact is positive or negative has a lot to do with the support they receive at home. 
Whether you are expecting a child and you just learned about their disability from prenatal testing or you are adopting a child with an existing disability into your home, you can help facilitate a healthy environment that supports their healthy and happy development just as you would with a typical baby. Only you will be very proud of the extra details that you thought on your own to put in the nursery for your special baby.
Preparing Your Life for a Special Needs Child
By Jenny Wise
There are so many thoughts and emotions that whirl through your mind when you learn your baby has a disability. Once the initial surge of emotions has passed, it's time to think seriously about how you'll prepare your life for a child with a disability. These are the five things every parent of a special needs child should do before their baby is born.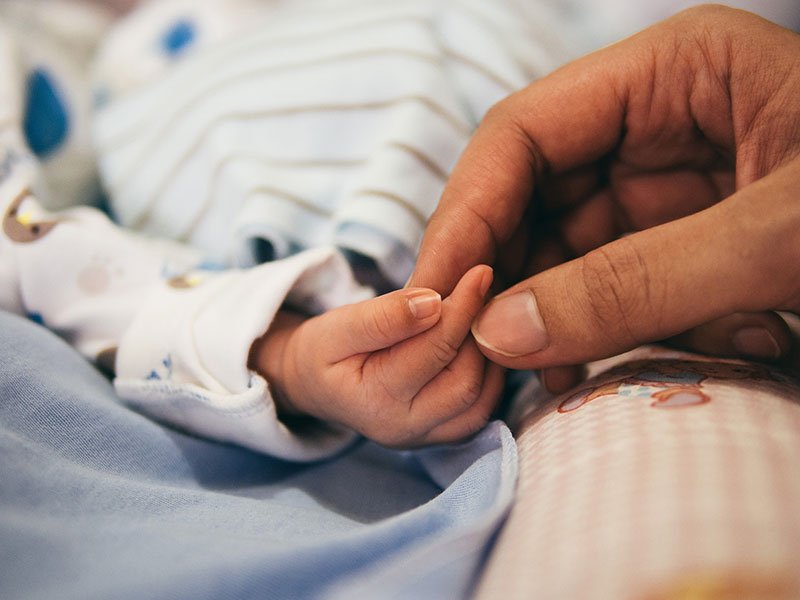 Photo by Aditya Romansa on Unsplash
Prepare Your Home
Once you understand the nature of your child's disability, start thinking about home modifications that will create a safe, accessible environment for your child. Modifications will likely be minimal when your child is a newborn and can't move around, but as your child grows older, you'll want your home to be an environment that fosters independence. Planning now allows you to budget and schedule remodeling accordingly.
Accessibility remodeling can be costly. If you're worried you can't afford to modify your home, look into grants and other assistance programs. There are a variety of organizations that help families adapt their homes for disabilities.
Prepare Your Finances
may qualify for monthly SSI payments through the Social Security Administration. In most states, Medicaid eligibility is automatically triggered by SSI approval. You can learn more about SSI benefits at BBVA Compass. Whether you qualify for assistance or not, you'll need to carefully review your household budget to make room for your child's expenses. Consider that you may need to scale back how much you work in order to care for your child.
There are many other financial considerations for families with special needs children, many of them too complicated to go into here. You can read up on the basics at The Simple Dollar, but it's recommended you talk to a financial planner and an attorney.
Know Your Healthcare Options
This is not something to push aside until after the baby is born. Check your health insurance policy's,co-pays and limits on what they will pay annually. Your child may need both occupational and speech therapy for a long time. Get the best coverage possible before your baby is born.

About half of all children with special needs receive healthcare coverage through Medicaid and CHIP, according to the Kaiser Family Foundation. There are several pathways through which you can qualify for Medicaid, so don't assume your income makes you ineligible before doing your research. Families that don't quality for needs-based medical assistance must buy insurance through their employer or the public healthcare exchange. You may choose to double up on insurance to maximize coverage.
If buying insurance, pay attention to the out-of-pocket limit. Children with extensive healthcare needs hit their out-of-pocket limits quickly. You may save money by paying more for a policy with a lower out-of-pocket limit.
Identify Your Support System
Every new parent needs a support system, but support is especially important for parents of a child with disabilities. Seek and accept help from your friends and family. If you're not getting the support you need, ask for it. If you start determining who will be there for you to give moral support or a break when you are pregnant, then its one thing that you don't have to do after the baby is born. It seriously does take a villiage of helpers to raise a special needs child.

Many times, our loved ones want to help but don't know how and are afraid of overstepping. It's also important to seek support from parents who understand what you're going through. Online communities, blogs and support groups are safe spaces where you can connect and learn from other parents of special needs children.
Don't discount professional support. In addition to early intervention services, consider hiring home health care, a housekeeper and a counselor to lighten your load and help you cope.
Make a Self-Care Plan
It probably feels wrong to think about yourself right now, but the truth is, your baby needs you to. You're responsible for keeping your child safe, healthy and loved. If you're not taking care of yourself, you can't give your child your best.
Keep up with your healthy habits, like eating fresh food and exercising. If you need to schedule everything out and automate your meals through meal planning, batch cooking or meal delivery services, do it. Sleep when you can, even if that means hiring someone to clean the house so you can nap when the baby naps. And try to stay focused on the positives—keep a gratitude journal, give yourself pep talks, or do whatever else keeps you looking at the bright side.
Nothing can truly prepare you for raising a child with disabilities and the many joys and sorrows parenthood brings. However, when you address these questions before your baby arrives, you enter parenthood as ready as you can be.
Sharing The news
Sharing the news with friends and family that our daughter was born with Down Syndrome was a task that filled me with anxiety. In the beginning, I just wasn't ready to talk about it.  I needed time to get my mind right and understand our new reality.
Set rules for yourself.
Personally, it was very important to me that the news of this diagnosis didn't change how we celebrated our girl. To keep this value at the forefront, I had one important rule for myself: I'm not going to hide my daughter.

That boundary set early on helped me overcome fears as I decided when and whether to take public family outings and post photos on social media. If I was avoiding something out of a desire to hide Rory, I knew that I had to make a different choice.

What are some clear rules you can set for yourself so that you don't fall into behavior you might look back and regret?
Do you have key people you feel should hear the news in person/first?
My parents, sibling, grandparents and closest girlfriends were on my list. I'm not going to lie this was hard. But, these intimate conversations were also life-giving. They will be in my heart for the entirety of my life. I was met with love and support. I didn't start this train of face to face conversation until Rory was close to 8 days old and we were home. I was honest about my fears, what I needed from them and how I hoped they would love my daughter.
You don't owe the world an explanation.
In the age of social media, public announcements are hard to avoid. In my case, I'd been blissfully sharing my pregnancy journey for 9 months with friends and family online. When Rory arrived with this extra news I had a ton of internal conflict regarding making a public statement about her diagnosis or not.
It gave me a lot of anxiety. It took me close to six months to finally put a name and statement to what we had been walking through. You don't need to label your circumstances until you feel ready to do so. My "rules" came into play on this one. I wasn't going to invite the general public into this personal moment until I could share our story in a positive light. How could I expect them to not feel pity for us if I was pitiful when telling them.
When developing your announcement think about how you wish you could have met your child or heard the news.
You will never get that moment back, but sharing your baby in the light you wish they would have been introduced to you is empowering. Remember, baby first, diagnosis second. Heck, send out a normal birth announcement, just them with no diagnosis attached to it. I was in a haze of shock and never sent one out for Aurora. I have regret over this now that we are out of those heavy days.


THERE IS NO RIGHT WAY TO DO THIS.
YOU WILL HEAR THAT YOU'VE GOT TO PUT YOUR EMOTIONS FIRST, YOUR FAMILY FIRST OR YOUR LITTLE ONE FIRST. THE GOOD LIFE ISN'T OVER.
THERE IS JOY IN THIS JOURNEY. 
It could also be a good idea to add some of these books to your Pregnancy Survival Kit for when you are feeling a bit down: they will definitely help you reconnet with baby and remind you that you are carrying a little miracle inside of you 🙂
8 Things I Regret Not Doing During My Pregnancy
With me being at the end of my first pregnancy I'm pretty much just winging the whole thing. I'm 4 days away from my due date and there are several things I wish I did to prepare more or accomplish.
I know that next time I'm pregnant I will definitely do these things before my baby comes, but that is a couple years from now.
I hope that y'all can learn from my mistakes and prepare better for your baby!
If there are any other things that y'all regret not doing sooner or at all comment them below for other mammas!
Take More Photos
I didn't start taking bump photos till I was 16 weeks. I didn't feel like I should because my bump didn't even start showing till about 27 weeks, which frankly looked like I ate a little too much at Thanksgiving!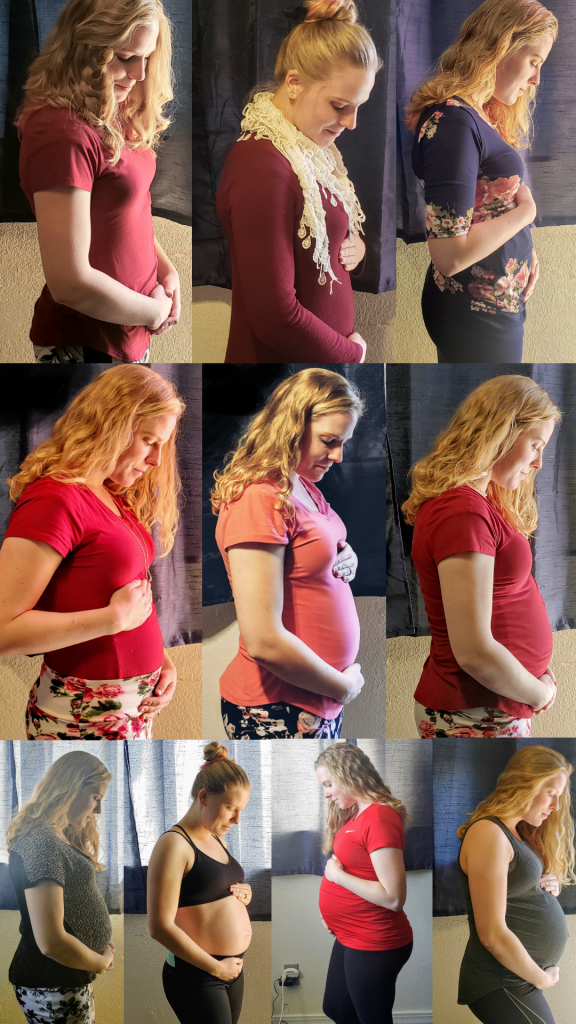 I only took pictures about every 3 weeks and I wish I would have taken one every week. It would have been more fun taking pictures with my husband as well. I have seen so many cute bump pictures that have the partner involved as well.
Next time I am definitely going to include him more in my weekly bump photos. He is going along in this journey with me as well!
Maternity Photoshoot
We also did not do a maternity photo shoot this time around. Which is crazy because I have so many photographers in my family!
I love seeing all of the cute photo shoots of couples and families together. They are so stinkin adorable!
I will for sure do a newborn photo shoot because it will be so special to have those photos taken with our new baby.
Mamma take advantage of doing photos with your significant other during this time of growing your baby.
Capture those cute and tender moments together because you will regret not doing it later on.
Update: As I was writing this post I texted my sister to see if she could take our pictures the next day. So 3 days before I was due we were taking our maternity photos! I am definitely a procrastinator.
Don't wait till last minute because you never know when your baby is coming! If you plan on doing maternity photos most women get them done about a month and a half before.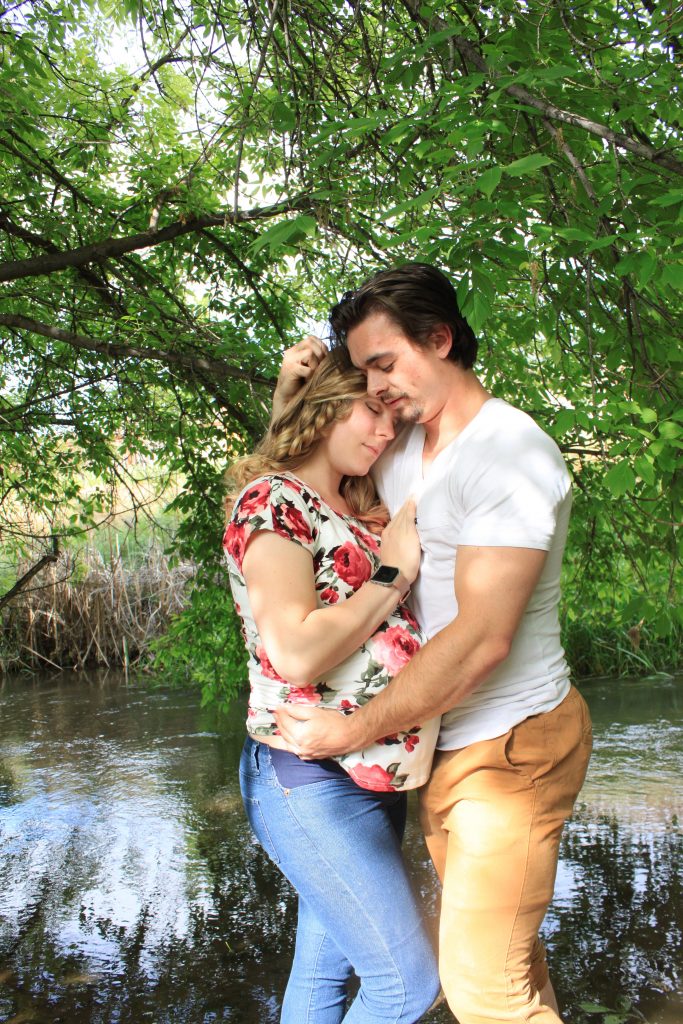 Write In A Journal
Writing in a journal is such a great way to connect with your baby and to remember what your feelings and emotions are during your pregnancy.
It helps you to stay organized, relieve stress, self reflect, and you can look back at your feelings and experiences throughout pregnancy.
Let's be honest it's hard to remember everything while you are pregnant!
If you struggle with what to write read my post on pregnancy journal prompts!
Go On A Babymoon
I sooo wish we did a baby moon! The only time my husband and I go on vacations is to visit family. So no romantic getaways besides our honeymoon.
Essentially what a baby moon is for is to relax and connect more as a couple before your baby arrives. It's best to do it during the golden 2nd trimester when you feel your best.
You don't need to spend a lot or go somewhere exotic, unless you want to and can afford that! You could always just do a weekend trip at a place that will relax both of y'all and connect y'all together more.
You should do this because you never know when you will have time alone after the baby comes.
If you have other kids you can have a family member watch them for the weekend so you can be alone together.
Take A Spa Day
Take a spa day for yourself! Your body is creating a miracle inside of you and that takes a lot of work!
You need to have a day where you can get pampered, either going to an actual spa or asking your partner to give you a spa day at home.
Pregnancy can be hard and having a day to relax can lower your stress levels which is also beneficial for the baby. So there are multiple benefits for an R&R day!
Go On A Hospital Tour
This is something I wish I did much sooner, but it was kinda of out of my hands.
When I was thinking of doing it my hospital wasn't running them because we are having the COVID19 Pandemic currently so they shut all tours down.
I have heard hospital tours are great to do with your partner so when the big moment comes you will know exactly where to go.
It's also great to help familiarize you with the environment that your will be laboring at. You can ask questions and even preregister at the hospital as well.
Take A Prenatal Class
This is a great tool to prepare you for your labor and delivery! Every birth is different so learning as much as you can is a great resource.
There are plenty of free online courses or you can do the one your hospital provides (usually those are free too).
I did this super last minute, like the day of my due date. That is how last minute I did this to prepare for my first labor.
Hilary at Pulling Curls has awesome birth classes that are fantastic if you want a more in depth labor and delivery course. Her classes help you feel even more prepared for your labor! You could never over prepare.
She has a course that you can take alone, or you could take her couples course.
She is a labor nurse of over 20 years and she had a lot of great info to prep me for my labor. I felt very confident and ready after I took her courses, but I definitely wish I did them much sooner!
Please take birthing classes much sooner, not the day of your due date, and take a variety of them.
Freezer Meals
I stocked up on lots of food, but I didn't do any meal prepping. Thank goodness my mother in law is coming and cooking us food. Also my church has several women who are going to be bringing us meals.
Not everyone has this option though so stock up on freezer meals because the last thing you will want to do is cook after baby comes.
I have a great board on Pinterest the is all about meal prep for after the baby! There are a lot of meals that you just dump in the crock pot and eat it later.
I hope y'all learn from my regrets and enjoy your pregnancy!
3 Simple Breathing Exercises to do Today for your Anxiety
Stress and anxiety are natural reactions to living. Read that again! Our body is wired to protect us and keep us safe.  When we anticipate real or perceived threats to our safety- emotional, mental or physical- we call on our fight, flight, or freeze responses. This is common and natural, and a pertinent function of our brain. You are not alone if you are experiencing stress or anxiety. 
Did you know one in five women experience anxiety during the perinatal period along with one in ten expectant fathers?
Pregnancy can absolutely accelerate the release of stress hormones.  An increase in stress and anxiety, with the additional pregnancy hormones we have at play, can bring on physical pains and issues too. Exercise, hydration, and rest are three tools we usually call on; but let me offer something you can do while driving, sitting on the couch, or at work. Really, anywhere!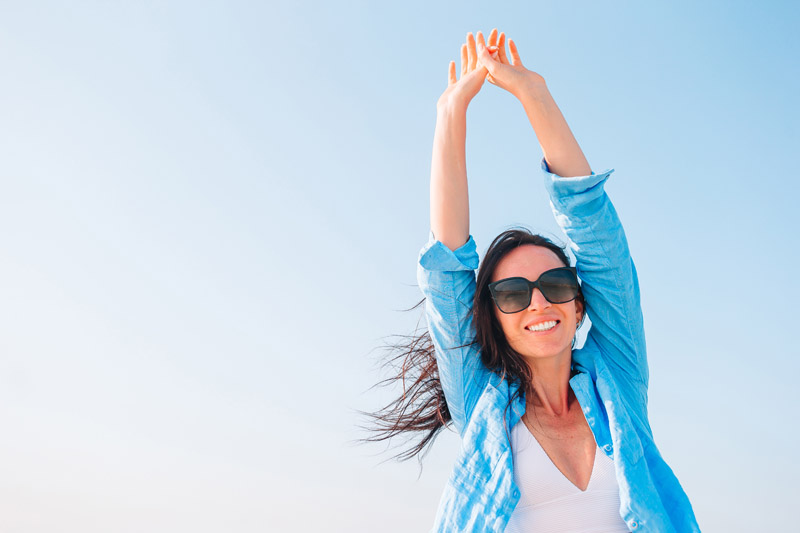 Conscious breathing – Giving awareness to how we breath will:
release ample oxygen flow to rebalance our central nervous system, 

return your mental state to the present moment if your mind has been hijacked into perceived or real trauma, 

bring your heart rate down,

relax your body- especially places like your shoulders, lower back, and hips where tension builds!
Wherever you are on your journey, know that your breath supports all of your body's important functions. Give it attention and practice to help release stress, calm anxiety, and enjoy the moment at hand.
4-count Breathing – This breathing exercise is hundreds of years old and a favorite in meditation. 
Inhale through your nose for four counts. 

Pause for four counts, if expecting, pause for just a second.

Exhale through your mouth for four counts.

Repeat while closing eyes or focusing on the same focal point.
With your mind focusing on counting the duration of the inhales and exhales, you are drastically drawn to the present moment and thoughts and distractions have no room to take space.
Blossom Breathing – This breathing exercise is taught in our "Your Best Birth" course as I love the mind+body connection it provides for calming your central nervous system, but also as it builds awareness to your pelvic floor. 
Place one hand on your chest and one hand below your belly button, cradling your bump if present.

Close your eyes and inhale through your nose allowing the abdomen to expand, and pelvic floor to open and drop.

Exhale deeply while tissues come back to where they started.

Repeat.
Mindful Breathing – You will breath by focusing attention on a visualization such as a balloon filling with air and emptying or a wave growing in height as it approaches the shore and then folding over to the shore.
Finding a comfortable seat, close your eyes and draw in a visual of something that takes two opposing forms.

Inhale deeply through your nose and picture something opening, like a hot air balloon being filled.

Exhale through your nose and visualize that same object releasing or decreasing in size.

Repeat and allow your visualization to distract negative thoughts and release them away.
Remember, breathing is an accessible tool if you are experiencing stress and anxiety pre and post birth.
Things to do during pregnancy so that you will not have regret
August 7, 2018
Pregnancy is one of the most beautiful stages in the female life, therefore there are many things you should try during pregnancy so that you will not regret them.
I  asked several women who had tried this experience, about the things they regret not doing during pregnancy.
Their answers differed from woman to woman depending on their interests.
I will show you the answers after I say my personal opinion on this subject.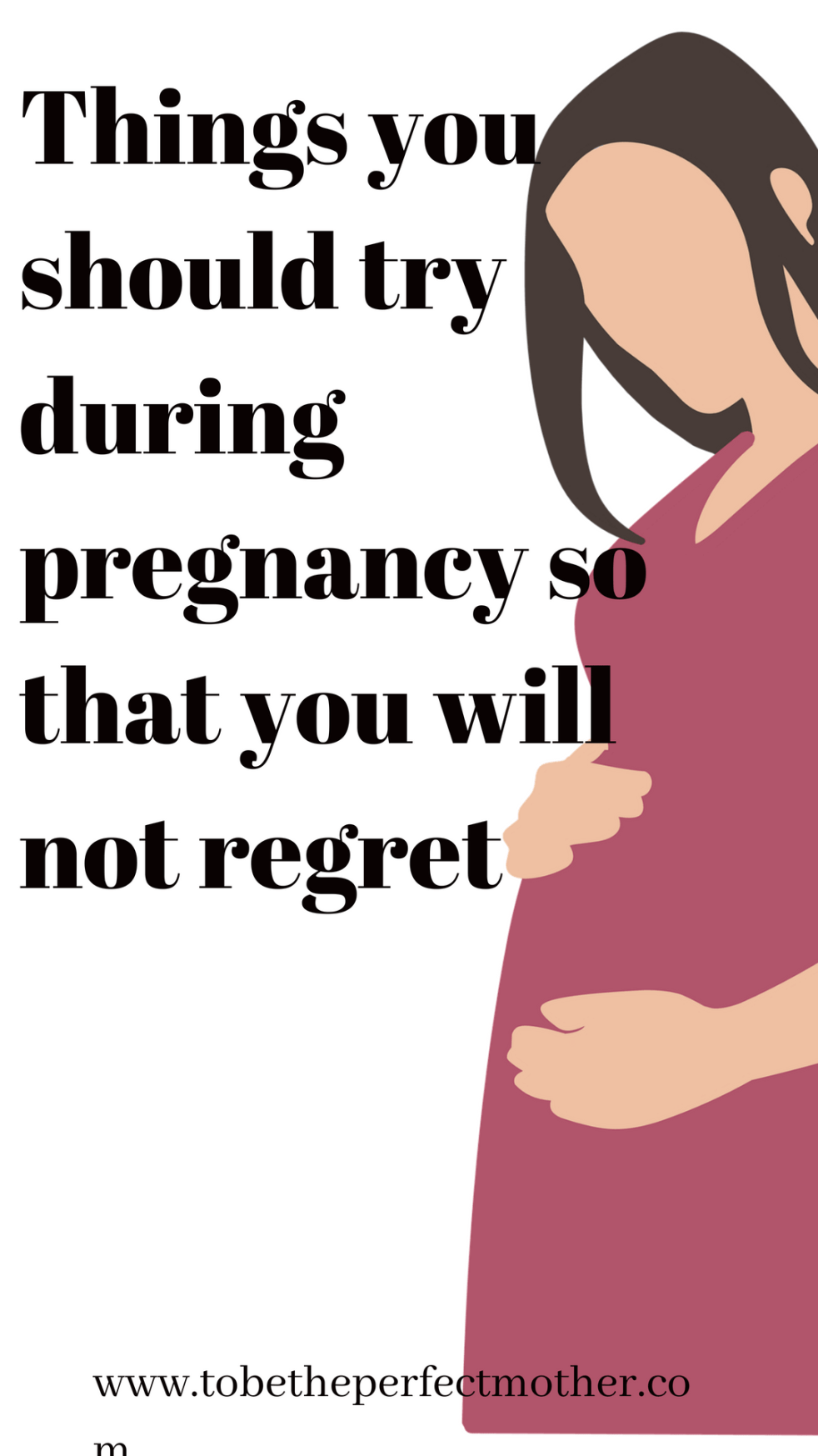 For me, the most thing I regretted not doing during pregnancy is eating healthy and staying active.
Yes, there are many things it's better to do during pregnancy:
Now, I'll show you the answers of the women:
1-pregnancy photo shoot and recording the birth:
 pregnancy photo shoot and I wish I also have a photographer at my birth.

Take more photos and embrace my beautiful belly baby's.

Maternity photos and more bump photos.

Documenting my growing belly each week, such cool apps out now to do this.

More newborn pictures.

I wish I printed more of the digital photos I took since a lot have lost or hard to find throughout years of tech/computer upgrades/transfers. With the next bub, I will definitely be printing every month.

I regret not getting birthday photos. I was adamant when I was pregnant that I didn't want to see or have any photos or videos of my labour and the birth, and now when I look back on it I really wish I had.

Video of Baby moving at 8 months.
Related:14 things to do to your baby in his first year so that you will not regret14 things to do to your baby in his first year so that you will not regret.
2- pregnancy massage, yoga and exercise:
3- Relax and enjoy the pregnancy:
Sleep..TV..chill..all day..everyday.

I wish when I was on maternity leave pre-baby I spent more time doing nothing, days in bed, watching TV shows or reading books.

Relax and enjoy my pregnancy instead of stressing ridiculously about how on earth I'm supposed to push this watermelon out! I literally spent my whole pregnancy petrified of childbirth and didn't let my self-enjoy the experience.

Enjoy it! I was so unwell with both my kids that I just didn't let myself enjoy pregnancy.

Sleep 24 hours a day uninterrupted!!
4– prepare for labour:
I regret that I did nothing to prepare for labour and I've done nothing post-baby.

plan and get baby room ready.
5- Eat right and be more active:
Eat right with my first pregnancy and keep active, now finding it hard to lose weight.

I ate too much and should have done some exercises.

Left my bed and remained active.

Keeping weight under control.
Also read:17 things you should never ever do to your baby in his first year. 
6- Using compression belt:
7- Spending more time with the partner is one of the things you'll regret not doing during pregnancy:
Enjoy the time I got to myself, do more with just me and my partner like dinner, movies, a little holiday, enjoy each other.

Enjoying more time with my partner and really cherishing that time.

Going on a little gateway with my husband for a couple of days.
8- Gender reveal party and baby shower:
I didn't have a baby shower, I wish I had a little celebration dinner.

Should have planned my own baby shower instead of waiting for someone to offer.

Gender reveal party, really regret not doing that.
9- Appreciate the baby inside my belly:
I didn't take enough time to appreciate the baby inside my belly. The second he was born I mean asked him inside of me. Having another chance I would have set a reminder in my phone and took 5 minutes a day to still and love that baby in there. Towards the end, I would have talked more to him also.
10- Belly cast:
I really regret not doing belly cast for my pregnancy.

After birth, I wish I had done the hand feet/casting.
Another thing they regret not doing during pregnancy:
Not having pregnancy vitamins.

3D and 4D ultrasound.

Finish work earlier.

Save money.

Freezer meals.

Not going to a Metallica concert.

Not having a body pillow and maternity clothes.
Now, if you lived this experience before, what are the things you are for doing during pregnancy, and what the things you regret not doing?
Related Posts