Information
WHAT IS SELF REGULATION?
Well, let's break it down. 
"Self" means you or me.  "Regulation" means the process of being in control or to have management. So, add these two terms together and you get "self-regulation".
Self-regulation means you or me being in control and having management of ourselves.
Self-regulation is a skill that many children have a difficult time learning and achieving without help. In a given day, a child (and an adult) encounters multiple situations and circumstances that require an awareness of self and others as well as the ability to have or gain self-control.
Self-regulation is the ability to attain, maintain, and change one's arousal level, emotions, and behaviors. This ability to self-control relies on impulse control, working memory, and generally speaking, the ability to keep oneself "in check". The ability to experience feelings and desires and make decisions based on those concepts requires motivation, willpower, higher level thinking.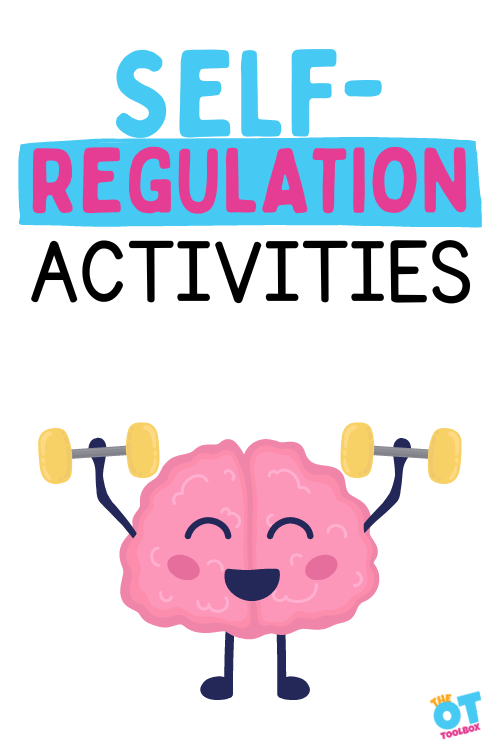 First, let's cover what self regulation means.
Generally speaking, a child should achieve an optimal level of self-awareness and mindfulness to identify their inner feelings and emotions and be ready to regulate themselves when the time comes. They need to learn strategies and techniques that work for them to assist them in leaving a less optimal level in order to get back to a "ready-to-go" level of regulation.
Here are more mindfulness activities that kids can use in addition to their "Regulation Toolbox".
EMOTIONAL REGULATION THERAPY
Generally speaking, there are many activities to support emotional regulation. These coping skills can come in many forms. In this resource, you will find specific activities to add to a self-regulation toolbox, so that monitoring and maintaining a functional level of regulation is possible in any situation.
There are emotional regulation posters, worksheets, self-regulation checks, regulation games, and even cootie catchers.
Other emotional regulation therapy strategies can include using the traffic light emotional regulation concept where the red light, yellow light, and green light of a traffic light are considered for emotions and behavioral responses.
All of these regulation tools are strategies to help kids become more aware of their self in order to function. Let's break it down further and look at how and why this program works, but also where to go next when it comes to regulation strategies.
THOUGHTS EMOTIONS BEHAVIORS = SELF REGULATION
It requires the ability to self-monitor our thoughts, actions, feelings, internal body processes (interoception), and then make choices. These decisions can sometimes occur in a moment. For some, this instantaneous decision-making can lead to poor regulation.
Self-regulation can refer to emotional regulation or behavioral regulation. Self-reflection of feelings, emotions, and our response to situations is the ability to use emotional regulation.
Emotional regulation can look like a bad decision based on inner thoughts, or being in a grumpy mood and as a result being mean to a friend. Emotional regulation has to do with inner decisions related to emotions and moods.
Behavioral regulation refers to decisions related to actions and what we say, do, or think in response to inner thoughts and desires.
I think we can all say that one time or another we had something that we were expected to do but we really did NOT want to do.
Examples of behavioral regulation include:
Maybe that was mow the lawn when we really wanted to watch a movie inside.

Maybe we wanted to sleep in when we actually had to get up for an early meeting.

Knowing that those tasks needed to be done and making the decision to do them rather than giving into impulses is a form of self-regulation.
In another great resource, we covered the connection between executive functioning skills and emotional regulation.
SELF-CONTROL AND SELF-REGULATION
A self-regulation program like the ones listed above are a helpful strategy for supporting self-control skills and self-regulation that impact behavioral responses. These strategies can be helpful for our children (and us adults!) to use during everyday tasks in our daily lives, whether that be schools, work, community, and homes. 
These self regulation tactics help kiddos to identify, address and use strategies to achieve good self-control and emotional regulation in a non-judgmental and safe way. Using the zones helps to take the focus off of the child as being "good" or "bad" and places the focus on obtaining control to get back to the "green zone."
A self-regulation blueprint can be created that includes helpful strategies and self regulation activities that can be used when needed to support children.
These strategies actually teaches the child and their parents or teachers how to recognize the relationship between emotions, feelings, and their internal "state of being" with the behaviors and actions that we see.
This self awareness relationship impacts attention, learning, and emotions.
SELF AWARENESS AND SELF REGULATION
When students understand the connection between their arousal states and their ability to self-regulate, they can identify different zones or levels which they are currently in at any given time.
This is the ability to have self awareness, body awareness, and make choices that impact self regulation.
They can then use regulation tools or strategies to impact their arousal so they can appropriately and efficiently respond to the demands of a given task.
These different levels of regulation help a child recognize, categorize, and communicate their feelings or emotions based on a specific knowledge of how one's body and mind respond to situations. This is self awareness and self regulation in action!
One of the most important steps to self-regulation is having the self-awareness that something is "off" and we need to do something physically emotionally, or cognitively and that a change must happen. This is where understanding the nervous system is important for the adult in the situation. Understanding what is happening behind the limbic system, the vestibular system, proprioceptive system, and overall sensory processing systems are key.
This makes a self-regulation strategy an effective and fluid tool for a child to understand, learn, and achieve without feeling judged or different.
Let's quickly review the various aspects of self-regulation and different feelings or emotional experiences that occur along a spectrum so you can have a better understanding of the reason behind my fun tool creations.
We designed the regulation tools shown below for individual children to help them better understand and navigate their emotions while identifying strategies that help them shift from a less desirable zone to a more calm and focused space, which is better for participating and learning at school, home, community, church, therapy, or any environmental location where the individual participates.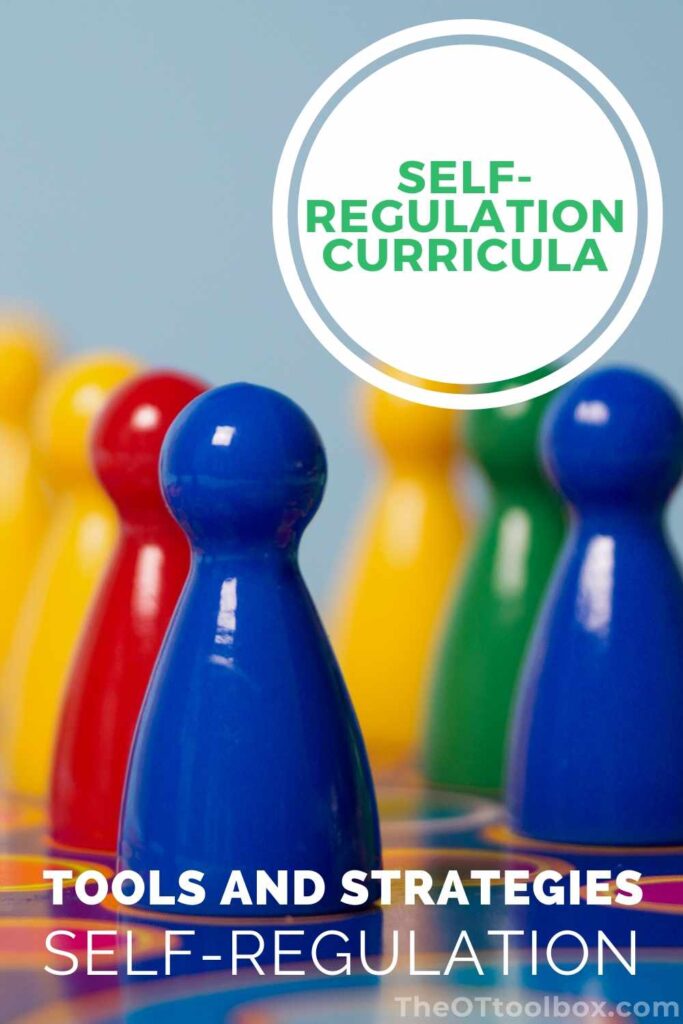 SELF-REGULATION CURRICULA
There are many different programs that offer self-regulation curriculum. These are regulation programs and interventions that can assist a child (and adult) to learn the skills necessary to achieve emotional regulation fit for every situation, circumstance, and environment.
I use a simple analogy with tempertures:
If you are cold outside-you put a coat on or use other strategies to help you feel just right.. 

If you are hot, you use statagies to cool down until you are just right. You will teach your little one ways to cool down until he can do it on his own. The same is true with emotions that you experiece frequently. You use stategies to mellow you out or rev you up when you are down..
Co regulate- simply means that you go through the process together so your child learns the emotions that they frequently experience and the strategies to get they emotions and energy back to be just right. As they learn to go through the process and how to regulate themselves they will complete the process on their own.
Perhaps your child loses it at the slightest frustration. Maybe emotional and sensory meltdowns are a part of your daily routine.
What's Co-Regulation?
Children can't learn healthy self-regulation without first experiencing co-regulation with a safe consistent caregiver.
Additionally, children must have the opportunity to learn about their emotions and internal states of arousal (alertness).
Further, they need support to develop different emotional regulation strategies that work for them.
Even more importantly, they need to practice using their growing emotional awareness and coping skills.
Let me repeat this. Kids need SAFE opportunities to practice using newly acquired self-regulation skills.
Listen to episode 23 of the podcast, How to Parent an Angry Kid, for more support.
Related:
Anger Management for Autistic Children (Not ABA)
What Are the Zones of Regulation?
Resources based on the Zones of Regulation are a great teaching tool for kids and adults.
The Zones of Regulation curriculum was designed by an occupational therapist, Leah Kuypers, MA. Ed, OTR-L.
According to the Zones of Regulation website, the Zones curriculum uses a cognitive behavior therapy approach to help people,
regulate… feelings, energy, and sensory needs… to meet the demands of the situation around us and be successful socially.
The entire program is available on the Social Thinking Company website. However, the chart alone is a great resource.
Specifically, it's a visual tool that helps children identify and communicate their different emotions. Within a Zones of Regulation chart emotions and physical sensations are categorized within different zones.
Each zone is a different color and represents different levels of alertness often associated with different emotional states.
Learn More in Behind the Behavior Book!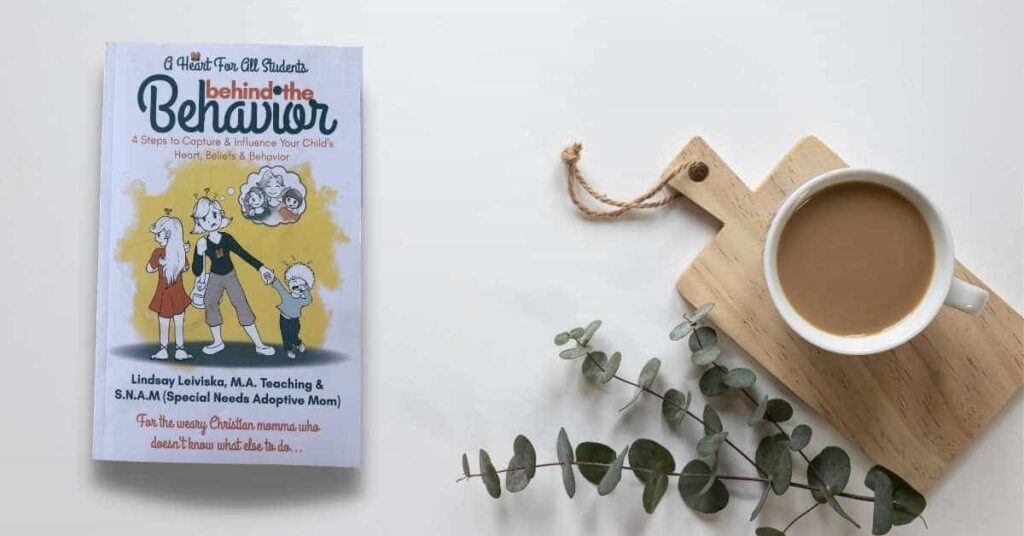 Yes! Tell me more about Behind the Behavior!
What Does Each Zone Mean?
In the official Zones of Regulation, there are four zones.
Green Zone

Yellow Zone

Red Zone

Blue Zone
To get us on the same page, let's dive into the different zones and what each one means. Remember that each zone is meant to help children identify various emotions as well as their level of alertness.
In the end, these zones foster self-regulation and social-emotional learning.
RELATED:
11 Best Feelings Picture Books for Kids (That Every Family Needs)
29 Best Sensory Toys for Autism, ADHD & Anxiety (2023)
WHAT DO THE COLORS IN THE ZONES OF REGULATION PROGRAM MEAN?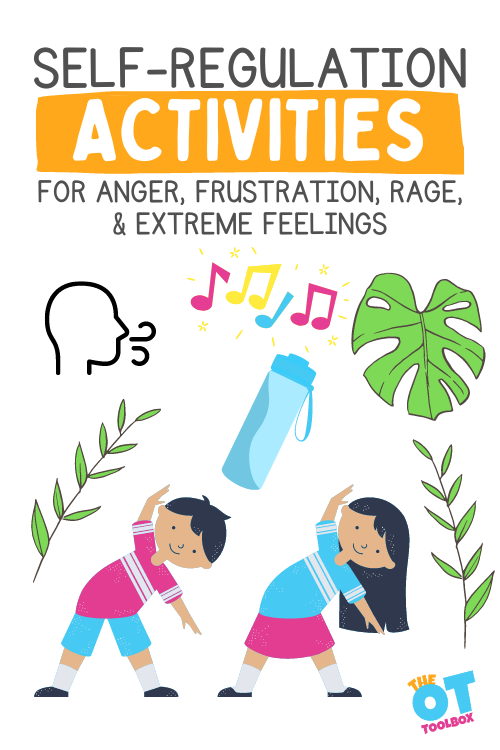 The Red Zone is an extremely heightened state of alertness with intense emotions and is typically viewed as the child being "out-of-control."
Red zone behaviors might include:
Anger

Rage

Out of control

Mad

"Hands on" physical reactions

Terror

Extreme feelings

Feel "ready to explode"

Devastation
Regulation Activities to support anger, physical reactions, extreme feelings, and "out of control" feelings may include: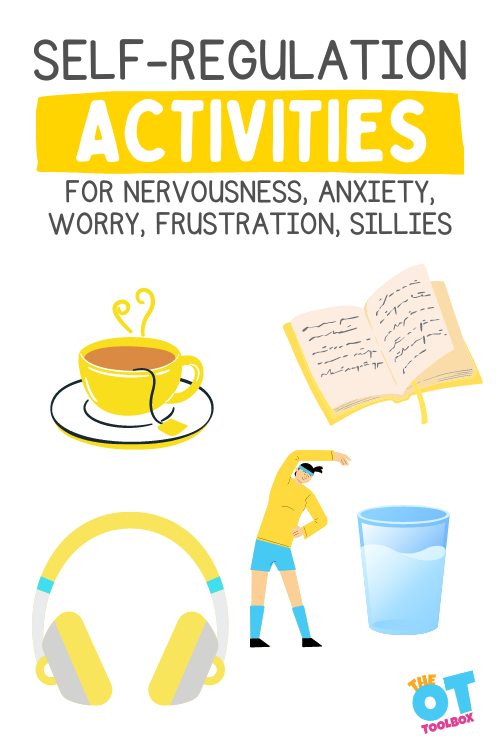 The Yellow Zone is entering a heightened state of alertness and elevated emotions typically viewed as heading toward the red zone, but the child still has some control.
Examples of Yellow Zone behaviors include:
Nervousness

Wiggly

Silliness

Anxious

Worried

Frustration

Excitement
Regulation Activities to support worried or anxious feelings, frustration, silliness, nerves, or the wiggles may include:
Stretching

Yoga

Enjoy nature

Drink a glass of water

Listen to music

Write in a journal

Activities listed under the other areas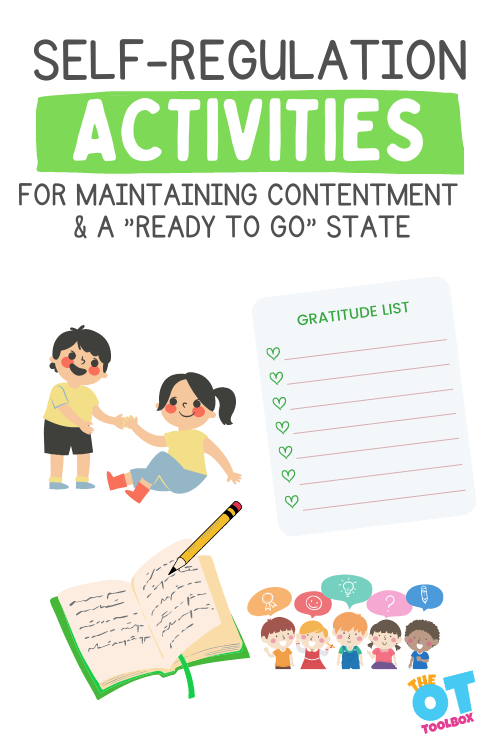 The Green Zone is the optimal level of alertness and is typically viewed as the child being "good to go" and ready for leaning and social interactions.
Examples of the Green Zone behaviors include:
Positive responses

Calm

Ready to go

Happy

Focused

Content
Regulation Activities to support calm or focused feelings, feelings of contentment, happiness, positivity, and being ready to learn or join friends may include:
Write in a journal

List out accomplishments

Help someone

Reach out to a friend

Activities listed under the other areas
Note that when in the "green" zone according the the Zones of Regulation framework, that it's not the end goal. This is a level of feelings that all may experience at one time or another, but it's not necessarily considered "good" vs. "bad" when experiencing other feelings.
Strategies listed above for these feelings can be ways to journal about how one is feeling, talk to another person, expressing gratitude, or reaching out to others.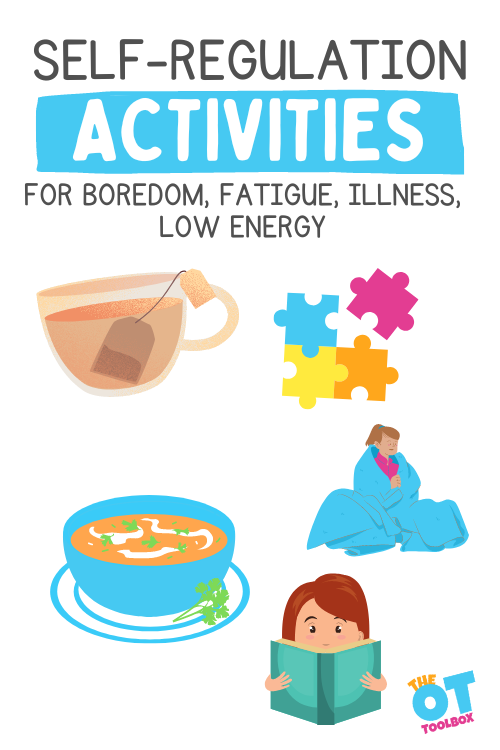 The Blue Zone is a low level of alertness typically viewed as the child running slow.
Examples of Blue Zone responses include:
Regulation Activities to support those who feel sad, tired, bored, or sick may include:
Talk to someone

Rest

Build a puzzle

Read a book

Color or draw

Think about positive mindset strategies

Activities listed under the other areas
NO TWO KIDS WILL BENEFIT FROM THE SAME SELF REGULATION STRATEGIES
Just like there are no two children alike, and no two teens or adults alike, there is no exact blueprint to these self-regulation strategies.
Each individual will likely use different sets of mechanisms to support regulation needs.
What works for one individual may not work for another.
RELATED:
11 Best Feelings Picture Books for Kids (That Every Family Needs)
29 Best Sensory Toys for Autism, ADHD & Anxiety (2023)
Meltdowns Impact the Entire Family
Daily, moms and kids alike are being slammed with layer upon layer of stress.
meltdowns during homeschooling,

anxiety and stress when asked to do any non-preferred activity (think chores or bathing),

sibling rivalry,

social anxiety,

impulsivity,
I'm sure you'll agree that we've all experienced some form of anxiety.
Often, we adults don't respond to our anxiety in the healthiest, most appropriate ways. 
We snap at our hubbies,

Yell too loudly at our kids,

or shovel chocolate chips down our throats (Wait. Is that just me?)
However we choose to release tension, if we don't identify the cause, we may end up with broken relationships with those we love. 
Or, if you are in the chocolate chip shoveling crew (please tell me I'm not alone), your waistline and health take a hit.  
29 Best Sensory Toys/Tools for Autism, ADHD, & Anxiety 2023
Their Behavior IsA Form of Communication
Behavior is information and a form of communication.
When kids "act out," they're communicating something that they can't easily verbalize.

Think about it this way.

We, moms, know the frustration when we can't find a word.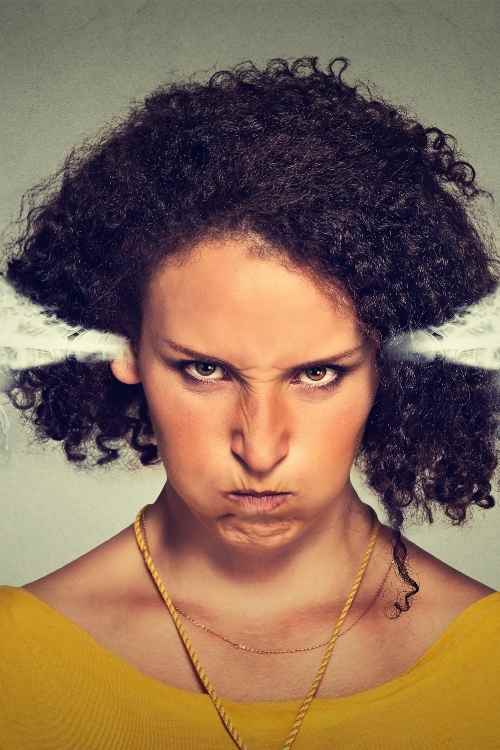 "Honey, can you please get me that thing off of the thing?"
My husband looks at me with a blank stare.
My blood starts to boil.
The Need to Communicate
Without the ability to let it out verbally, kids act out behaviorally.
That's when emotional and self-regulation tools can support positive mental health for the entire family.
Related:
47 Emotional Regulation Activities for Kids Every Mom Needs!
Anger Management for Kids:

8 Meaningful Ways to Calm Big Emotions
THIS POST MAY CONTAIN AFFILIATE LINKS.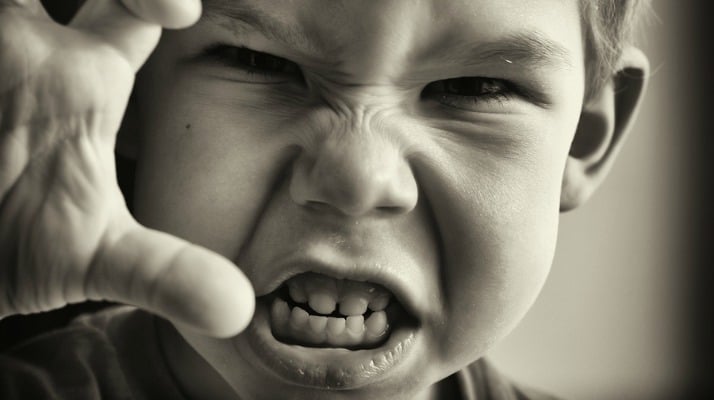 Picture this: you're standing in the middle of Target when your child spots a LEGO toy he wants and when you tell him he can't have it, all hell breaks lose. He throws himself on the floor screaming and wailing, and the disapproving looks from passersby make you wish the floor would open up and swallow you. You know from experience that yelling isn't the most effective strategy when it comes to anger management for kids, but you're starting to lose control.
Sound familiar? I thought it might.
Dealing with an angry or explosive child isn't easy. Big emotions can get out of hand very quickly, and when we're already exhausted, sleep deprived, and feeling out of our depth, staying cognizant of appropriate anger management for kids can be difficult.
The good news? We're not alone.
Millions of parents have fought the fight before us, and the internet is filled with all kinds of tips and tricks to help us empower our children to deal with their emotions.
Check out 8 of our best tips to help you grasp the oh-so-complex concept of anger management for kids below and remember: this too shall pass!
Be a good role model
The first step in teaching proper anger management to our children is to model appropriate emotional regulation ourselves. If we scream and swear the moment something upsets us, our child will learn to do the same. But if we practice deep breathing, listen to relaxing music, or go for a long walk when anger threatens to take hold, we will teach more effective – and acceptable! – coping mechanisms to those who look up to us. Remember to think before you act, verbalize your feelings in an acceptable manner, and take responsibility when you do lose control.
Use the 'one minute reprimand' technique
In his book, The One Minute Mother, M.D. Johnson Spencer discusses an effective technique for reprimanding unwanted behavior in our children whereby we attack the BEHAVIOR and not the CHILD. By taking one minute to verbalize why we are unhappy with the way our child behaved, pausing for a moment, and then following up with a hug or expression of love, we will make our displeasure clear while ensuring our children know they are still loved and that we still respect them as people.
Establish clear rules
A great tool with regards to anger management for kids is ensuring clear rules are communicated on a consistent basis. By explaining what the rules are, what's expected, and what is and isn't appropriate, and taking the time to give our children regular reminders, we are setting them up for long-term success. The easier the rules are, and the more consistently we reinforce them, the easier it is for our kids to meet our expectations.
Use positive reinforcement
Reinforcement is a fabulous technique parents and caregivers can use to increase the likelihood that a child will repeat a desirable behavior, and while both positive and negative forms of reinforcement can help with teaching appropriate anger management for kids, research tends to suggest that positive reinforcement is the most effective. Sticker charts are a simple, yet effective, form of positive reinforcement that can be extremely motivating for kids. This Dry Erase Reward Chore Chart is my favorite as you can easily customize it for your individual child.
Create a calming ritual
When kids are angry, they often don't know what to do about it. Their anger often comes from a feeling of helplessness in a situation. By teaching them some tried and true calming techniques, we can help them not to feel so helpless. Have them take a deep breath. As many as it takes to get them to feel somewhat stable. Then have them smile. Even if they don't feel like smiling, the act of doing so has been proven to lift spirits. Finally, have them give the biggest fake laugh they can give. Usually, fake laughing will lead to real laughing. But even if it doesn't, by the time they are done they will be feeling far more calm and able to talk things through.
Keep stress relief toys on hand
There are many products on the market that are made precisely to help de-stress and calm children. A fidget cube is a good one that can help kids and adults to focus for a few moments on something other than their feelings. A sensory fidget slap toy bracelet is also a good one, as it's a tactile toy that will distract younger kids with colors and fun pictures of dinosaurs or dragons. Even giving your child some coloring books and crayons can help them to calm down and get through their upset.
Ask for help
You know your child better than anyone. If you believe that your child is struggling with his emotions, it's never late to seek professional help. Child psychologists can observe your child and provide relevant anger management for kids strategies for you and your family, and most insurance plans cover some (if not all) of the cost.
Have fun with these anger management activities for kids!
When it comes to anger management for kids, there is no 'one-size-fits-all' approach. Every child has a different temperament, and what works for one may not work for another. The good news? There are HEAPS of great anger management activities for kids that feel more like play than work, offering a fabulous, stress-free way to help children deal with big emotions.
Here are 26 of our favorite anger management activities for kids!
1. 23 Calming Strategy Cards | Liz's Early Learning Spot
2. Yoga for Kids | Childhood 101
3. Calm Down Kit | Mrs. Jackson's Kinders
4. Calm Down Bins for Sensory Meltdowns | My Mundane and Miraculous Life
5. Angry Paper Toss | Kim's Counselling Corner
6. The Angry Octopus | Stress Free Kids
7. Strategy Sandwiches | The Corner on Character
8. Anger and Coping Skills Bingo Game | One Stop Counseling Shop
9. Free Printable Anger Management Game | Home Stories A to Z (can't use image in collage)
10. Minecraft 5 Point Scale | Jacob's Family Blog
11. Squeezing Oranges | Fireflies and Mud Pies
12. 1-Minute Anger Management Activity | Kidlutions: Solutions for Kids
13. Angry Bird Activity | The Home Teacher
14. The Anger Games | Savvy School Counselor
15. Fidget Spinners | The Middle School Counselor
16. Scream Box Activity | Grief Speaks
17. Feelings Parking Lot | Therapeutic Interventions
18. Tearing Tissue Paper | How to Run A Home Daycare
19. Mad Dragon Game | Therapy Game HQ
20. Spin the Wheel of Coping Skills | Art of Social Work
21. Balloon Activities Expression | Creative Social Worker
22. Turtle Time | Kids Relaxation
23. Fun and Easy Relaxation Flip Book | Kim's Counseling Corner
24. Anti-anxiety Kit for Children | Chaos and Clutter
25. Social Emotional Tab Books | One Stop Counseling Shop
26. Anger Trading Cards | One Stop Counseling Shop
Teaching our children proper anger management techniques can have a huge impact in helping them develop the self-discipline and self-regulatory behavior strategies they need to cope and learn in the classroom (and beyond). By teaching our kids how to keep control over their emotions through positive reinforcement, following through with rewards and consequences, and modelling good self-regulatory behavior, we help lay the foundation needed for long-term success with their education, career, and personal relationships.