Brochures
and Links
Parenting Checklist (0-6 Months)
Check out (and check off) these important activities and milestones that begin as soon as baby comes home.

Track Baby's Milestones
What are baby's 0-3 month milestones?
Your newborn baby is growing every day. See what they're able to do!
How can I easily track baby's milestones?Using the Pathways.org Milestones Checklist, you can easily print or download baby's milestones and check them off as they grow!
Get your FREE milestone checklist
How can I adjust for prematurity?If baby was born premature, their milestones will need to be "corrected" for the first two years of their life. Here's how to do it.

Keep Baby Healthy
What's a well-baby visit like?
Going to the doctor with your new baby may feel scary—but we're here to help! Here's what to expect at an early well-baby visit, as well as a checklist of everything to bring along.
What to Expect at a Well-Baby Visit
How can I choose the right healthcare provider?We'll walk through the process of finding a provider, so you'll get connected with the care your baby needs and answers to your questions.
Find the Right Healthcare Provider
Help Baby Sleep
What are the safe sleep guidelines?
Did you know that baby should be facing a different direction in their crib each night? Make sure baby is safe and sound while getting their shut eye.
How can I comfort my crying baby?
Newborn babies will cry a lot—and that's normal! It's how they communicate with you. Here is some advice for new parents to keep them calm.
When should baby nap?
How much of that sleep should be from naps? How long should baby nap for, and is there an age when napping should end? Find out.
Keep Baby Active
What is Tummy Time?
Tummy Time can begin as soon as baby comes home, and is one of a newborn baby's first exercises—and the most important!
How can I play with my newborn?Learn the best way to keep your little one engaged.
What games can I play with baby?
Enter your baby's birth date (or due date) and we'll send fun and helpful games to your inbox.
Bond with Baby
How can I bond with my baby every day?
This research-based bonding technique is important for baby and parent.
How can new dads bond with a newborn baby?Some moms start to bond with baby throughout their pregnancy, but it's important for dad to bond too!
Feed Baby
What should I be feeding baby?
Baby will only be feeding with breastmilk and formula as a newborn, but their abilities will quickly change.
How do I burp baby?When baby eats, they need to be burped to help with early digestion. Here's how and when to burp baby
What is Tongue Tie?Tongue tie is a common condition that can affect baby's feeding skills.
When is baby ready for solids?Baby typically starts solid foods around 4-6 months of age, but did you know that baby's readiness to start solids depends on their motor abilities?
Keep Baby Safe
How can I keep baby safe in the car?
Important car seat safety tips that may surprise you.
How can I keep baby safe in the sun?There will be plenty of fun in the sun, but don't forget to protect baby from the sun's harsh rays.
How can I keep baby safe in cold weather?As temperatures drop, there are extra steps to take to make sure baby stays warm.
Has baby missed any milestones?

If you're using the Milestone Checklist to track baby's motor, communication, feeding, and sensory milestones, you may notice that baby has missed a milestone or two. So what do you do about it?
It's never too early (or too late!) to get baby on the right path. But the earlier that delays can be found, the better. Learn why.
Learn More about Early Intervention
Sensory Integration (0-6+ Years)
Speech and Language (0-36 Months)
Executive Function (6 Months-5+ Years)
Social-Emotional (6 Months-5+ Years)
Massage+ 30, 10, 5 (0-6+ Months)
Assure the Best (0-15 Months)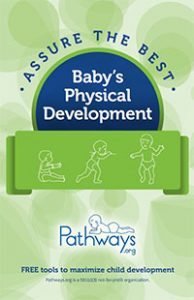 Help your baby's development be the best it can! Track your child's speech, play, and physical development with the Assure the Best brochure, which includes milestones and signs to watch for, from birth to 15 months of age. Available in more than 15 languages, this is the ultimate baby development guide all parents and healthcare providers should have on hand.
Download your FREE brochure today!
Play (0-6 Years)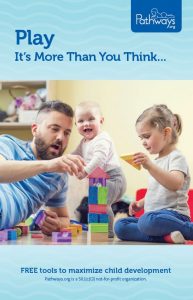 Play is more than just fun—it's an important part of a child's development! Play helps children build valuable life skills, such as problem solving, socializing, and more. Using our Play Brochure, discover the benefits of play, get playtime tips, and learn how to help your child meet milestones from birth to 6 years of age.
Download your FREE brochure today!
Tummy Time (0-6 Months)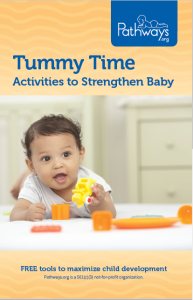 Babies need Tummy Time! This activity plays a pivotal role in baby's core, motor, and sensory development, helping to achieve crucial milestones. This brochure gives you access to everything you always wanted to know about Tummy Time, from how to help baby enjoy it to the different types of Tummy Time methods you can try with baby from birth to 6 months.
Start baby's workout now and download your FREE brochure today!
Sensory Integration (0-6+ Years)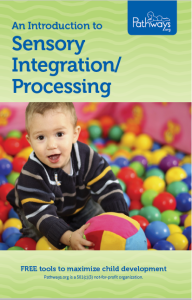 We make sense of the world through our senses—which is why sensory integration is so important for your baby! The sensory brochure will help parents learn about sensory integration and processing, and understand the signs associated with sensory issues.
Download this FREE educational tool to your device or share with others!
Feeding (0-12+ Months)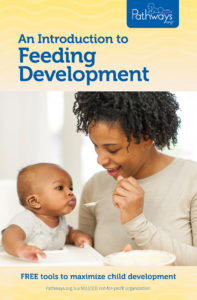 How many ounces of breast milk or formula should baby have per day? When can baby start on solids? Get a breakdown of baby's feeding development from 0 to 12+ months with this comprehensive feeding brochure. Learn about feeding milestones, appropriate foods, warning signs associated with feeding issues, and get age-appropriate tips approved by experts.
Simplify feeding time by downloading a FREE copy today!
Speech and Language (0-36 Months)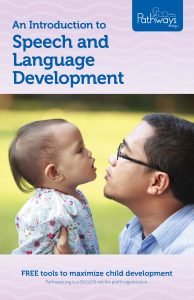 Promote speech and language development from day one! Whether parents have a newborn or toddler, promoting early communication skills is essential to supporting a child's brain and cognitive development. Help set the foundation for your child's development by tracking their communication milestones and using our speech and language tips.
Download your FREE brochure today!
Executive Function (6 Months-5+ Years)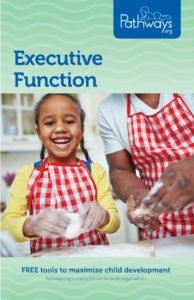 Executive function skills are important to a child's learning and development, helping them to pay attention, plan, problem solve, regulate their emotions, and much more! These are skills used every day by children and adults to reach goals at home, school, and work. Learn how parents can provide opportunities to develop executive functions skills in their children.
Download your FREE brochure today!
Social-Emotional (6 Months-5+ Years)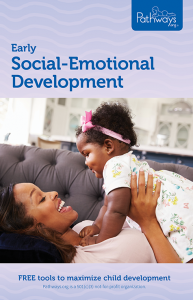 Communicating emotions. Making friends and maintaining friendships. Children are developing social-emotional skills from birth through interactions with parents, family members, and caregivers. Check out this brochure to see how social-emotional skills develop by age, and what parents can do to nurture these skills.
Download your FREE brochure today!
Massage+ 30, 10, 5 (0-6+ Months)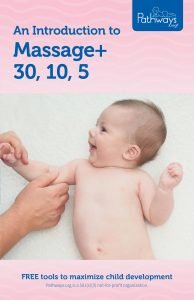 Looking for ways to improve baby's development and health? Try a simple, quick and powerful activity called Massage+ 30, 10, 5! Ideal for premature and full-term babies, this 15-minute massage involves gentle talking, massaging, and rocking.
Learn more by downloading this FREE brochure, and try the massage today!